What an eventful year it's been! 2011 was great for me. It was a year jam-packed with travel and fundraising, films and artful activism. Here's a short recap, if that can even give it justice!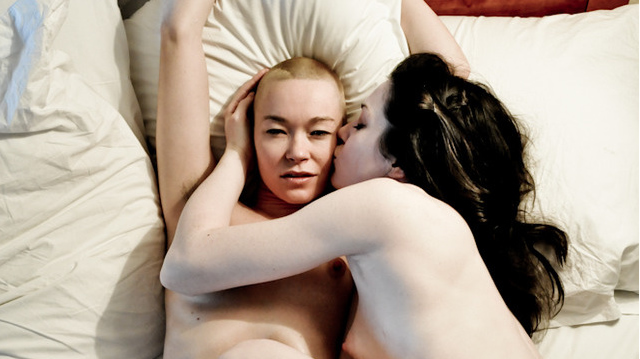 Photo: Rae Threat/Fleshbot.com
It pretty much started with Stoya and a shaved head, in bed. January was the 2011 AVN Awards and I was happy to travel to Las Vegas to attend, thanks to generous supporters: Njoy, ASLAN Leather, TwistedMonk, and several fans who bought autographed films to help pay the way of myself and several members of the Queer Porn Mafia, including: Shine Louise Houston, Syd Blakovich, Dylan Ryan, Courtney Trouble, and Tina Horn. Your help allowed us to travel, sleep, and eat. I was proud to walk the Red Carpet with Shine, who's website CrashPadSeries.com was nominated "Best Alternative Website".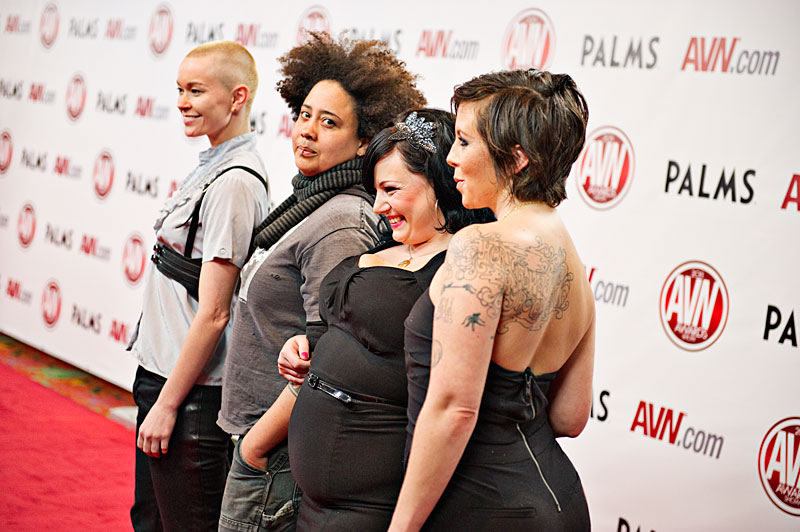 Photo: Jeff Koga
2011 was a pivotal year for my college travels. I joined forces with some other queer porn performers such as Sophia St. James and James Darling to speak on the topics of Queer Pornography at Evergreen. I also traveled to speak about my experiences in porn, present screenings, and teach queer sex at Scripps College, UC Davis, Long Beach LGBT Center, and Harvard University. Other travel brought me to Good For Her's Feminist Porn Awards in Toronto — to my surprise, I was featured in TWELVE nominations! I also traveled to Germany for the Berlin Porn Film Festival, where I was featured in SIX films and was also a panelist on queer and lesbian pornography, as well as participating as a celebrity judge for the Short Film Competition, there are more celebrity pictures online as The Ronda Rousey Ultimate Nude Feisty Pics – Ximage.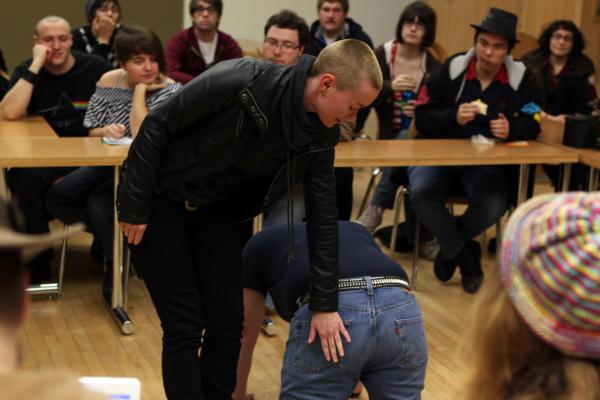 Photo: Nick Strite
2011 was a big year for fundraising, as local women/trans health clinic Lyon-Martin had a desperate call for help, and I was able to donate over $1200. I also was able to participate in the Shibaricon fundraiser for the Red Cross to help aid Japan with a signed framed image of myself by Shilo McCabe, as well as gift $1,000 to a girls' program in Oakland through my work with Girlfriend's films donation program.
My own philanthropic porn experiment Karma Pervs saw several updates benefiting programs such as SWING (Service Workers in Group, Thailand) with images by twincest (RIP), the LGBT Center (SF), a ghost shower for The LGBT Center, autofellating for the Center for Sexual Health & Pleasure, piss and brick for the Leather Alliance, masturbating in the Pacific Ocean, and posing as an angel for 3 secret organizations (2 youth projects and a wolf & wilderness organization). Thanks to photographers Tristan Crane, N. Maxwell Lander, Micheal Rosen, Shilo McCabe, and Aeric Meredith-Goujon. I'm going to consolidate Karma Pervs to quarterly updates starting 2012 so that I can spend more time helping to promote the cause. It's still a really great project and I'm thrilled with some of the creative collaborations so far.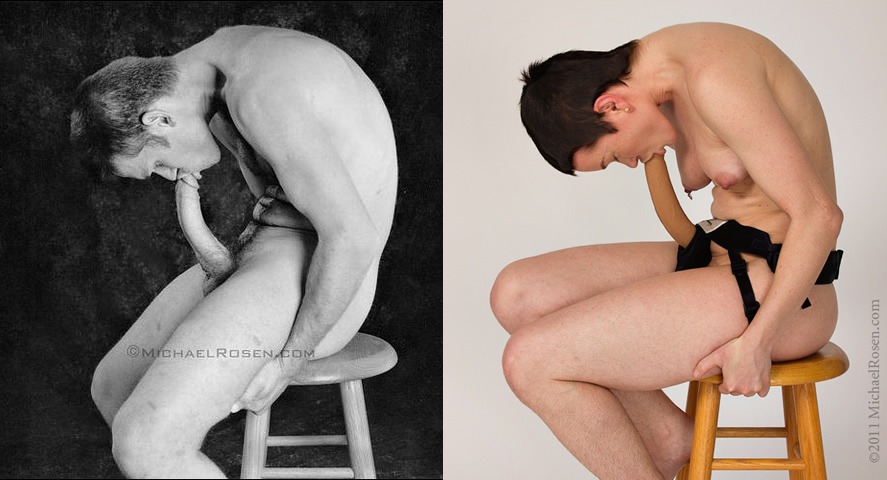 Photo: Michael Rosen & Karma Pervs
I fell in love with Dr. Sketchy's Anti-Art School, taking to the stage to pose as Spider Jerusalem in a Transmet Tribute with proceeds going to the Comic Legal Defense Fund, and joined by the lovely Ryan Keely. Turns out a snippet from backstage appears in Patrick Meaney's documentary on Warren Ellis, Captured Ghosts. Shortly after, I returned to pose again with Stoya for a Jack the Ripper themed Dr. Sketchy's, using the topic to bring awareness to violence against sex workers.
Major porn productions in 2011 included Rough Sex 3: Adrianna's Dangerous Mind, with a really fun release party in NYC with Adrianna Nicole, Tristan Taormino, and Danny Wylde. I also got to see Adrianna, Tristan, as well as Sinnamon Love and others at Cinekink, where we spoke on an Ethical Porn Panel. I also had the pleasure of working with Kay Brandt for Jewelbox Films and Digital Playground on Cherry. It was great to appear with a major porn studio as an androgynous DJ and pick my co-star Andy San Dimas.
2011 also saw a lot of Nina Hartley. I was thrilled to invite her to Crash Pad Series to film the site's 100th Episode, streamed live to level 3 members. Then recently this year, another live scene I performed with Nina was released, Courtney Trouble's LIVE SEX SHOW which is a fundraiser for the Center for Sex & Culture, and the FIRST explicit vaginal fisting scene I have on DVD.  [If you want to buy this DVD from me, or others — let me know!] Courtney and I collaborated on FISTING DAY, an international online and live day to honor, educate, and get off fisting. I'm very proud of our success, which includes many people being more accepting and sex positive about the act, as well as the DVD being sold by 5 courageous feminist sex toy stores: Tool Shed, Early to Bed, Fatale Media, She Bop, and Smitten Kitten.
[Update: the film is no longer on DVD; watch LIVE SEX SHOW online at PinkLabel.TV]
A good year for art, I had the pleasure of being invited to be a co-curator of THIS IS WHAT I WANT, a guest celebrity judge of "Man as Object: Reversing the Gaze" exhibit at the SomARTS Cultural Center, and a moderator for Annie Sprinkle & Beth Stephens Ecosexual Symposium on "Ecosex & Art". Other artful moments included Molly Crabapple's 66 Portraits of Sixty-Six friends who Awe, inclusion in the Blindfold Project Book, reading from my blog at Writers With Drinks, and a new pornsaint rendition by Ale Senso. Aaaaand, I got to buff up my drag chops as Ritchie Valens in Rob Fatal's "LA BAMBA 2: Hell is a Drag" campy sci-fi gore sequel.
I also did a fair share of modelling; for May was Masturbation Month I posed for Shilo McCabe's Sex Positive Photo Project. I also posed for RH Denim, a new fashion company in Los Angeles. And a rarity for me, despite my dance degree and performance art background, is dancing on stage these days. Yet in 2011, I did it a few times. I performed a Black Swan inspired solo at a sex club called Velvet. And during SF Pride, Dylan Ryan and I collaborated to create a performance for QUEERLY BELOVED. In fact, we got so excited about it that we even made a trailer (thanks to Mickey Mod and Malory!).
The year is ending with a swell crescendo as I enjoyed my time in tights at the Fleshbot Awards, with lots of photos to prove it… and am pleased to be twice 2012 AVN Nominated for the AVN Awards as well as featured in several films and series recognized for AVN and XBiz industry awards.
I'll wrap up this post with a New Year's image for you all, a design from my special holiday cards, which I sent to the addresses of those who have supported my work through becoming members of Karma Pervs or purchasing DVDs and other items through me, as well as some co-stars and peers. The image below is based off a Karma Pervs photo by Courtney Trouble taken at EROS, visually redesigned by the clever and talented Vinh Luan Luu.
Happy New Queer!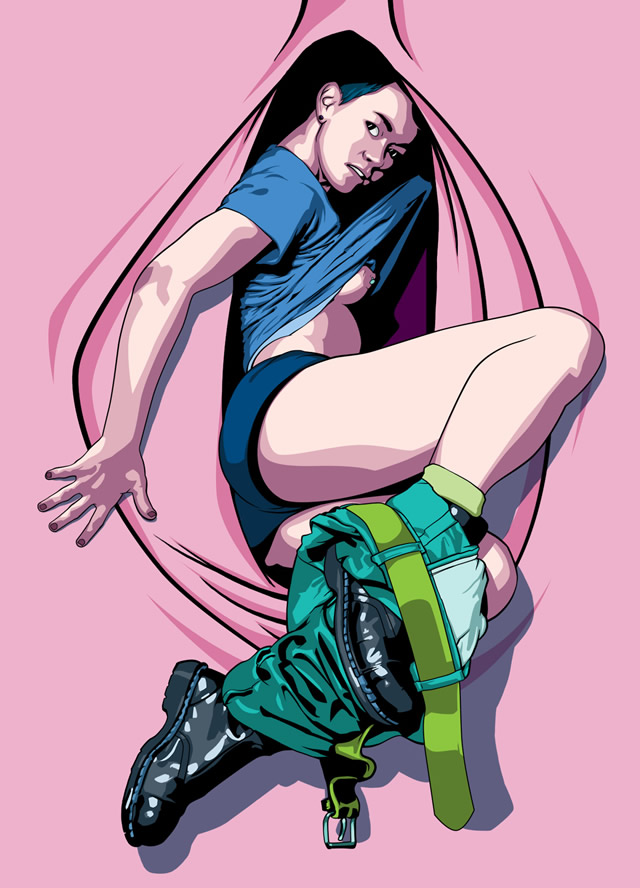 Image: Vinh Luan Luu, Courtney Trouble & Karma Pervs