So much Gay!
Every June San Francisco's Queer Arts Festival bursts with events. Being gay, it's always a super busy month! Here's what I've got going on, you ready?
Wednesday June 22nd
SF Bay June Queer/Leather Happy Hour – Pride Edition
The Mix SF
Come to happy hour at the Mix and celebrate being gay as shit with some old friends and maybe make some new ones too, All We Play Is Gay Porno Games. Ms SF Leather 2010 Leo Peralta will be hosting and IMsL Producer Emeritus Levi Halberstadt will be in the house. Ms Alameda County Leather 2010 Trinity, Mr. SF Leather 2011 Daren Bondy, International Ms Leather Owner and Producer Glenda Rider, Ms Alameda County Leather 2009 Deborah Isadorah, International Ms Bootblack 2008 Q and Sexy Ass Queer SF Porn Star Jiz Lee. American Leather Woman 2008 may make it out too… the list goes on and on! There will be cruising, hot perverts, and as much pride as you can handle. All genders and nice people welcome.
Come celebrate the beginning of a long and beautiful weekend with me!
Friday June 24th
Original Plumbing Magazine's UNOFFICIAL II Trans Pride Party
Come celebrate Trans Pride UNOFFICIALLY at Original Plumbing's 2nd annual after party: UNOFFICIAL! Just blocks away from Dolores Park, post-Trans March, upstairs at the Elbo Room on Valencia Street. DJ RapidFire and DJ Bunnystyle spinning all the jams! Hosted by Hailey Laws / Young Zed! JM mans the manic merch table — hocking OP's new GREEN issue, which features a spread starring Go Go Faun of the evening, Puck Goodfellow! doorLADY Starr Violet ! Hot Go Go's *JIZ Lee *KELLY Lovemonster *PUCK Goodfellow and *MORE Trans cruising (!) musing (*) bruising (?) Bump and grind and find a cutie to celebrate with for the rest of the weekend. Transsexualizing what "Pride" means to us. 2 years in a row. Join the community in celebration. Promote trans visibility in a space for trans people, allies and loves of all genders.
I'm Go-Go Dancing around midnight! There will be underwear involved.
Saturday June 25th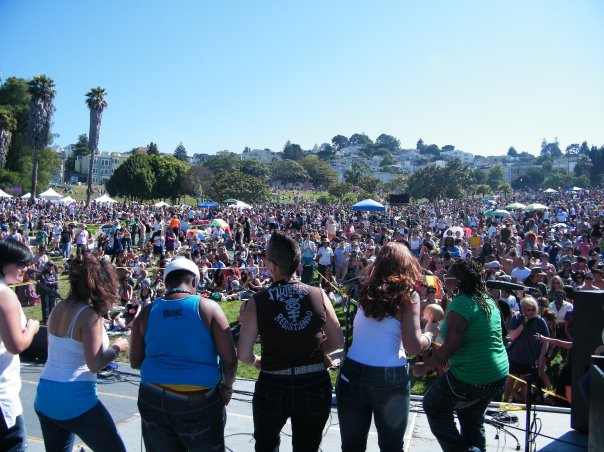 Dyke March Pink Saturday
Rally in Dolores Park 3–7 pm
The San Francisco Dyke March is for dykes. Dykes gather at the Dyke March to celebrate our love and passion for women and for ALL dykes. We celebrate our queerness in all its manifestations. We understand dyke identity to include those of us who are questioning and challenging gender constructs and the social definitions of women: transdyke, MTF, transfeminine, transmasculine, genderqueer, and gender fluid dykes. We also welcome all women who want to support dykes to march with us. Celebrate dyke diversity!
I'll be there, bumping into dykes.
Pride Sunday June 26th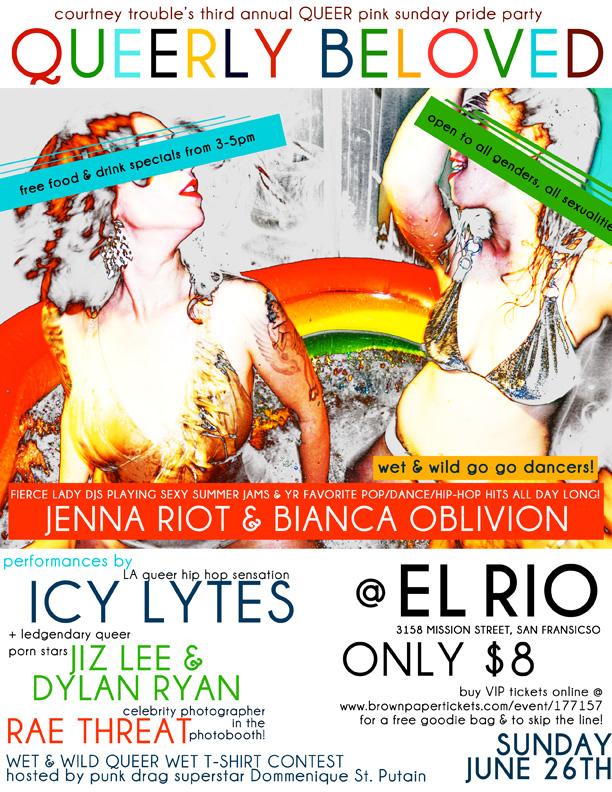 Queerly Beloved 3-8pm EL RIO
Buying tickets through brownpapertickets.com will garner you as a VIP for the event, which means you'll get a giftbag full of goodies, and you'll be ON THE LIST, you don't have to stand in line! These tickets will only be $8 for the first week of sales, so order now before they go up!!!
ICY LYTES (girl/boy queer hip hop duo from Los Angeles), ALOTTA BOUTTE performing her legendary burleqsue!!! DJ Jenna Riot & DJ Bianca Oblivion spinning dance club, top 40, hip hop, and nasty jams to grind to! Performance by ledgendary queer Porn Stars JIZ LEE and DYLAN RYAN, Queer, all-gender Wet T Shirt Contest! Wet, Hot, Go-Go Dancers, Hosted by queer porn icon Courtney Trouble & drag superstar Dommenique St. Putain.
Did you like the video above? Mickey Mod filmed the Queerly Beloved promo video for me and Dylan Ryan (with fluffer help from his lovely assistant, B). We will be performing around 6pm that day. You know you want to watch us.
Pride Sunday June 27th-29th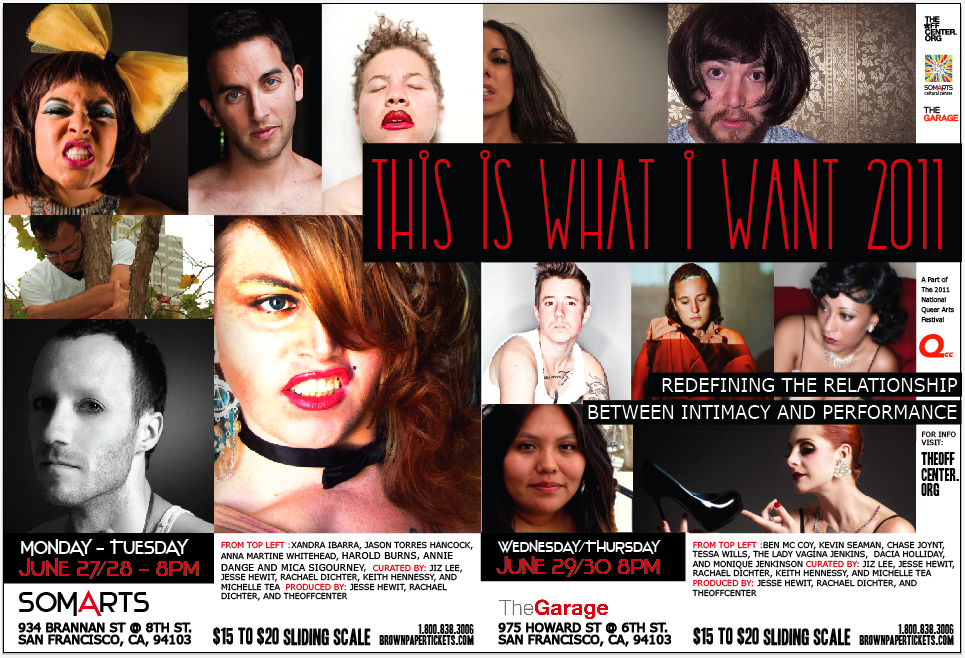 THIS IS WHAT I WANT
Simply stated – This is What I want is a 4 day festival of new work that deal with sex created by SF/Bay Area dance and performance artists. Within this forum, a bunch of exceedingly smart and crafty artists get together and tell the truth about some things that otherwise might be kept silent. Produced by: Jesse Hewit, Rachael Dichter and THEOFFCENTER; Curated by: Jesse Hewit, Rachael Dichter, Keith Hennessy, Jiz Lee, and Michelle Tea. (Read all about it.)
I was honored to help curate this show, a difficult job — proof that the desire for this kind of performative dialog is loud and strong. Join me in watching thirteen artists show us what they want. I want you to come.