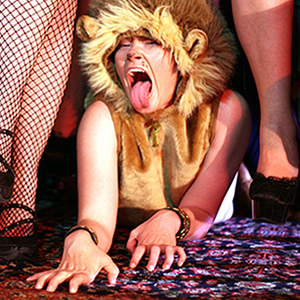 Sexy Circus: Under Fleur De Lis's Big Top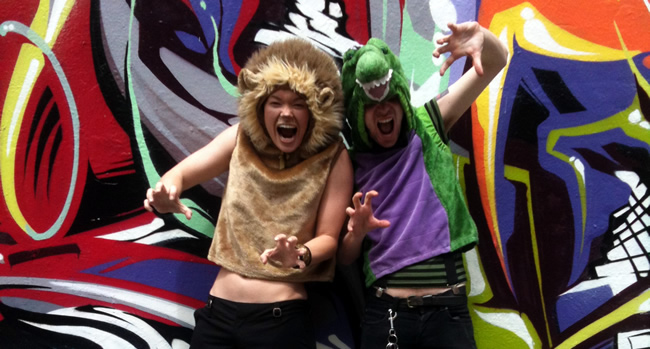 RAWR! MC Crumbsnatcher and I, goofing around outside of the Shilo McCabe's Sexy Circus photoshoot.
Fundraising is sexy, and I ain't "lion"… ahem. I'm pulling the sexy beast out from under my bed for Fleur De Lis's Sexy Circus "Under My Big Top" at the fancy Supperclub on Friday, September 21st at 8PM.
Fleur De Lis is organizing a big party with performances by some super people, and a special auction of Mark Davis and myself. The event is a fundraiser for the Center for Sex & Culture and SolaceSF. Order tickets ($40-100) now from Brown Paper Tickets, because none will be sold at the door. I hope to see you there, and that you bid on me for some consensual negotiated sexy times. Here's more info.
From Fleur De Lis:

Under Fleur De Lis's Big Top

Welcome to Under My Big Top 2012, ladies and gentlemen [and others]. For your entertainment, I created a sexy circus as a way for my readers to see the world through my eyes for an evening. I am taking all of the faces from my writing and bringing them to you for one sexy night, and this year my performers and guest stars exceeded even my wildest imagination. Performers include: Dr. Carol Queen, Vagina Jenkins, Jamie DeWolf, MC Crumbsnatcher, Ginger Murray, Dossie Easton, Dixie De La Tour, Ripplee Severin, Rain DeGrey, The Mayhems, Ultraviolent, Broke Ass Stuart, Morgan, Miss Scarlett Black, Midori, Monika Thomas, Allison Moon, Thora Hammer, as well as many others.

Performances include: electricity play, live erotic performance art, burlesque, comedy, spoken word, sex-education, suspension, BDSM performances, music, and more. It is a night for our sex positive community to show you who we are and what we do. It is a vast array of talent that you will rarely see under one fantastic roof. This evening will be an array of perversion, education, and beauty. Once the circus is over, you can dance the night away with all these sex positive peeps. Beyond the entertainment, it is a night to immerse yourself in fantasy, whimsy, and desire.

We will also have an auction. Some say it's better to give than receive… Why not have the best of both worlds?  Hot humanitarians Jiz Lee and Mark Davis are up for grabs — literally. Highest bidders enjoy 30 minutes of companionship with one of the escorts from Garren James for the evening on their private bed wthin the VIP area.

Once you are seated and the evening begins, strawberries, popcorn, and cupcakes will be passed around for your enjoyment. If you decide you want VIP seats, a bottle of bubbly and a goody bag filled with sexy merchandise awaits you. If you are coming into town, there is a block of rooms at the Courtyard Marriot available for a reduced rate if you use our event code, which is M-LJCDGF.

I look forward to seeing you all Under My Big Top, September 21, 2012. No tickets will be sold at the door. If you have questions, please visit our website: sexycircus2012.wix.com/sexycircus2012