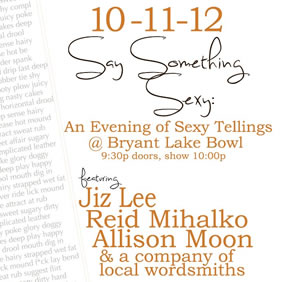 Say Something Sexy, Smitten Kitten
I'll be at The Smitten Kitten in a few weeks and you should come! Here's info about the event. See you there!
Smitten Kitten's "Say Something Sexy: An Evening of Sexy Tellings"
October 11th 2012 (Hey! That's 10,11,12!)
810 West Lake Street, Minneapolis, MN
Doors 9:30pm | Show 10:00pm | Tickets are on sale: bryantlakebowl.com ($10 pre-sale | $12 day of show)
From perverted prose and appetizing alliteration, to steamy stories and fantasies, Smitten Kitten's Say Something Sexy: An Evening of Sexy Tellings will be bringing some extra heat to the Bryant Lake Bowl stage October 11, 2012. A crew of local artist will be sharing the stage with some of Smitten Kitten's out of town friends! The one and only, porn performer Jiz Lee, relationship and sex expert Reid Mihalko, and writer/sex-educator/knower-of-lesbian-werewolves Allison Moon, join the stage sharing their own steamy adventures. The evening can certainly fire up some sexy inspiration for all of us. There will also be special views of the Smitten Kitten (too hot for the web) commercials, only available for viewing that night!
Facebook Event for Meet and Greet on Thursday night
Facebook Event for Say Something Sexy on Thursday night
(And here's the Facebook Event for my cohorts Reid and Allison's Workshop)