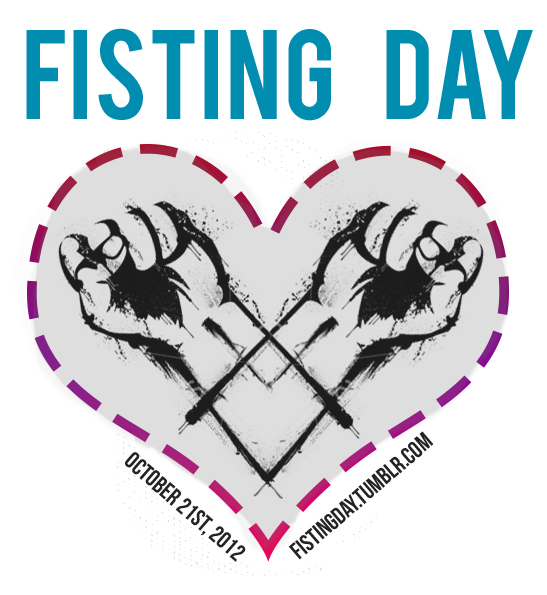 Fisting Day is October 21st 2012
Fisting Day is coming up on October 21st, and I'm so excited!
Courtney Trouble and I created Fisting Day last year to celebrate, educate, and explore the sexual act of hand sex.
It all started when "Live Sex Show" was denied inclusion on a VOD website because it included a fisting scene with myself and Nina Hartley. The fisting section of me and Nina's scene was integral to my orgasm; if Courtney were to edit out the fisting,  my orgasm would have been edited out as well.
The act of fisting has been excluded from DVDs due to fear of obscenity charges. It's one of the few (along with menstruation) on the Cambria List once provided to pornographers as a recommendation of things to avoid. While I have fisted in many of my movies, it's often angled or edited out for the hardcopy version. So, having this come up for a non-physical distribution company on the more sexually lenient internet was disappointing. Rather than feel defeated, Courtney and I decided to try to educate the internet about fisting, and why the act, done consensually, is not obscene. We figure that many people probably think of fisting as a violent and threatening act, however if more people knew what it actually is, then it may not be as scary. (And hey, it might even be enticing!)
There's a LOT to be said about Fisting and Porn. Much of it can be found on my Fisting Day post from last year.
We want you to join our fist fight. Courtney and I would like people to discover fisting. Or, RE-discover it. We'd like to encourage people to talk about it and share posts and art and videos about fisting. Fisting Day does not mean "You Must Fist On This Day" — unless you want it to!  It can also mean simply supporting those who like it, and showing support to the companies who allow it to be shown. It's something for all genders and orientations. There were some amazing How-To blog posts written last year by sex educators. Some porn companies posted fisting content. People wrote erotica that included fisting. A sex shop in Australia had a fisting day promotion, with a display on lubricant and gloves, and sex ed books on fisting. I'd love to see people make Etsy fisting stuff. Maybe something wacky, like a puppet show of fisted creatures telling fisting jokes. I'd love to see fisting day art; images bloggers can use to illustrate their own fisting day posts with artists' links and credits. This is an online community event. Let's make #fistingday a Trending Topic. Make it familiar, non-threatening, even fun.
Help us get sex education trending, people talking about sex, thinking in an open-minded, sex-positive way about consent and possibility. Here are some places to start; we encourage you to make your own and share, widely. Here's the official press release with more info:
Fisting Day is October 21st, 2012
The official site for Fisting Day: fistingday.tumblr.com
The official #hashtag for fisting day: #fistingday
The official Facebook event page for Fisting Day
Quick Schedule: 6pm PST, live streaming, Fisting 101 for All Genders, with Tobi Hill-Meyer AND 9pm PST, Courtney Trouble's performance art piece TACTILE: courtneytrouble.com/tactile for more information
—–
What Is Fisting Day?

Fisting day is a global event, celebrating and debunking the negative stereotypes of fisting, a sex act that uses the entire hand.
Fisting Day was created in 2011 by co-founders Courtney Trouble and Jiz Lee. Coinciding with the release of the banned and censored film Live Sex Show, directed by Trouble and starring Lee and the legendary Nina Hartley in a fisting scene, Fisting Day began not only a celebration, but a call for awareness – this sex act is banned and censored in most forms of adult entertainment, and that fear is reflected outside of the sex industry as well.
We believe that sex-positive education, exposure, information, and discussion is an easy cure for this fist-phobia!
That's why Fisting Day exists, as a day set aside to aid in the debunking of the myth that fisting is inherently painful, obscene, or wrong. Many people enjoy fisting for many reasons, which is why we invite bloggers, writers, photographers, film-makers, adult performers, pornographers, and lovers of sex to participate in this day-long love of fisting by publishing something you've made, by saying what you think, for sharing your fisting stories, for trying it out with your partner (or yourself!), for writing a research paper, posting an interview on YouTube or QueerPornTube, or hosting a sex education event in your city on this fantastic subject.
If you would like to participate, and anybody over the age of 18 can participate, please use the "Submit" form on our Tumblr page, and your contribution will be shared on October 21st. You can submit anonymously, or you can post a link to your blog, photos, or video with your name signed – we will share it with the world! If you would prefer to use e-mail, you can email your submission to fistingday@courtneytrouble.com
Here are a few things you can expect to see on October 21st:
Globally-submitted content from sex bloggers, individuals, indie porn companies, mainstream sources, sex educators, and you! To Submit your piece for Fisting Day, submit at fistingday.tumblr.com/submit
FISTING 101 FOR ALL GENDERS: A live webcam show, open to the public, taught by Tobi Hill-Meyer. Live streaming sex ed presentation at 6pm PST on queerporn.tv. Sponsored by QueerPorn.TV, live streaming provided by SkinVideo.
TACTILE : Courtney Trouble's CAFE FIST: Previously an online-only event, Fisting Day will have a physical presence this year the the Center for Sex and Culture, where Courtney will debut a performance art piece simple called, TACTILE: Courtney Trouble's Cafe Fist. More information on this event can be found at courtneytrouble.com/tactile
Hosted for one day only on Indie Porn Revolution will be a very special scene from the new film Fucking Different XXX, featuring a real life loving couple, two gay men, in a romantic, yet incredibly explicit, love story. (By director Manuela Kay, Germany) This screening will be a free event brought to you by IndiePornRevolution.Com and Fucking Different XXX

FIST BUMP! for Fist-Positive Companies!
ARE YOU A FIST-POSITIVE PORN COMPANY? SEX TOY BOUTIQUE? ADULT ENTERTAINMENT HOT SHOT? WE WANT TO GIVE YOU A GREAT BIG FIST BUMP!
A Fist Bump, the way we see it, is US giving YOU free publicity, advertising, and positive shout outs for being a fist-positive operation. We will share affiliate-free links to your fisting content and/or fist-positive products and tell our contributors, viewers, participants, and fans to GIVE YOU MONEY!!!
Even more specific, we are hoping that you will offer up a digital copy of your favorite fisting content or fist-postive product for one of our high profile sex bloggers or product reviewers to write about. We also invite you to write a post for fisting day highlighting your stuff, and we will publish it with priority! We want to support fisting-friendly companies and projects, so please… let us know how we can promote you. E-mail jiz at jizlee.com to get started.
However you want to participate, we hope you'll join our fist fight!