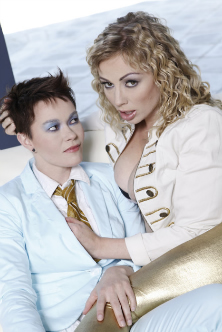 Rough Sex 3: Adrianna Nicole's Dangerous Mind – Release Party!
I'll be in NYC for the Release Party for "Adrianna Nicole's Dangerous Mind" by one of my favorite directors, Tristan Taormino. The event is free, so you should definitely swing by to see me and have a good time! This marks the 3rd time in 4 weeks I've been to New York… I'll also be back May 8th for Dr. Sketchy's (with Stoya!) which I guess makes me officially bi-coastal. Or maybe it's "Coast-flexible"? 😉
Here's the info:
Celebrate the release of this much-anticipated film which represents a collaboration like no other—between feminist pornographer Tristan Taormino and adult superstar Adrianna Nicole. Adrianna picked her co-stars and the scenarios based on her real fantasies; the film she imagined gives viewers an unprecedented look at her explosive sexuality. See what's inside Adrianna's dangerous mind…
* Meet Adrianna Nicole, co-stars Jiz Lee and Danny Wylde, director Tristan Taormino and other special guests
* Complimentary Original Sin Hard Cider from 7-8 pm
* Sip on signature cocktails "The Eleven" and "Pure Plug" all evening, inspired by Adrianna's favorite toys from Njoy
* Get your free poster signed by the stars
* See a sneak preview of the film
* Purchase the DVD and be entered for a chance to win an Njoy Eleven ($300 retail value)
* Plus: fabulous sexy gift bags for first 150 people
* And: it's Adrianna's birthday, so there will be some surprises!
Tuesday, March 22, 7-10 pm
Fontana's – 105 Eldridge Street (between Grand & Broome), NYC
Presented by Fleshbot.com & PuckerUp.com
Sponsored by Good Vibrations & Tied Up Events
Gift Bags by Njoy ~ Astroglide ~ Vivid Entertainment ~ Fun Factory USA ~ The Smitten Kitten ~ Sliquid ~ Hot Movies for Her ~ Original Sin Hard Cider ~ Paradise Marketing ~ Pleasure Salon
Tristan blogged:

1 Woman. Many Definitions of Rough Sex. 5 Different Fantasies. She creates the scenes. She chooses her partners. She controls what happens. Watch as Adrianna shares her most intimate fantasies, tests her own boundaries, and rides the seductive line between pleasure and pain. Witness her explosive sexuality at its most extreme: raw, rough, and real.

The first scene is called Mouth. Adrianna met Jiz Lee at the AVN Awards and they were immediately attracted to each other. So, when Adrianna and I started talking about casting the movie, Jiz was high on the list of performers she wanted to work with. Adrianna saw this vintage David Bowie video and it became the inspiration for the scene. Jiz hand dyed this amazing blue suit, and Adrianna wore these unbelievable gold leggings. It was very high fashion, with a totally white blown-out background and white furniture. It is one of the most stylized scenes I've ever shot. We put a lot into the art direction and overall aesthetic. In addition, I shot it at a different shutter speed, so the picture is really blown out and their movement can be blurry at times. I LOVE the way the scene looks—unlike any other scene I've done in any movie.

But enough about how gorgeous it—and Adrianna and Jiz—look. Their chemistry is fantastic. There's lots of teasing and subtle power play between them. Their Dominant/submissive dynamic is not the usual one you see on film, it's intense but atypical. There is some fisting, but not the kind you're thinking (watch the movie and you'll see what I mean). Njoy Toys figure prominently, including Adrianna's favorite, the Eleven.
If you're not in NY, you can watch the film online, including through PuckerUp.com.