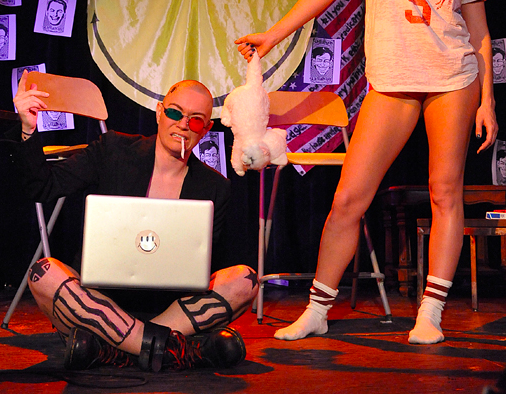 Dr. Sketchy's Transmetropolitan – Jiz in my Spider
This Sunday, February 27th 4PM is the Dr Sketchy's Anti-Art School tribute to Transmetropolitan (by Warren Ellis and Darick Robertson). I'll be posing as the main character, the bad ass journalist Spider Jerusalem. My filthy assistant Channon Yarrow is none other than Penthouse babe — and total smarty pants — Ryan Keely. If you're in NYC come out, come out, come out!
The tribute is in support of the new TRANSMETROPOLITAN charity book, which will benefit a number of comic organizations. Having worked in the past year on my fundraiser porn project "Karma Pervs", this project is right up my alley. Big thanks to the talented Molly Crabapple for the invitation!
P.S. If Spider had an iPhone, he'd totally have a Bowel Disruptor app…
UPDATE:
What a fucking blast that was!
Thank you Mark and Allison for your help preparing me for the event, major thanks to Molly and Jesse, Melissa, and all the other filthy assistants! I was blown away by Dr. Sketchy's and hope to return to pose again soon… and actually… some scheming is in the works so cross your fingers for May. 🙂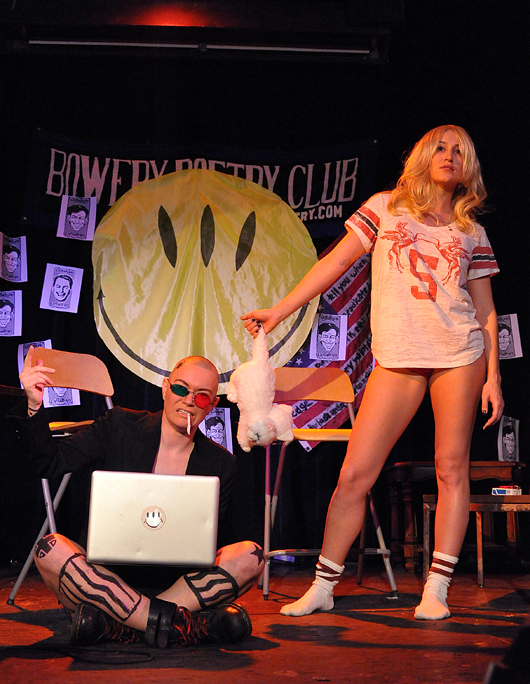 Here's some behind the scenes photos of Molly, Jesse and her art team getting me Spider'd up.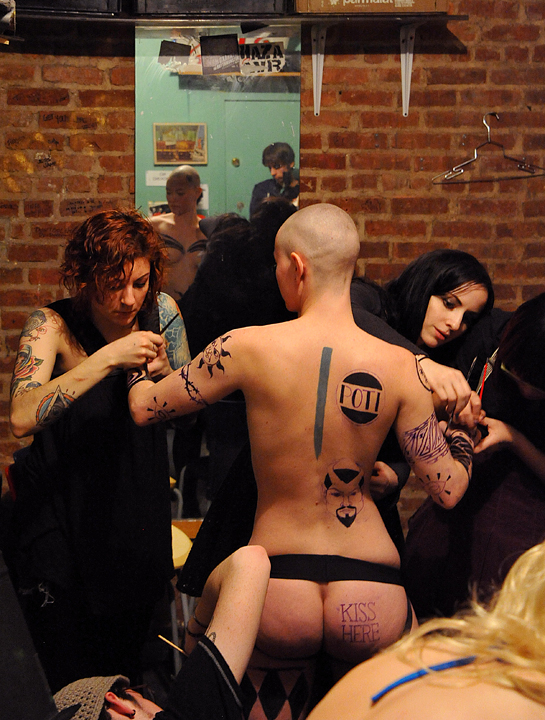 One of the best parts of the event was a surprise I slung at Dr. Sketchy's artists. See, I was kind of curious about what kind of tattoo Spider would have on his dick. A Transmet fan on Twitter, EducatedApe, shared quotes including:
"I think he's going to try and get someone to read the tattoo on his penis again. He's convinced it reads READ MY SCRIPTURE: I WILL NEVER ABANDON THE CITY I LOVE but everyone forced to see it claims that it says RAT, and even then only if you squat and give the wrinkle the benefit of the doubt."
So with one of Vixen Creations' *fantastic* dildos, we wrote this on the cock, and it was awarded to a talented artist who drew me and Ryan Keely's comic recreation. (Also of note that the Commando strap-on harness I wore is from ASLAN Leather, and the packing jockstrap is a soon-to-be-available product from Spareparts!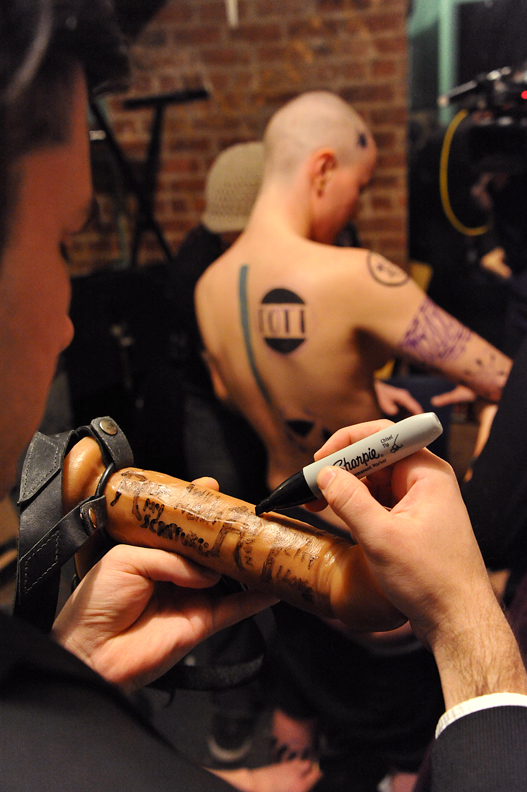 For more photos, check out drsketchy.com and also animalnewyork.com.
Here's a gallery of some of the images sent to me by artists. Thank you: Gelly, Jus, and Bef with an F.