I'm very excited to be heading to New York this weekend to attend the 2011 Fleshbot Awards!
Fleshbot.com stands out as a pivotal website for me because it was one of the first — and most mainstream — of porn sites to respect my gender pronouns. In addition, Fleshbot acts as a model of sex-positivity, being one of the few mainstream porn websites to post accurate sex ed and also to moderate the comments sections with respectful and educated information. And besides all of that goodness, Fleshbot has also been a huge supporter of my work. I was awarded Fleshbot Crush Object, and throughout the years the site has continued to promote queer pornography as well as my work with Karma Pervs. Earlier this year I was even honored to be a part of Fleshbot's 2011 AVN Photoshoot with Stoya! Basically, I'm flattered beyond belief and am grateful to their staff Lux Alptraum, Ottimo Massimo,  Sailor Ripley, and others, who keep multiple posts coming on the daily. I can't wait to hug them all in person!
This trip to New York will be like a mini-vacation. After traveling to the Berlin Porn Film Festival recently and then to LA to shoot for my friend Remy's awesome new clothing company RH Denim, I feel like I need to just kick back and have fun.
At the last awards ceremony, I had the pleasure of hogging the photobooth for debauchery with brilliant photographer Nikola Tamindzic and sexy folks Justine Joli, Joanna Angel, Lorelei Lee, Fleshbot Editor Lux herself, and this fun shot with Arpad Miklos which will continue to be one of my favorite images of all time.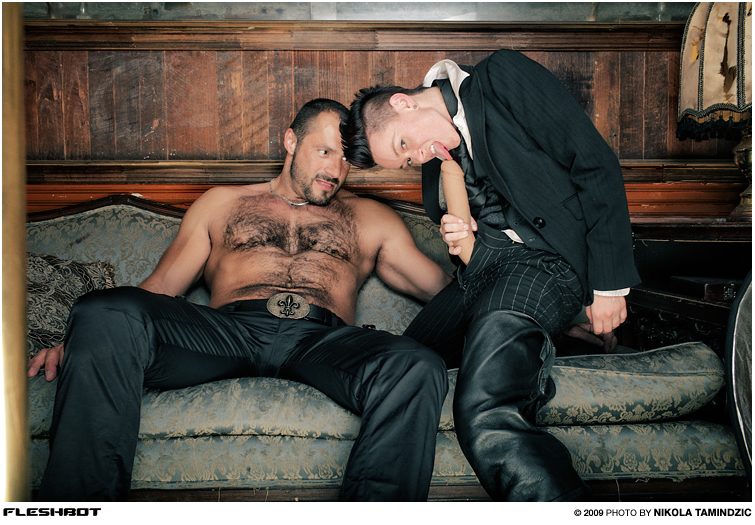 Can't you tell how much I adored shooting with Nikola?  (You can see more of the whole set here.)
What's going to happen this year? Well, I've been told to be on my best trouble-making behavior… so good times to be sure! I'm excited for the award ceremony, which celebrates the sexiest pop culture moments of 2011, from TV to Fashion and Tech. Belladonna will do a silks performance, and the evening will be hosted by Stoya and comedian Sara Benincasa. AND Alan Cumming will be there. I love Alan Cumming!
If you are in the New York area, I highly suggest you come. Here's the ticket and location info. After Party presented by njoy at 11:11pm on 11/11/11 at the G2 Lounge.  Sexy flier time. Hope to see you there!