Getting a Taste of Digital Playground's Jewelbox Cherry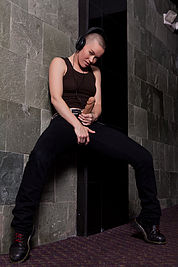 Towards the end of last year I shot with Digital Playground, something that was really exciting for me because it's a large mainstream company and yet I was offered the opportunity to shoot with them and pretty much be myself. In the series, I play a small but important role, the androgynous DJ Carson who plays the music in the club Cherry owns and sets the aural pace — the sexual undertone — of the club.
The series is called Cherry, and it's from a new endeavor by Digital Playground with strong director/writer Kay Brandt and JewelBox Films. While many lesbian porn fans are familiar with high production shoots, the series marks a new direction for DP  as their very first "Girl/Girl" film after years in the industry. The storyline is complex and commanded beautifully by mainstream crossover actress Judy Thompson, who I loved getting to know on set. Fans of the L Word who wished for more sex will eat this up, and appreciate a convincing cast. In addition to contract star Riley Steele, it also casts strong lesbian sex performers such as Sinn Sage (who I shot with for Belladonna's Strapped Dykes), Kimberly Kane, and I had the pleasure of meeting and flirting on set with Celeste Star and Missy Martinez.
While in my work in this, like my work with other Los Angeles companies, is labeled as "G/G", I hail from a more gender fluid genre of queer porn and personally identify as androgynous/genderqueer. So even though I'm not necessarily a "girl", my participation in these films is a marked difference from their past productions and the aesthetic of traditional porn models.
And it feels different than shooting queer porn, but the experience was very unique and important. Even the act of walking on set with a shaved head felt like a special occasion. I've heard from many female models in the industry that they wish they could cut their hair shorter but are pressured not to do it for fear of loosing work. It's definitely a big deal for models who rely on their careers and booked shoots. Because I have other careers running parallel to my performances in porn, I have the privellege of being able to look how I like, and be pretty picky about what projects I decide to do. I've turned down several mainstream opportunities in the past because I didn't feel they were the right involvement for me. While working with Digital Playground was something I would have never thought I'd be doing, Kay's project with Jewelbox Films felt important and I was honored to be invited. I feel that my presence in the work is highly visible and creates more possibility within gender expression in pornography, that I hope can be a trend in mainstream production.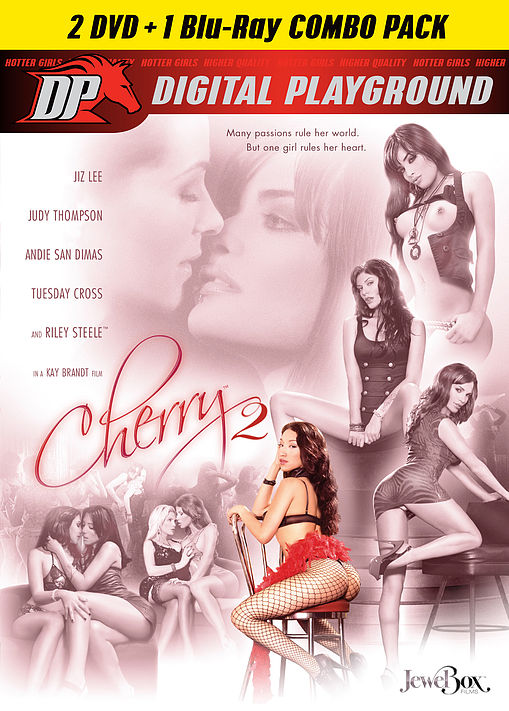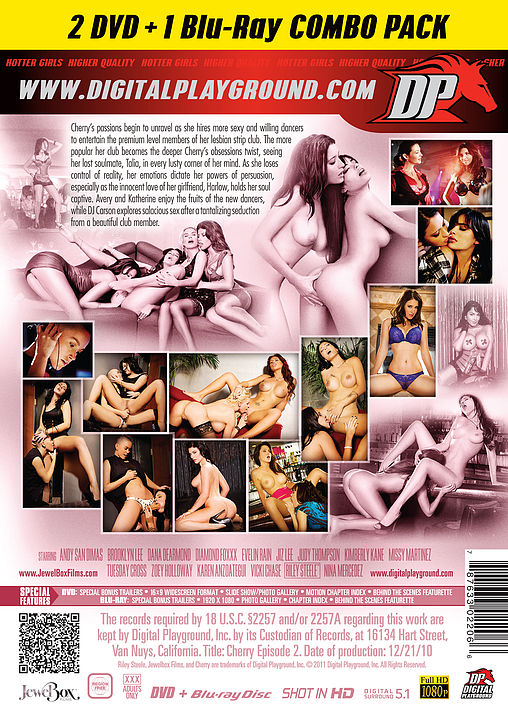 I'm proud to be a part of it, to explain my identity in the Behind the Scenes Trailers, and to meet and work with some really sweet people. So far there have been two releases: I have some cameo shots in Cherry 1, and a fantastic sex scene in Cherry 2 with down-to-earth BABE and my chosen co-star, Andy San Dimas.
Imagine yourself at a dance club, where a smoking hot and seemingly inapproachable DJ is playing all the right songs, and you wish more than anything you could catch their attention and lure them away from the booth for just a moment…
That fantasy is played out in my scene with Andy, a fast fuck that takes place in-between my DJ sets long enough to pull her dress up and screw her against a hallway wall. We don't even have time to take our clothes off, let alone lift up our shirts. Which if you've ever had sex on the dance floor or tucked in the corner of a club, seems pretty realistic to me. 😉 We have great chemistry and you can catch moments of our shoot in the trailer.
The second installment of Digital Playground's all-vagina soap opera brings us much joy, many orgasms, and most importantly, the one and only Jiz Lee as a DJ with serious strap-on skills. …Jiz wields a cock with style and aplomb, and even when they have to fuck a standing Andy from behind with their pants around their ankles, they simply go into a backbend and find the perfect angle of penetration. Why is Jiz so good at this? … a little confidence and creativity make it feel natural and then everybody gets sweaty and exhausted.
– Ottimo Massimo, Fleshbot.com
Order Cherry 1 & 2 from GoodVibes.com.