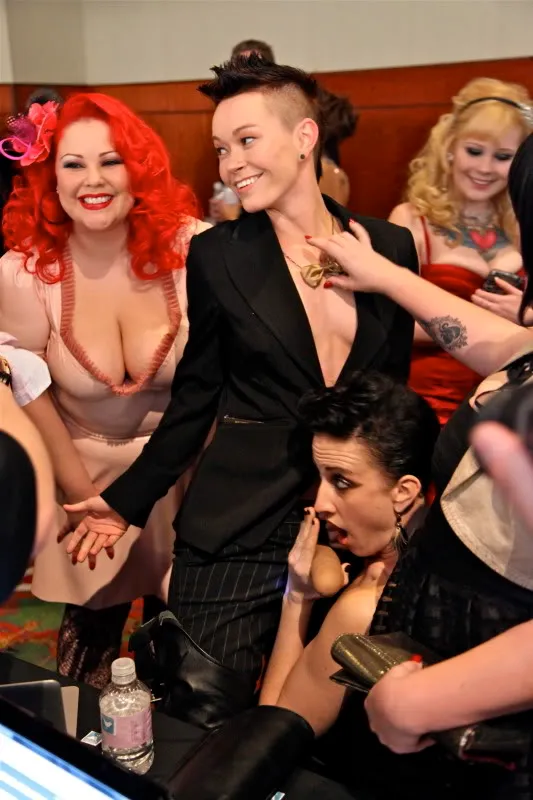 Black & Gold… Queers on the AVN Red Carpet
Jinx! This is a "Blog Jinx" by me and Courtney Trouble. From time to time we agree to schedule a blog post on the same topic, to be published at the same time. I'll show you mine if you show me yours… Check out hers at CourtneyTrouble.com.
It's been three full days since I've returned from Las Vegas where I attended AEE/AVN Awards for the first time. For those unfamiliar with those ABCs, that's the Adult Entertainment Expo/Adult Video News Awards. It is a major industry event and is about as mainstream as it comes.
"I can't tweet." was a big theme of the weekend. With so much going on, staying updated online was nearly impossible, let alone describing it all. Even this blog recap proves a challenge, so I'll hit the highlights. I was glad I attended AEE because…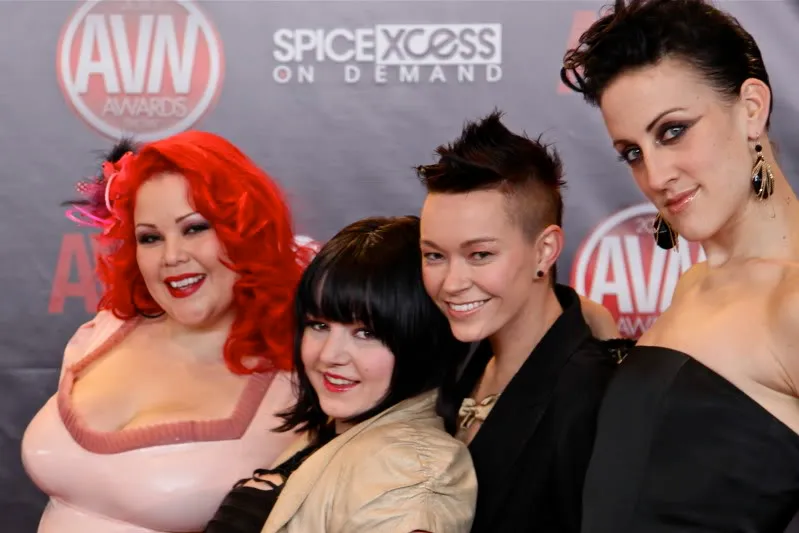 Pick by @chrisheuer | http://flickr.com/chrisheuer
I got to see friends and those whose work I respect.
While I didn't get a chance to reconnect with everyone this trip, and though many didn't make it out to Las Vegas, the fact that I was able to see many friends such as bloggers, editors, sex toy makers, pornstars, and directors – all in the same place — made the trip worthwhile. I loved stealing a kiss from Belladonna as she signed autographs at AEE. It was nice to run into many of the bloggers, photographers, and all-around perverts such as Lux from Fleshbot Awards, Diva from NYC Sex Bloggers Calendar, Bronques from LastNightsParty.com and Carnal Nation's Theresa Ikard, Shaye and John. Meeting Gram Ponante was worth the price of the plane ticket alone! Also Twisted Monk, Essin'em, Allison Lee from GoodForHer.com, AAG, and the graciously charming Jamye Waxman. The list is long.
I loved shuffling towards the Red Carpet with Joanna Angel and her alt porn posse. Alt porn and queer porn, side by side in more ways than one this year. And though neither the BA crew nor the Queer Porn Mafia (which now includes honorary inductee April Flores) took home any trophies, I was happy that hard working women like Belladonna, Kimberly Kane, Sasha Grey, Bobbi Starr, and Tristan Taormino were recognized for their work.
It was also amazing to see again stars like Satine Phoenix, Sinn Sage, Dana DeArmond, Wolf Hudson, April Flores, Madison Young, and Director Carlos Batts, as well as meet new folks like Violet Monroe, Ryan Keely, Kelly Shibari, Eon McKai – he is too cool for words.
I was also happy to meet up with stores I love and respect. It was a haven to have a home base at Good Vibes / Good Releasing booth, where I interviewed with Dylan Ryan and Eve Minax from Carnal Nation.  I also enjoyed meeting with hotties of The Stockroom, with whom I am really looking forward to more opportunities.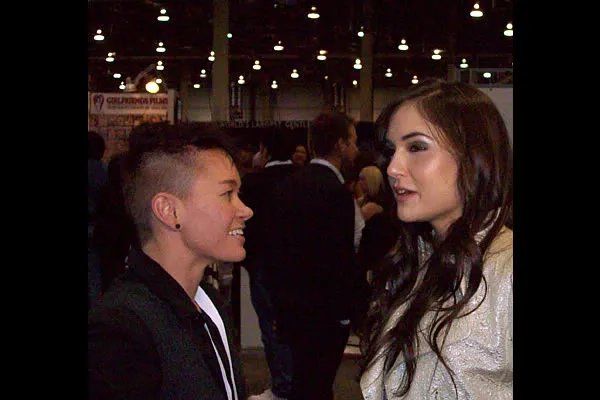 Pick by @TheDylanRyan
I got to crush out on talented people!
Sasha Grey!  I got to do a G4 interview with Sasha Grey. And though my heart was spilling out my pant leg and my vocabulary was reduced to an ear-to-ear grin, I got to stand with her, hug her, and tell her in person that I want to work with her. Dream. Reality. I love her for many reasons. Her mission and belief that porn can positively effect people's sexualities and make the world a better place matches mine!
Adrianna Nicole! She was sitting upstairs looking gorgeous, and smiled at me. It's hard to describe how she felt, when I took a seat next to her and flirted. So friendly and welcoming, I want to touch her all over. I chatted with Tristan Taormino (who was also great to see again!) briefly after the show and I hope something some time can manifest. There's something about her sexuality that feels very solid and enveloping… wow.
Nina Hartley!  At the Good Vibes / Good Releasing mustache party, Nina Hartley waved at me. Seconds later she was at my side, taking my hair firmly in her grip and setting her teeth down on my earlobe. I melted. She's like a sexual psychic. Later on the AEE floor we caught eyes and she mimed a hair grabbing motion. I think my knees buckled. Mommy! Please have Nina Hartley descend down upon me.
I got to see a piece of the industry, from the inside.
AEE/AVN is not the end-all, be-all of the porn industry. I knew this coming in and I know it better coming out. Throughout my explorations of a career in queer porn, I will constantly be faced with challenges, be it exploitation, financial risks and rewards, the goal of remaining true to myself and my values. Psyching myself out about the possibilities of winning was good for me. Writing acceptance speeches is a good exercise in recognizing who you are, how you got there, and who you couldn't have done it without. While out and about I saw how invisible I was – a reflection of the Straight/Gay website categories, played out in real life on the AEE floor and the red carpet. It was important to feel this while knowing my value. As much as AEE was not my scene, I was able to navigate and not get lost. In explaining how what I do isn't Girl/Girl, or what the word "GenderQueer" means on the back of my business card, I found myself articulating and expanding my own path.
I got to bring visibility of myself and queers.
There's a major shift happening in the mainstream adult industry, which includes increased queer visibility. For me, the term "Mainstream" is just as much about distribution as it is any broadly defined aesthetic we can assign it. It is for this reason that I believe increased access to diverse representations of sexualities and gender expressions is a good thing.
A lot of records were broken this year, and I'm thrilled to be in the midst of blowing minds. As I said previously, I believe the recognition queers received this year was better than Hollywood. I'll have to do some fact checking, but I believe I may have been the first queer porn star to be nominated and receive a blow-job while walking down the red carpet, all on the same night.
And I got to experience all of this, within my family.
Part of the SF Porn Posse aka the Queer Porn Mafia attended AEE/AVN this year. We were each nominated and invited to be there, and supported each other to the fullest. Dylan Ryan also blogged the days as a contributor on HotMoviesForHer.com with reports 1, 2, 3, and 4. We shared a suite with a Roman Luv Tub. I couldn't have imagined a better crew to snuggle, eat with, and share humidified air together. You ladies made this trip for me.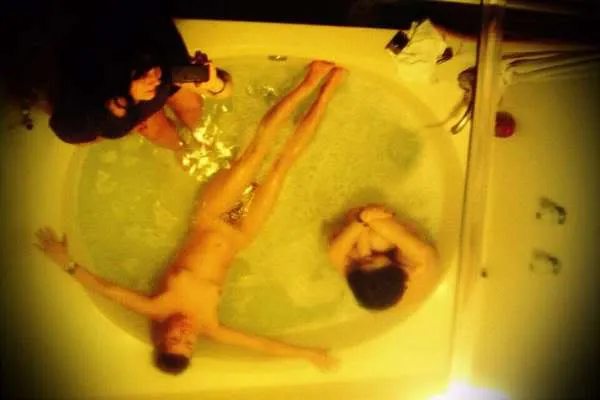 Pick by @courtneytrouble | www.courtneytrouble.com
If you followed our Tweets, those that we were able to squeeze out, you'd see that we ended our trip in a whirlwind adventure after our phones had died, only alluded to on Twitter…
TheDylanRyan: @courtneytrouble @jizlee Last night was epic. Remember when I went for a swim in the mirage fntn, courtney table danced & we got kidnapped?

CourtneyTrouble: @TheDylanRyan @jizlee i think i blacked out the table dancing but i do totally remember taking shots of of evan stone's abs at MGM

TheDylanRyan: @courtneytrouble @jizlee Shit I forgot about Evan Stone! Was that Sean Michaels who drove the getaway car after our guitar heist @ Hardrock?

JizLee: @TheDylanRyan @courtneytrouble it was! Just got home. These matching tattoos we got are off the hook!

TheDylanRyan: @jizlee @courtneytrouble Wait! you have tattoos on your right butt cheek that say "Queer Porn Mafia for Life" TOO? Amazing.

JizLee: @TheDylanRyan @courtneytrouble You know when we were given keys to the city? I think I forgot mine at the hotel. Will you check your bags?

TheDylanRyan: @jizlee I think U gave yours 2 the Elvis @ the Little White Chapel when U & @courtneytrouble got hitched 2 the boys from Thunder Down Under.

TheDylanRyan @courtneytrouble @jizlee @fatty_d Remember that time we all won Most Outrageous Red Carpet Moment? I love you kids in a big way.
And that's the truth.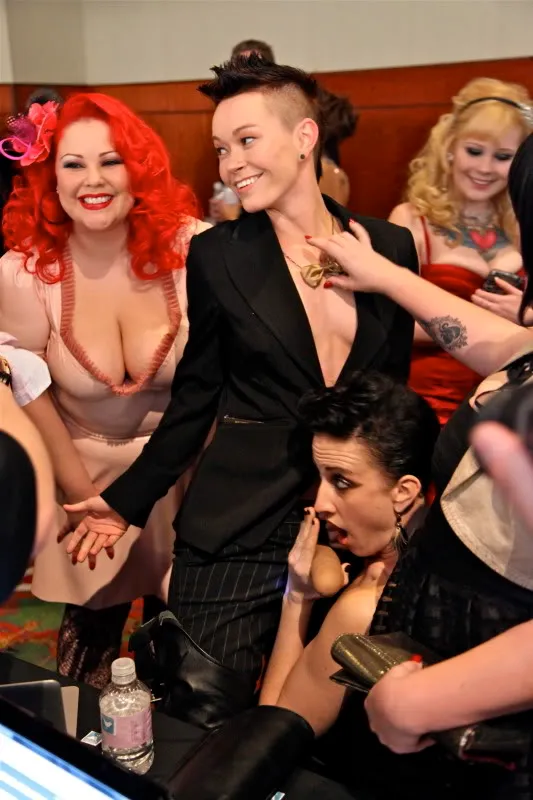 Pick by @chrisheuer | http://flickr.com/chrisheuer — thanks for being in the Twitter Pit, Chris!!!