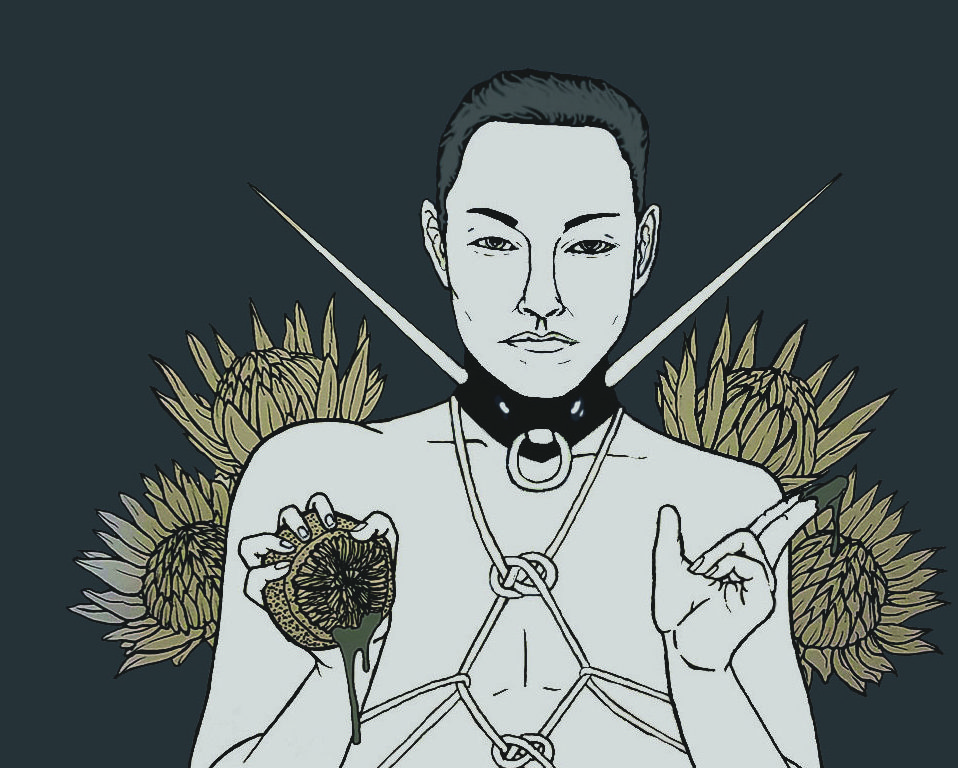 Erotic Philanthropic Holiday Cards
Each December I end the year by mailing holiday cards to those who have supported my work and community. The cards are a way I send gratitude, and also serve as a fundraiser. The idea grew from my initial erotic philanthropic photo site and has evolved into an annual physical collaboration with visual artists. Now in its 7th year, I'm very happy to add Lesser Gods Art to the tradition. I'm so excited to announce this year's holiday card. Here's a cropped preview:

Designed by Lesser Gods Art (who you can find on Instagram and Facebook) the image is a striking and sultry portait inspired by Allan Amato's Seraph photography and incorporating some of my favorite things like protea, grapefruit, and a little kink! It's a beautiful image and I want to send it to you.
Five Ways to Get a Holiday Card
1. Order a book
I've created a web store to sell my anthology Coming Out Like a Porn Star and other books. Order from the site and I'll send you a card.
>> Order here
2. Buy a Card
Buy a card directly from me for $5. (Or 5 for $20! Makes a great gift! ? )
>> Order here
3. Pay for Your Porn
What better time to subscribe to CrashPadSeries.com or PinkLabel.tv! By joining, you'll support my day job at Pink & White Productions. Watch my videos — or hundreds of other queer and trans porn performers — while financially supporting the production of new films pushing diverse sexual cinema. Sign-up via the links here:
To claim, send your payment confirmation to: jiz@jizlee.com along with your mailing address.
4. Donate to a Good Cause
Make a contribution of any amount over $25. All of the organizations listed here are located in the United States and your donation is tax deductible:
Center for Sex & Culture
Trans Lifeline
TGI Justice Project
Or, donate to a cause of your choice. Share your recommendation in the comments section below.
To claim: send payment confirmation to: jiz@jizlee.com along with your mailing address.
5. Go Digital
Subscribe to my email newsletter to receive a New Year's greeting with a digital version of the image right to your inbox.
>> Sign-up here
Thank you for all the ways you've contributed to help me do the things I love in life. Thanks for your orders of physical cards, books, supporting my day job and passions in queer porn, or making a donation to organizations that make the world a better place. Thanks for keeping me going!