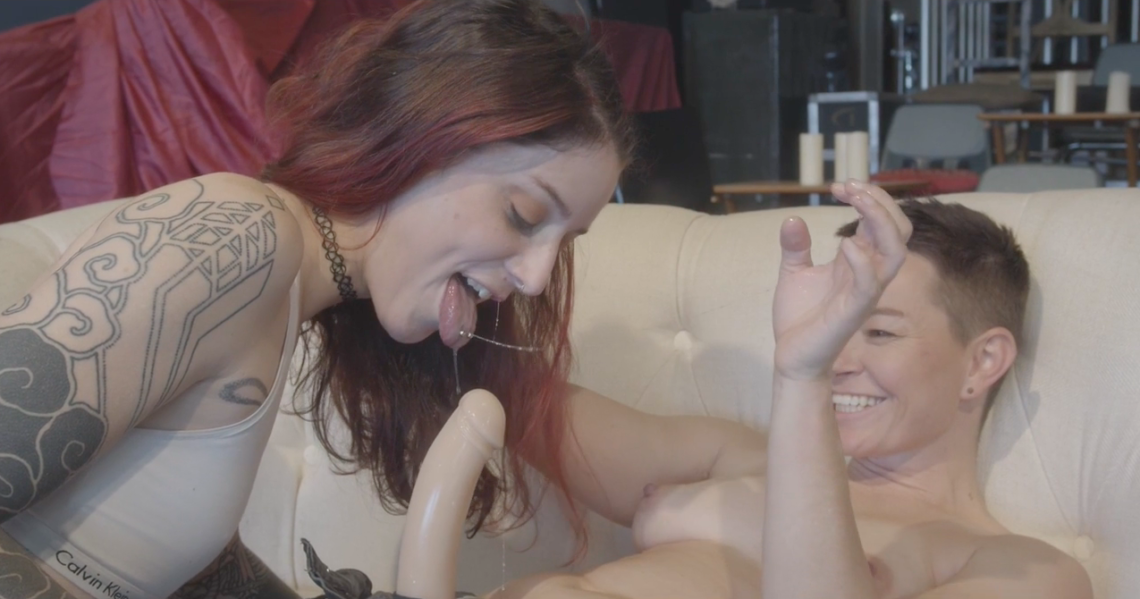 ZEROSPACES – Stoya's STARK with Cam Damage & Jiz Lee
A new scene is released! It may be hard to believe, but this was one of the last partnered sex scene I did before the pandemic began. Which means that besides solos scenes, I haven't shot porn in over a year! I really, really can't wait until it's safe to film again. So watching it now is such a sweet gift!
In February of 2020, I had the honor of working with Stoya for a new project called ZeroSpaces. (If you're not familiar, ZeroSpaces is a digital erotic magazine, publishing issues comprised of articles, photo shoots, and videos. The content collection is sexy, smart, curious, and very, very cool. Like magazines, each issue can be purchased on its own or with a subscription. Unlike magazines, each individual section can be bought to enjoy a la carte. I appreciate the opportunity for creative sexual media to have a space that exists somewhere between commercial pornography and mainstream digital publication and think the concept is brilliant.)
ZeroSpaces Issue 006: MOSTLY NON-BINARY includes a water tank photo shoot with Stoya and myself (read more here).
UPDATE: ZeroSpaces is unfortunately no longer online, but its adult films can now be found on PinkLabel.TV. Among these include a crush-worthy, high-chemistry strap-on scene directed by Stoya called
STARK
, starring non-binary performer Cam Damage and myself. I thought I'd share a little about the scene, which had me smiling ear to ear!
With the concept of 'fluidity' as a starting point, Cam and I found a match in our presentations and power dynamics. The scene opens with a camera following one performer in jeans, and ends with another exiting naked. (To me, this recalls the opening and closing images from The Boys in the Sand.) The watery concept was made literal, and very viscous, thanks to Cam's deep talent for producing copious spit!
I cherish the opportunity to work with performers who are present and playful, willing to go with the flow, as it were, and this shoot was no exception. Cam has major puppy energy and these adorable dimples. If you like to watch two people buck the binary porn script and just have fun with strap-ons, fingers, and lots of wet oral action — and want to observe my face morph between expressions of amazement, awe and joy, as I become smitten with my co-star, this is one for you!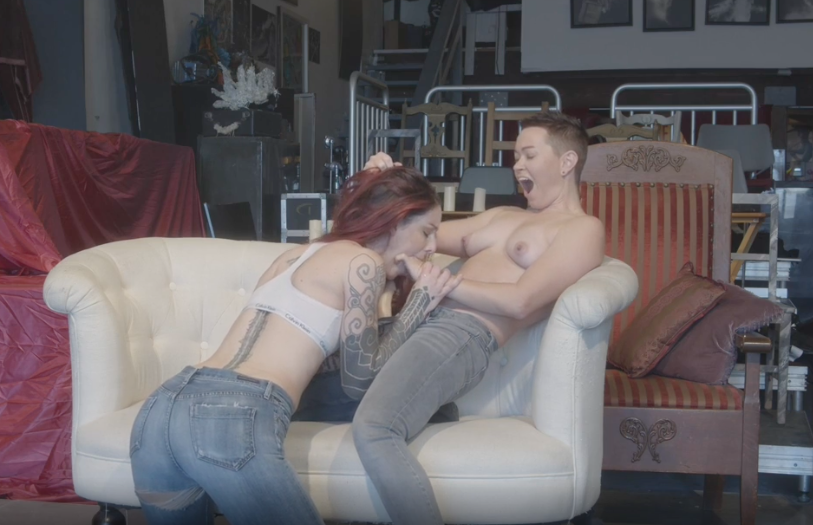 Fun fact: "Stark" was shot at Little Boxes Theater in San Francisco, and as the name implies, the bare, undressed set you see in the background appears essentially as we found it when we first walked in, complete with easter egg reminisces of its previous circus show and all the oddities that decorate the space fully visible in the background. Little Boxes is a San Francisco gem, one of only a handful of remaining spaces that welcome experimental art, uncensored. It was also home to one of my early performance art explorations, so it was a special treat to return to the space, and it's no surprise that they were more than welcome to provide a location for our explicit filming.
I hope you enjoy ZeroSpaces ISSUE 006: MOSTLY NONBINARY. Besides my own involvement with this video and the photoshoot, there's also an article by Mia Little on being non-binary and Pinoy, my doll April Flores and Milcah Halili, as well as info about dental dams, sex toys approach from a non-binary perspective, and many other delights. Click over and look for yourself. You can cherry pick any individual parts you're interested in, get the full issue, or subscribe for a year and be rewarded with access to all that ZeroSpaces has to offer, including Stoya's directorial debut of Graphic Depictions with Lily LaBeaux and myself.
By enjoying handcrafted smut, you can feel good as a 'patron of the erotic arts' when you #PayForYourPorn! Adult film performers are rarely offered royalties, and many of us rely on affiliate commission. I make 35% of any sale made through the links on this page. So if you like what you see and think it has value, show up with your pocketbook to foster more of the sexy art that turns you on.
Much love and gratitude to ZeroSpaces, Director Stoya, Director of Photography Steve Ronin, Editor Wolf Hudson, and MUA Treina Alexander – and of course a beaming ear-to-ear smile of thanks to CAM DAMAGE. What a pleasure!
This film was produced in February, prior to statewide response to the Novel Coronavirus COVID-19. I am well, and wish safety for you, too! Please stay home if you are able, and practice precautions to keep you, your loved ones, and communities safe. I hope this new film, shot in the months before the global pandemic, provides joy. We could use a little queer love and lust right now. I am so excited to finally share this with you!