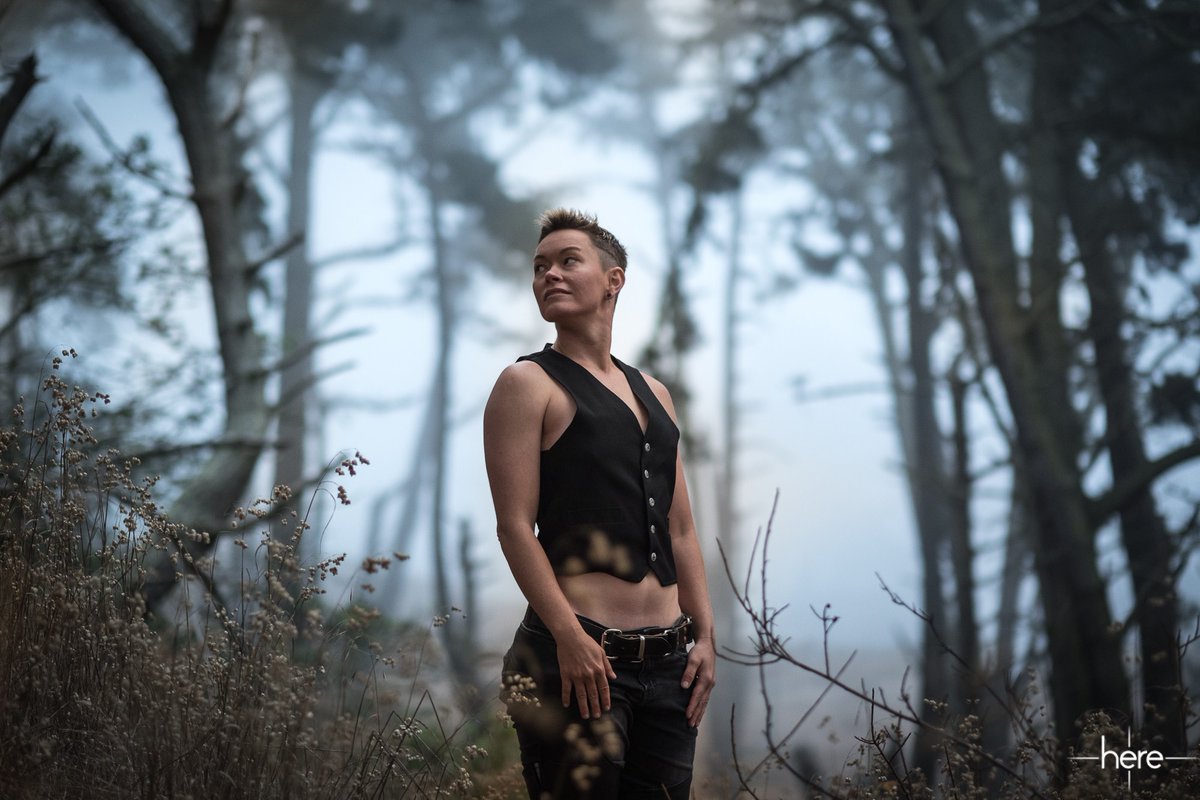 A Year of Highlights: Reflecting on the Positive from 2017
Initially, I wasn't sure if I wanted to write this. By most accounts, 2017 has been a "trash-fire" year. And I generally dislike the notion of giving value to the arbitrary start/stop date of a Gregorian calendar year, as if the passing of a minute hand can clear a slate. (Time ain't nothing but a number?) But, a new year does provide an opportunity to reflect, to learn and prepare for the future. I do appreciate the positive aspects of recaps, best-of lists, and excuses to promote the best parts of life.
So here's my highlights, from videos to photo shoots, porn policies to sex worker book love. Peppered with photos and videos, of course! NSWF, unless you work like me. 😉
First comes the porn
2017 started off with the release of FourChamber's SPILL. I'm a long-time fan of Vex Ashley's beautiful films, and enjoyed the chance to collaborate once again with Valentine, as well as work for the first time with Blath. (You can watch the full film here.)
The year also saw the final release of The Crush starring Bishop Black and myself on Bright Desire. The footage we shot came out in three installments, because we were given permission to be g-r-e-e-d-y performers, which resulted in many minutes of sex. If you want indulgent queer sex, this is a prime example. More than a year later, I'm still tingly. Do follow Bishop, as he's brilliant.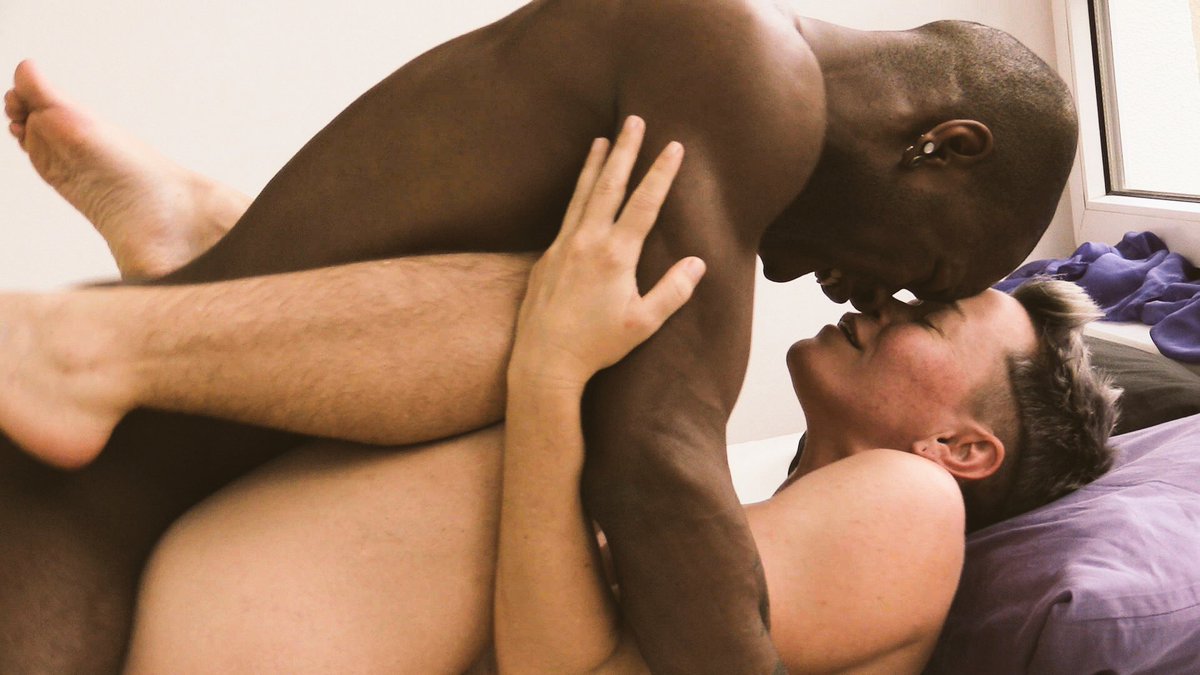 I shot with Naughty Natural (I might be one of their first 'out' non-binary performers?) and my solo scenes have started to be released. Though I was hesitant to work for a "hairy" site, because I didn't want my body hair fetishized in a feminine way – obviously hair is as natural and "normal" as ANY choice in body hair styling, amiright? – I found Silver's work to be more about hair celebration, in gorgeous outdoor environments that totally hit my my ecosexual buttons. Stay tuned for a short video on the river, and fun outdoor workout scenarios.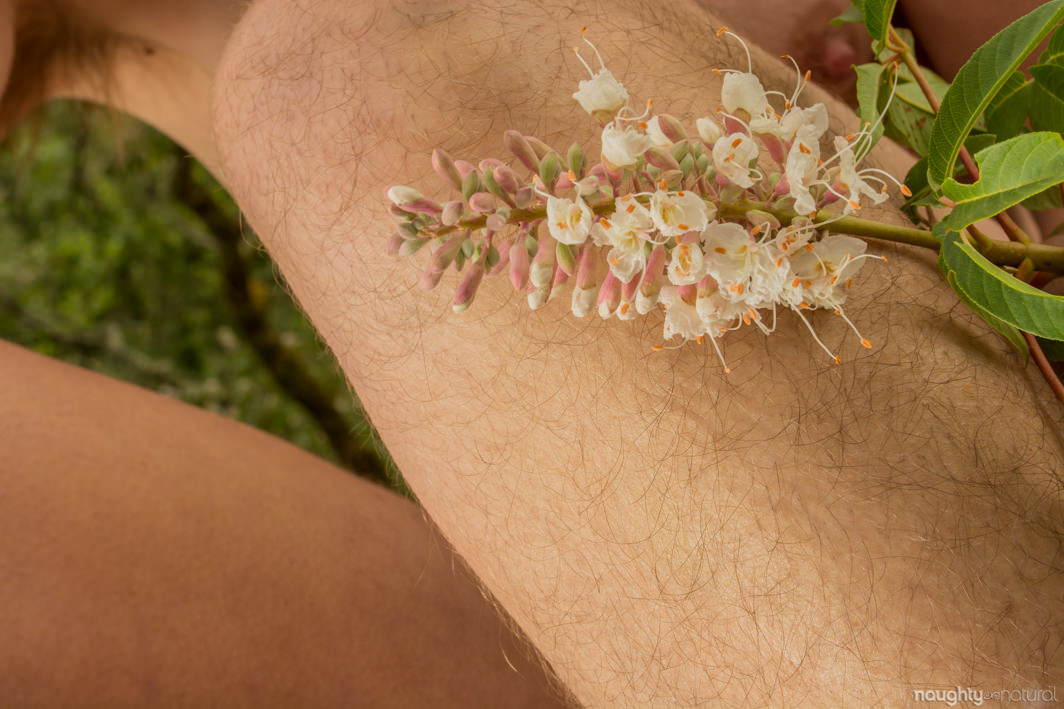 One of my favorite roles to-date was with a new TrenchCoatX series, GAMER GIRLS, directed by Kayden Kross. In it, various real-life gaming ladies encounter fantasy scenes with co-stars of all genders. I got to play a video game avatar, which was a dream come true! April O'Neil was the sweetest.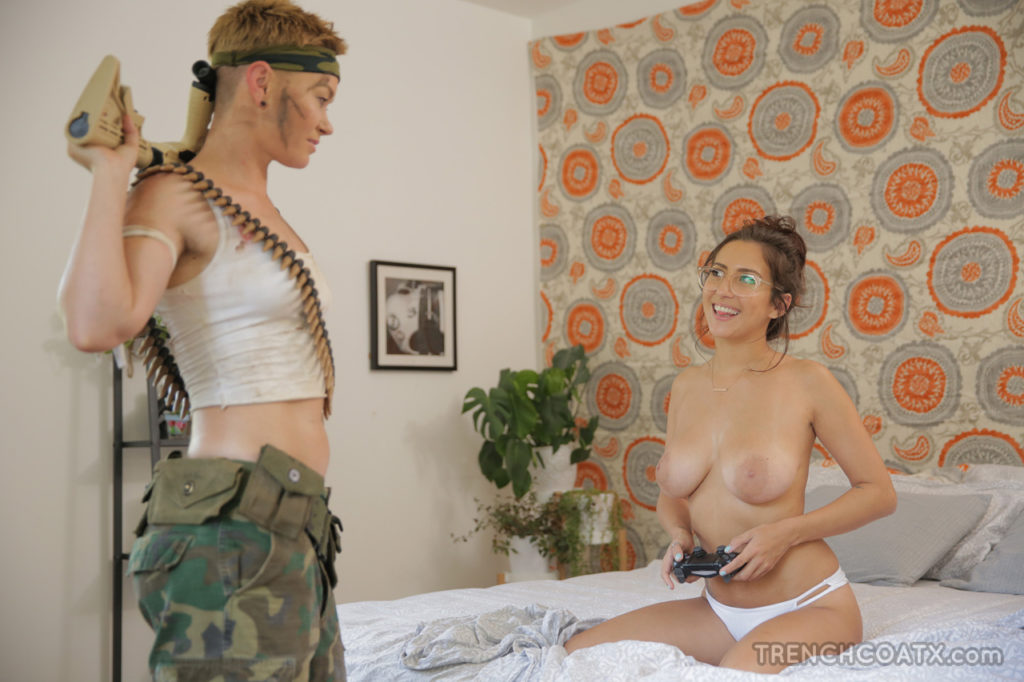 Watch the trailer, complete with explosive special effects.
In the Fall, I shot a collaboration DTF with the Incredible Evie Snax.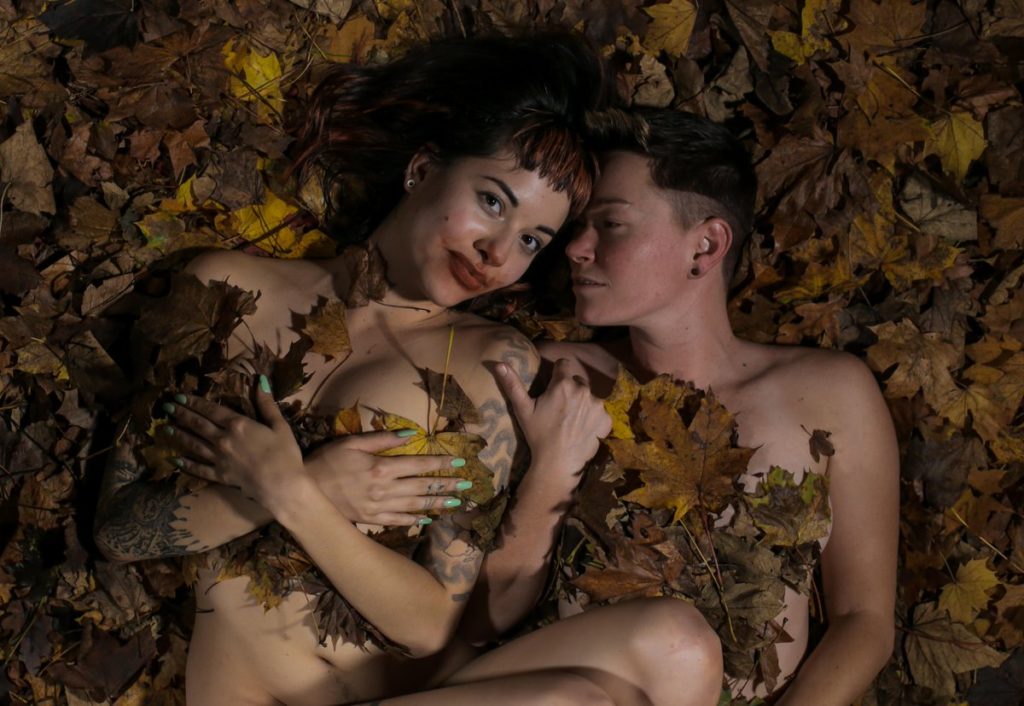 Pictures and poses
My experience filming SPILL wouldn't be complete without the creamy after-photos captured by Blath.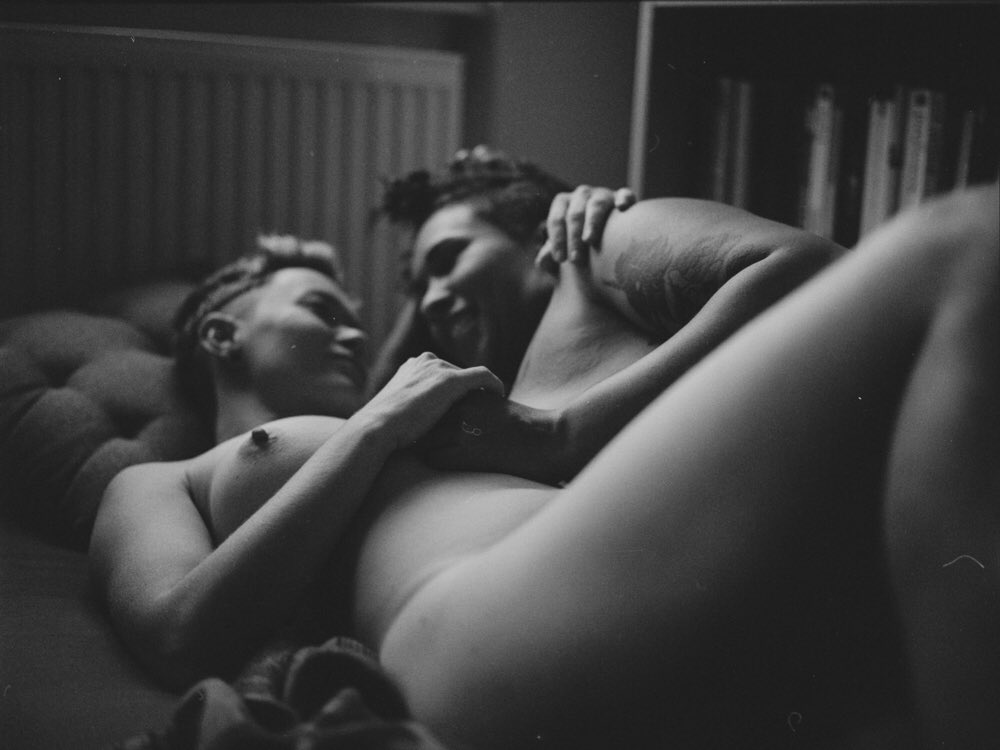 You know that thing about cats and boxes that goes, "If it fits, I sits"…? Well, I feel that way about windows and other ledges spaces. "If it sills, I fills." (Truly, this is not the first time I've angled myself into some kind of frame.) I will similarly never pass any opportunity to shoot with Max Lander.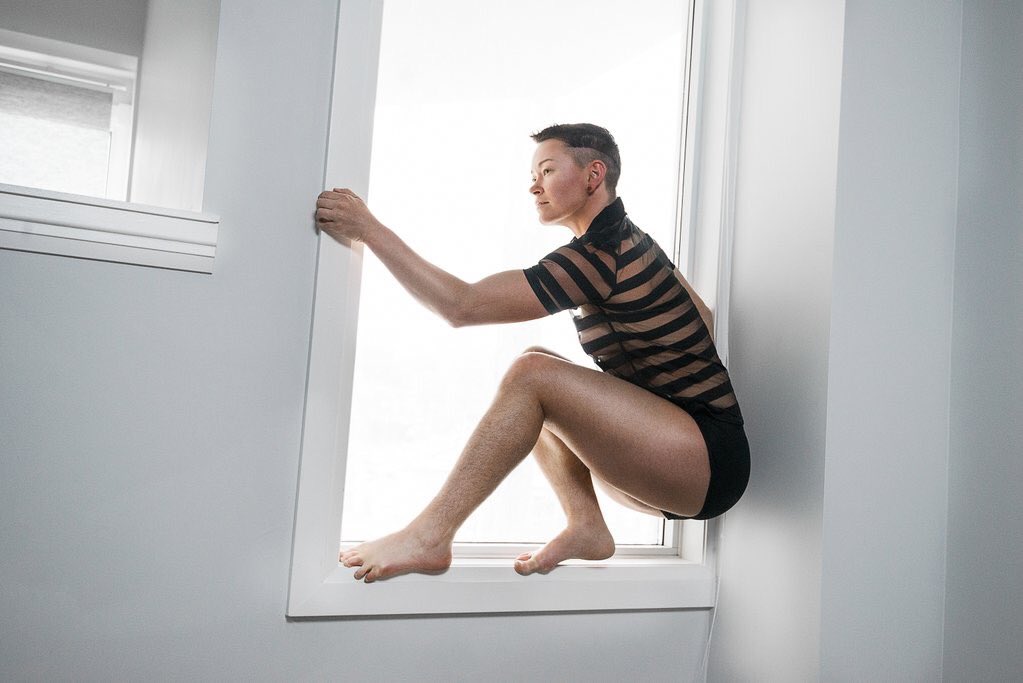 I appreciate ASLAN Leather so much. Carey made me feel like a muscle-queer hero, modeling the new BOWIE Harness and other excellent BDSM gear. Here's a little peek from the campaign: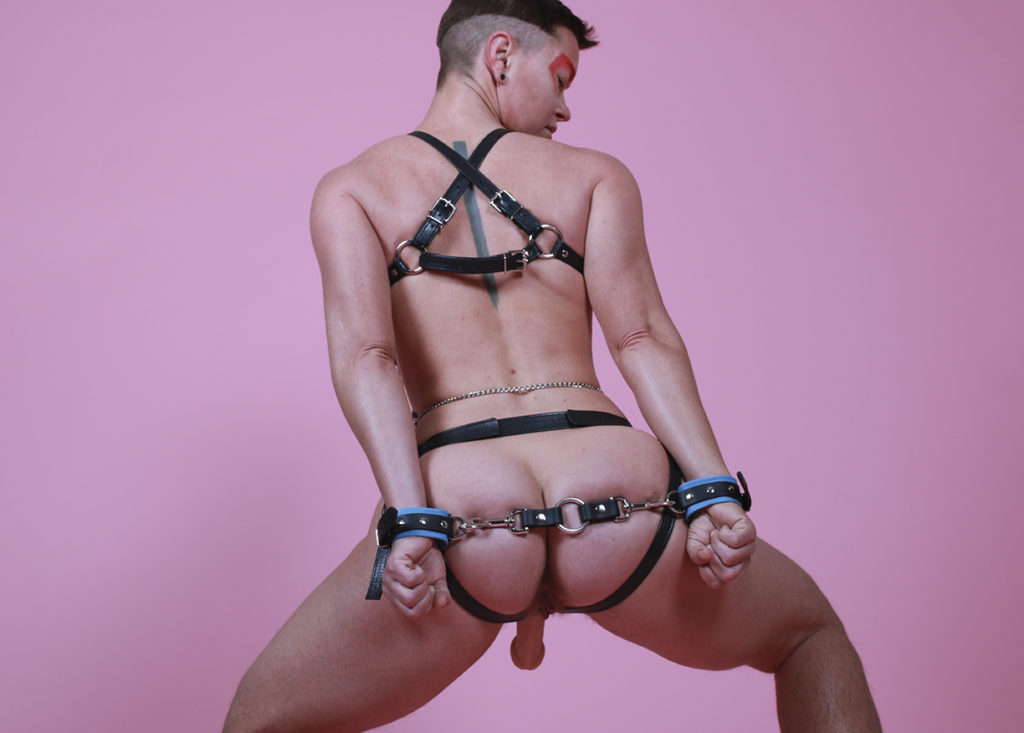 Little in the Middle… I posed with a gorgeous group of people for Dark Garden Corsetry, who welcomed me as the lone non-binary model in the group. Ogle more photos with the Lingerie Addict, and see my specific Naturals Risqué Cincher in Honey.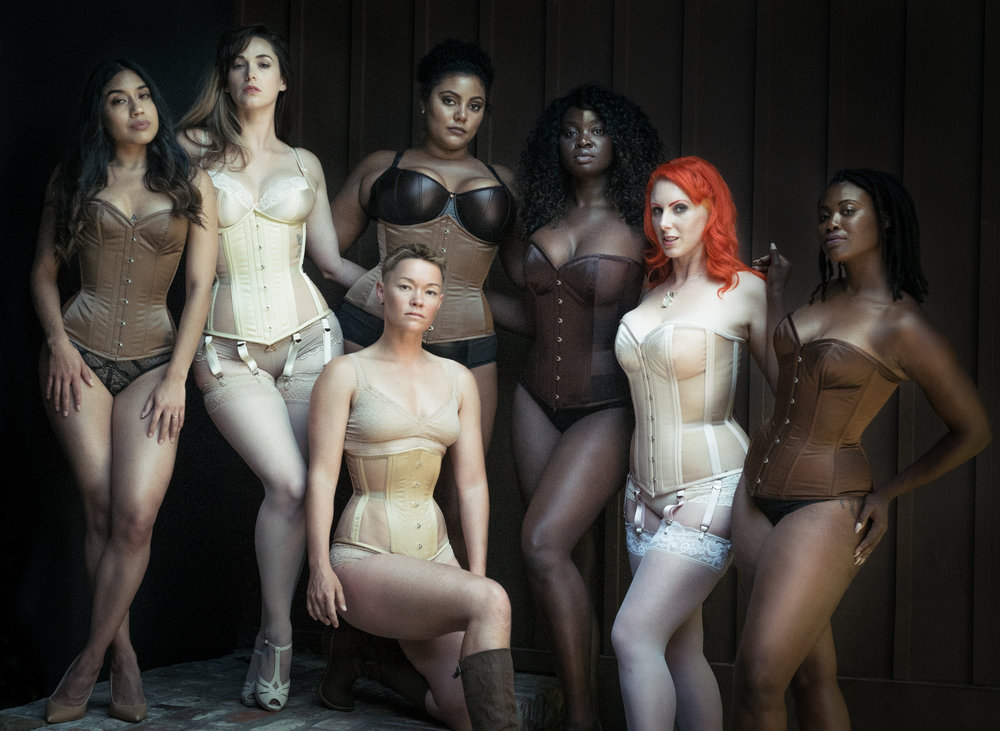 I posed for The Dark Arts! As a fan of his genre-defying images of people of all genders in bondage, I was really excited to get in his ropes and in front of his camera. I loved finding the power in restraint. A few of the photos are part of the new book (get a signed copy). Here's a peek: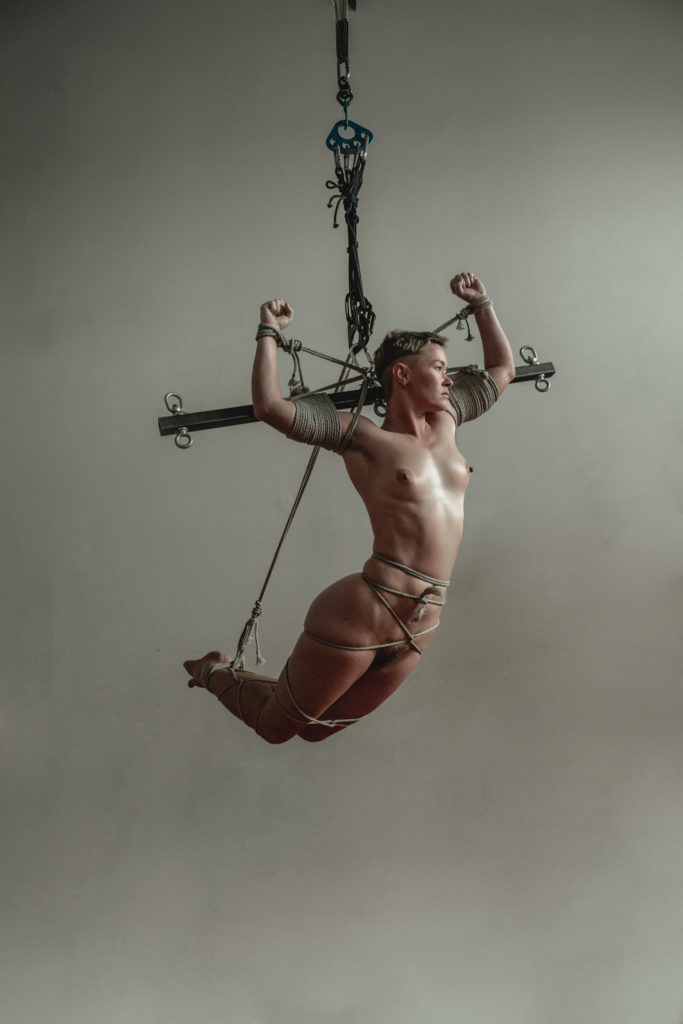 Evolution of a pose… keeps evolving! This was the second time I've posed for Los Angeles-based photographer Allan Amato and I've continued to explore postures of strength in relation to the camera, and confidence within my chest, specifically. This image will be part of the upcoming Seraph book along with the beautiful Natassia Dreams. (See a peek of our cover.)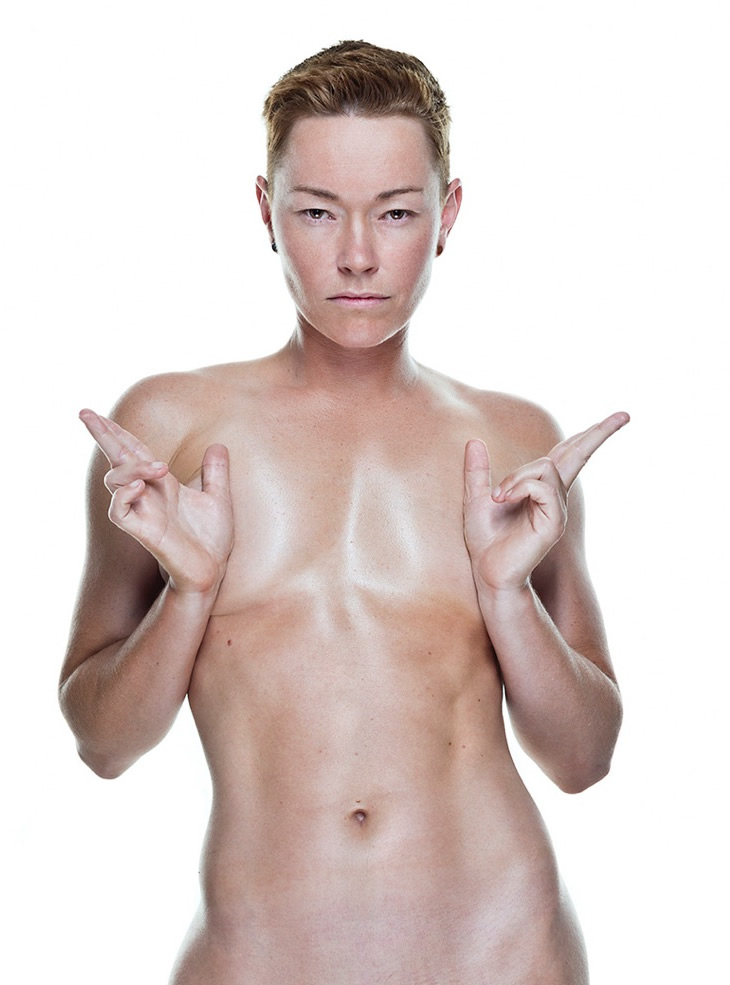 LeatharCore! Get inspired with these custom pieces designed by Apaulo Hart for his new website, LeatharCore.com. Photo by Tristan Crane.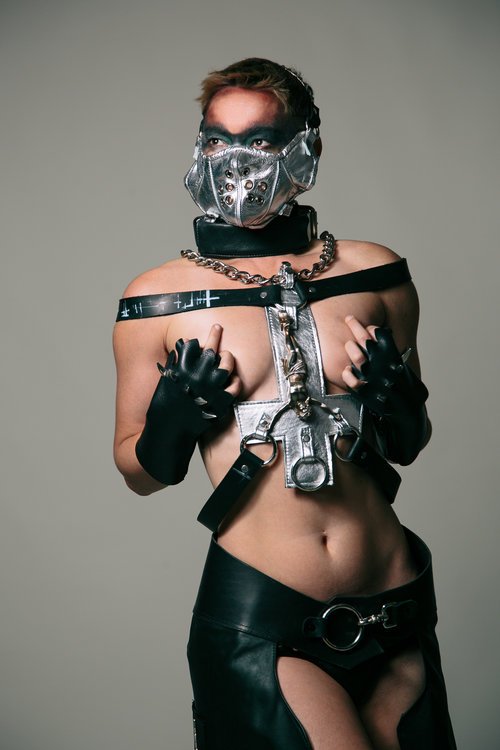 Speaking of Tristan, I was thrilled to participate in a non-binary portrait project with long-time photographer friend Tristan Crane. Here's a peak at our foggy, forestry shoot. (More at HerePortraits.com.)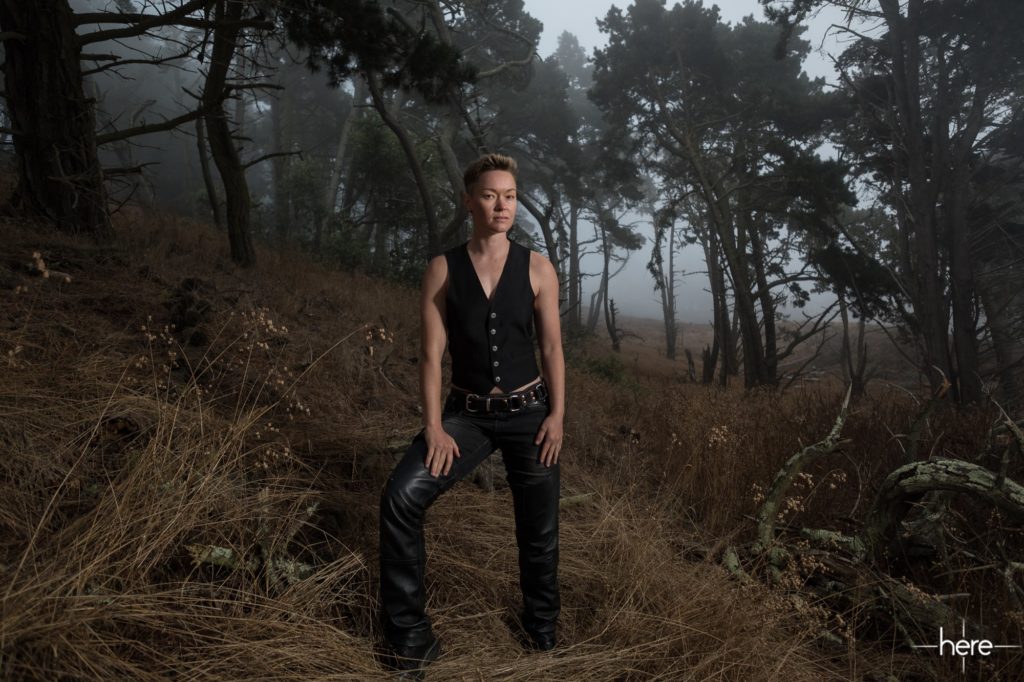 Porn politics
The big industry issue of 2017 came down to CalOSHA, and if they'd work with active adult film workers and our industry's leaders like the Adult Performer Advocacy Committee and the Free Speech Coalition to adopt a comprehensive guideline that is appropriate for various production projects, rather than a "one-size fits all" approach. As a condom-only performer by choice, I felt it important to advocate for performers' agency as the best option.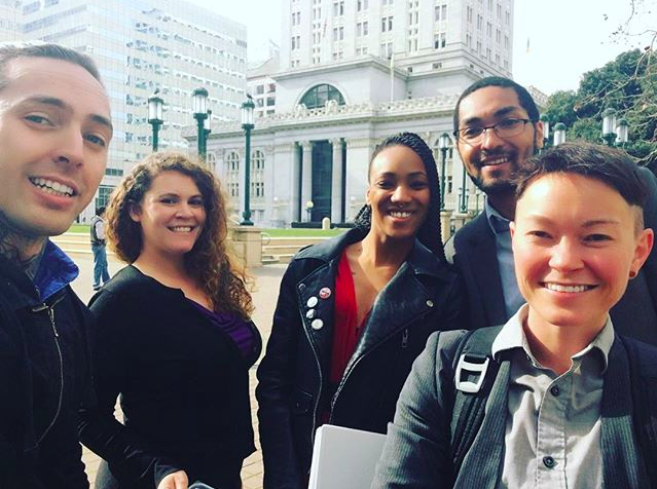 Arts
"Still Working Sex Workers Art Show" presented beautiful visual and performative arts, with provocative photography series by Arabelle Raphael (which I hear is rumored to become a future book!), and the dark, iconic imagery of photographer Rae Threat. Here's Rae's image from the show, purchased and framed by @sneakymiles!: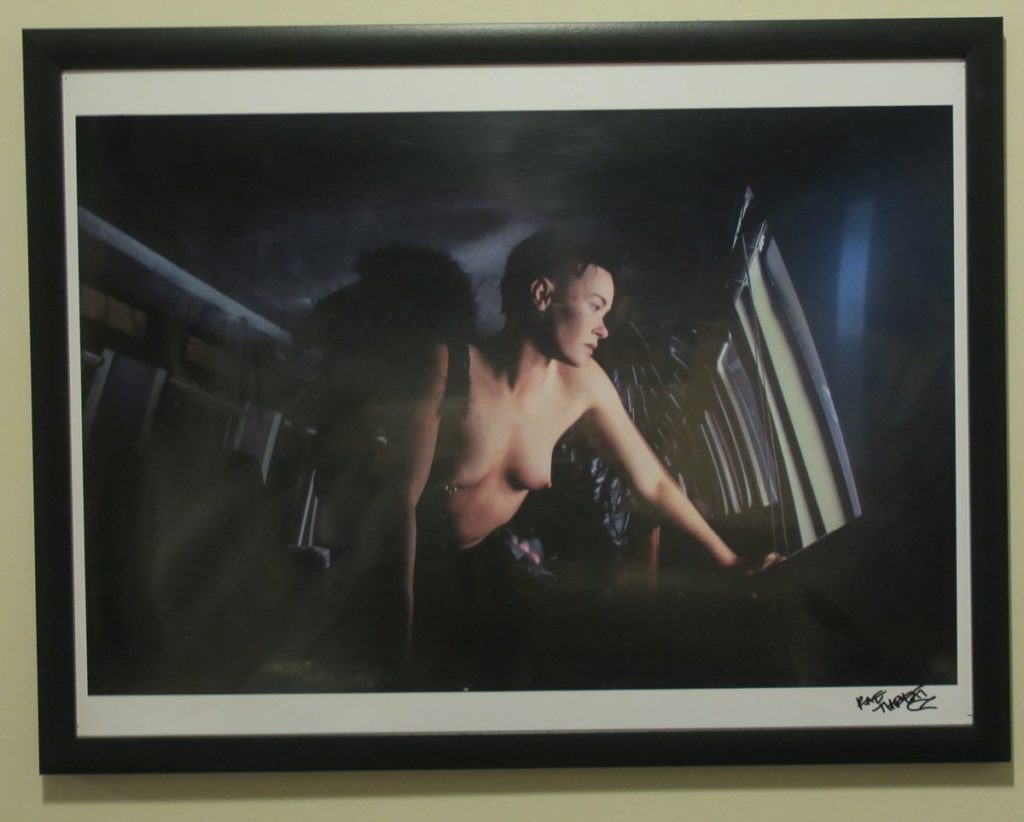 Each year I collaborate with a visual artist to design a holiday card for an end of year fundraiser. This year we raised a combined $1,405.00 for various causes and organizations such as TransLifeLine and TGI Justice Project. The card was designed by LESSER GOD ARTS and it's so juicy good. (I have extra cards available, or free with a purchase of a book from my web store.) I'd love to send you a signed card with this striking image!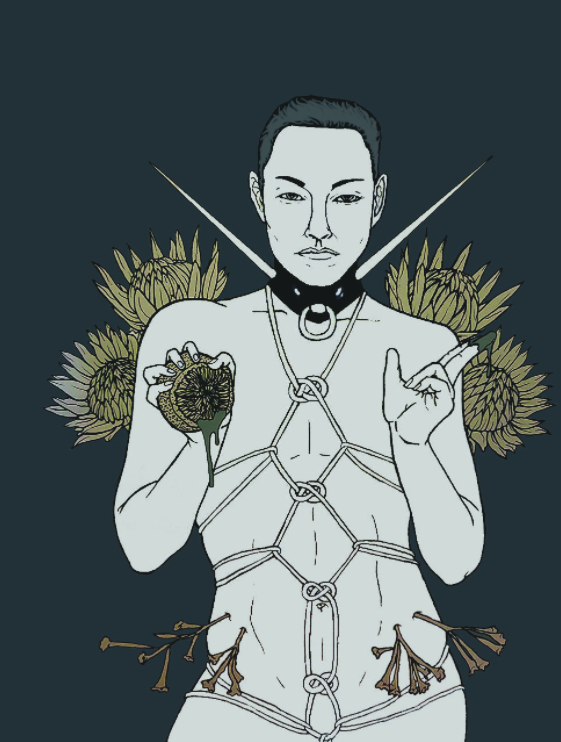 Books!
My first erotica piece was published in ASAROTICA, a collection of erotic short stories written by porn performers and edited by Asa Akira! I read it for the first time in public at San Francisco's Book Passage with Dana DeArmond and Asa herself.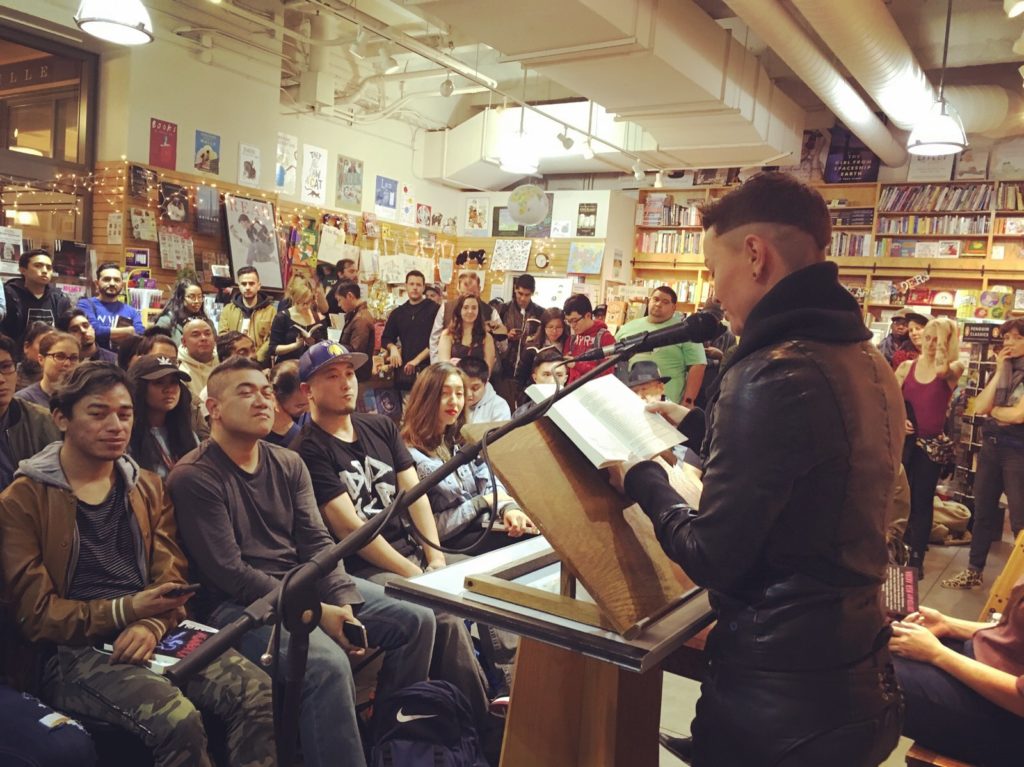 My article "Ethical Porn Starts When You Pay For It" was published in the new anthology ASK: Building Consent Culture edited by Kitty Stryker. To see my little essay is surrounded by true brilliance makes me humbled to be included.
I randomly stumbled across a picture of someone reading Coming Out Like a Porn Star on the NY Metro through the Instagram account @SubWayBookReview. (And it was @Gutter.Face!) Now if only it can get picked up by @HotGuysReadingNYC…
My biggest book-related news: earlier this year I read THRIVING IN SEX WORK and I loved it so much, I asked its author Lola Davina if I could sell copies of her book along with Coming Out Like a Porn Star. The 2-book set is a pairing of heartfelt advice and anecdotes, written by sex workers for sex workers. The idea to offer her book inspired me to create a web store to sell a number of books that are important to me. (Signed and shipped world-wide!)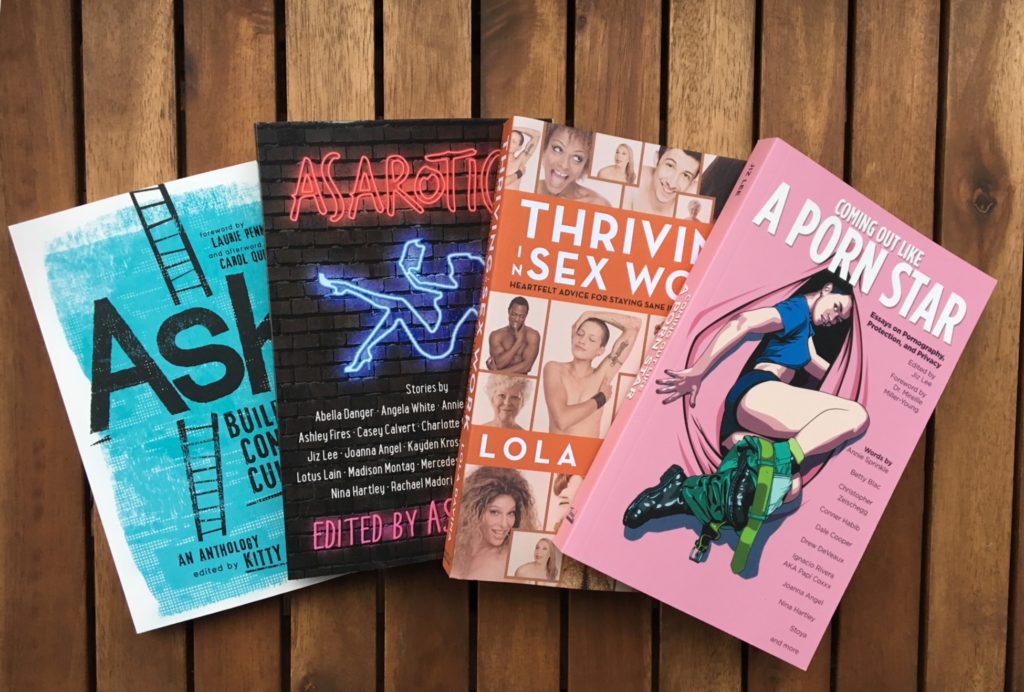 Nods!
I'm grateful for the recognition by XBiz and AVN earlier in the year with "Mainstream Crossover Award" nominations for my role as the pro-dom/me "Pony" in Transparent. I also attended the Toronto International Porn Festival to represent Pink and White Productions; our films SNAPSHOT and BED PARTY: Jack HammerXL and Nikki Darling won, as well as "Best Orgasm" going to Goodyn Green's Blue Room starring Mad Kate and myself. The year ended with Pink and White named "Best Porn Studio 2017" by the San Francisco Bay Guardian.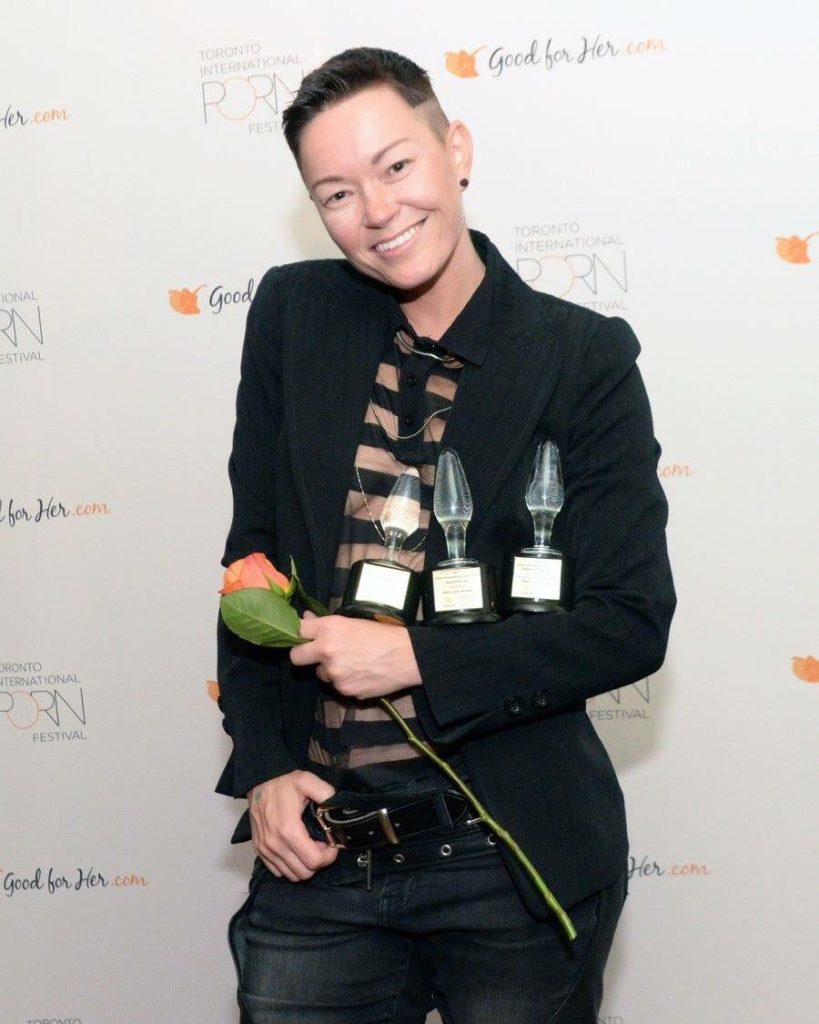 #BestDayJobEver
This year at Pink and White was action-packed! I'm so blessed and impressed to witness what our tiny company is able to accomplish. Earlier in the year, we relaunched PinkLabel.TV, thanks to the hard work and magic that is Chris Lowrance. We also released Shine Louise Houston's SNAPSHOT, my first role as Assistant Director/Associate Producer. The film premiered at San Francisco's Frameline, and screened around the world, including the British Film Institute, where I had the pleasure of traveling to London to speak on a panel with UK porn activist Pandora/Blake and Myles Jackman, the lawyer who coined the phrase, "Pornography is the 'canary in the coal mine' of free speech." Shine and I also travelled to Germany for the PornFilmFestival Berlin, where PinkLabel.TV sponsored the European PorYes Awards. SNAPSHOT was honored with "Movie of the Year" at the Toronto International Porn Festival, and is nominated for the 2018 XBiz Awards. Shine and I appeared on the BBC's "Queer Britain" to talk about LGBTQ representation in pornography, and my year was made when CrashPad got a mention in TEEN VOGUE! I started our closed captioning project, and we welcomed so many new studios to our little indie porn home on the internet. I know I'm forgetting a million more moments… but let's just say it was a good year for PW Inc. (Here's a pic of videographer Ajaporn and I, along with the lovely Kelly Lovemonster at the "Best of the Bay" party.)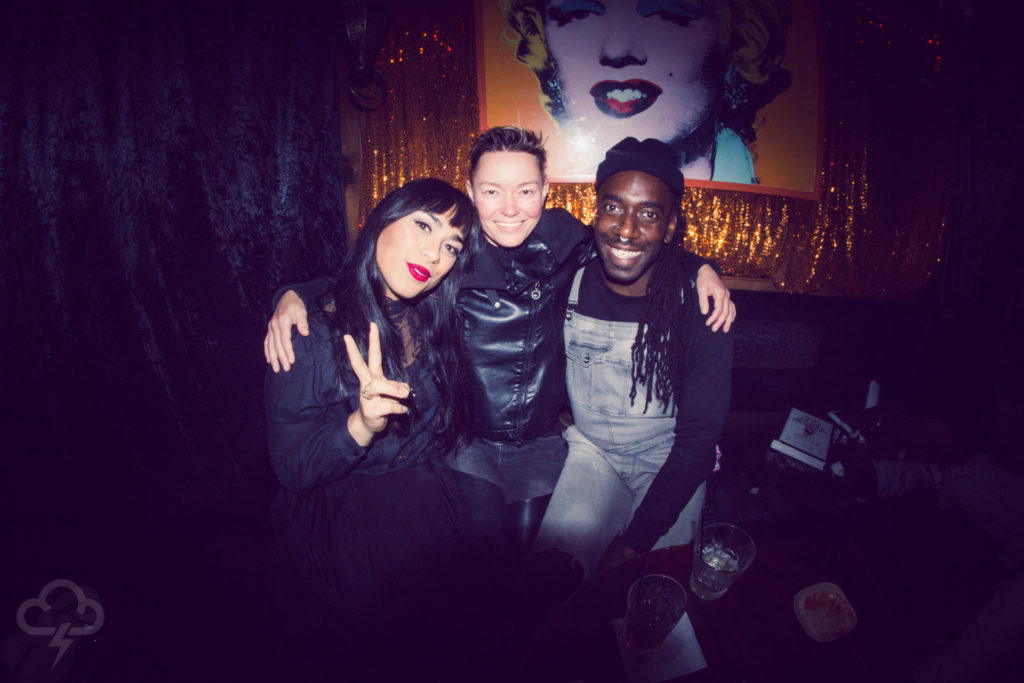 What else…
Let's see… Oh, I did a great interview with Scarleteen! There's more personal things I'm forgetting… and some moments I'm intentionally omitting, like passing of friends and family that I'd prefer to keep private. It's been such an intense year. To keep my head above water, I worked harder than ever, focusing on what I could access, where I could create positive momentum, how I could uplift others. I also continued to build structures of sustainability and self-care; I'm still "keeping it moving" with triathlon training and races, and increased my strength training. Working out, which something I do almost daily, has been a vital part of combating burn-out. It's enabled me to find balance, forces me off the computer to clear my head, and helped hold myself accountable to health as a priority. I've never felt better!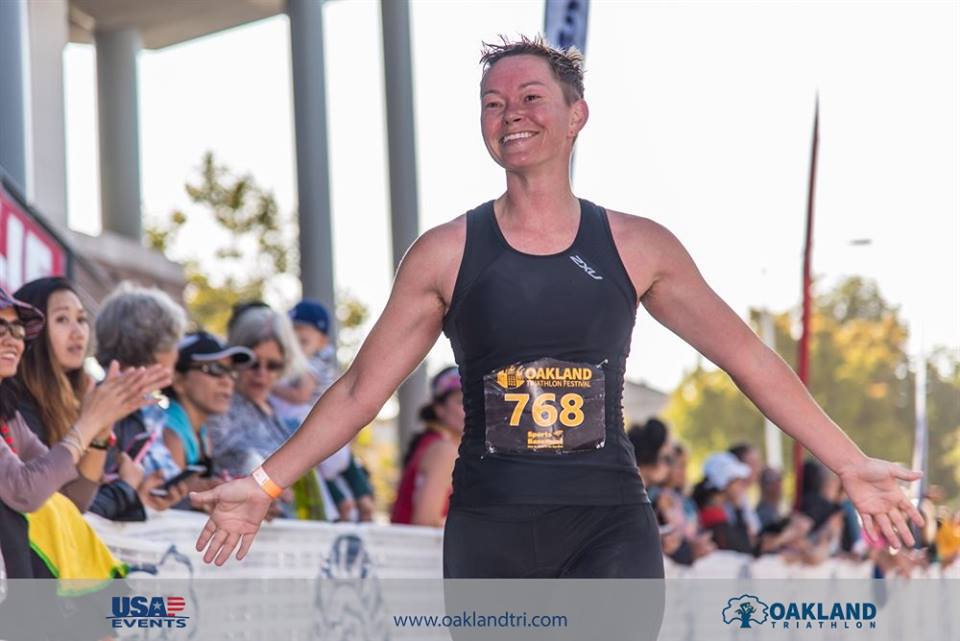 Thank you
I'm grateful for your support in ways large and small, from book purchases to retweets, from geeky emails to press inquiries. Let's come together for action, intention, and more adventures to come in the year ahead! ("Come together"… see what I did there? Eh?… Ugh, fine…. 🙂 )