100th Episode of CrashPadSeries.com… with Nina Hartley!
*pinches self*
Nope, that didn't work… *slaps self*… maybe better… maybe…
How excited am I!? First of all, Nina Hartley — who many people may know from the film "Boogie Nights" and others may know and love from her countless sex ed videos (and of whom, many supported as she recovers from surgery) — recently inquired about shooting with me for CrashPadSeries.com, one of my favorite sites of all time. For me, Nina represents the classic boundary pushing lesbian who broke the barriers in the early days of queer women in porn (ie: "San Francisco Lesbians" on VHS). Flash forward, and we have Shine Louise Houston working in digital glory on crashpadseries.com, a queer site that continues to push the envelope for representation of queers of diverse sexualities, genders, backgrounds, sizes, abilities… basically, the sex we're really having. So there's a lot of celebration with introducing Nina on the site.
UPDATE!
The shoot was more than I could have dreamed for. Cocksucking and gender play and D/s and ejaculation and dirty talk Oh My.
Here's a sneak photo… and much much more where that came from. (Good SIR! Nina is strong!!)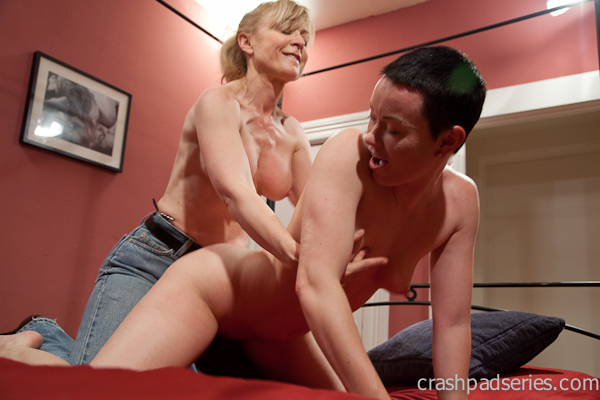 "Even for Jiz, this ejaculation was epic. It was the superman of ejaculations. Nina punched their bits and wham, it was like a fountain at Versailles."
– "Hail to the Porn Titans" Review by Ali Oh from madeofwords.com
To watch, JOIN! CrashPadSeries.com