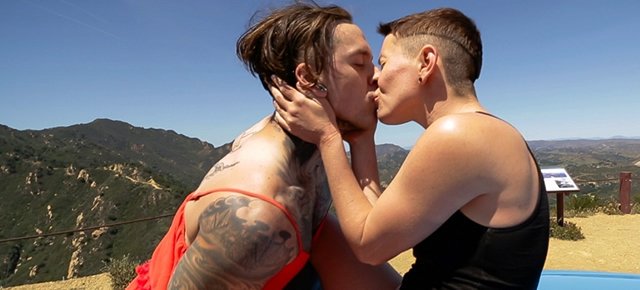 Girl/Boy 2: Ruckus & Jiz Lee
Remember when I shot Girl/Boy by Dana Vespoli? Well, the hardcore gonzo series is back with Girl/Boy #2, and it's even more transgressive with the return of Dana, Valentina Nappi, and myself, and the inclusion of trans performers Venus Lux and Buck Angel and my nonbinary co-star and porn crush, Ruckus.
A cast trans and cis performers mixes up traditional 'straight' (ie: cisgender/heterosexual) porn categories, including a trans lesbian scene with Venus and Sovereign Syre and a straight scene with trans porn '#tranpa' Buck and Valentina. And then there's me and the gorgeous (and total sweetheart) Ruckus, who I requested as my scene partner, with a unique opportunity to bring out some of the queer chemistry and nonbinary-sees-nonbinary attraction I'd felt with them, into Dana's artistic hardcore porn vision. Dana and Markus Dupree partner in a Bowie-inspired scene that I'm looking forward to seeing for its performance factor alone. (Side note: I hope someone does a framing analysis of our cum shot!)
Finally, as a condom-only performer and as someone who enjoys showing the use of barriers (in addition to standard STI tests), the production afforded us the opportunity to film using condoms. (My preference is always performer-choice when it comes to safer sex, so I value production companies that allow us the option.) I also got to drive Sov's Mustang and feel like a badass. Thank you Dana for making it happen!
Director: Dana Vespoli
Stars: Buck Angel, Dana Vespoli, Jiz Lee, Markus Dupree, Ruckus, Sovereign Syre, Valentina Nappi, Venus Lux
Stylish director/performer Dana Vespoli stakes out the frontiers of sexual identity and eroticism in 'Girl/Boy 2,' a rule-smashing celebration of sensuous fuck play featuring a cast of kinky thrill seekers, cross dressers, genderqueers and transsexuals, both male-to-female and female-to-male. Perverse, nasty action like this transcends labels! In striking, Bowie-esque face paint and formal attire, Dana joins kinky boy toy Markus Dupree for an intimate session of cock swallowing and anal reaming. Pale tits swelling within a tight corset, refined Sovereign Syre plays a hardcore game of seduction with tall, leggy Asian trans woman Venus Lux. Naturally busty, lingerie-clad housewife Valentina Nappi tempts her transgender husband, Buck Angel, fingering his bare pussy and nibbling his swollen clit. On a winding mountain road, athletic butch beauty Jiz Lee picks up Ruckus, a tattooed hitchhiker in a red dress. They pull over for an outdoor session of oral pleasure and fucking on the hood of a muscle car. Jiz rides Ruckus' throbbing dick till it erupts hot cum.
Watch our trailer, buy the scene, or get whole film through the links above. (Also, a request? Please rate us favorably if you can! You can tell we're not the 'traditional' porn performers by all the negative customer ratings, especially Buck's. Instead of letting that get us down, let's show through viewership and votes that there's a desire for diverse gender and sexuality.) I had such a beautiful experience filming with Ruckus. I hope you enjoy!