I'm back from the AVN Awards and am nearly caught up. Firstly, thank you everyone who supported my trip in particular Njoy Toys, ASLAN Leather, Twisted Monk, Five & Diamond, and the many awesome folks who purchased a special order that helped me not only get myself out to Las Vegas for the annual Adult Entertainment Expo, but also share the love to other queer porn movers and shakers (who Courtney Trouble, Dylan Ryan, April Flores & Carlos Batts and I termed Queer Porn Mafia last year) such as Shine Louise Houston, Dylan, and Courtney & Tina Horn. We made a little go a LONG way.
Recap.
Last year, I had a blast at AVN 2010. Seeing everyone in one city meant I got to meet and mingle (and grope) with the likes of Adrianna Nicole, Tristan Taormino, Nina Hartley, and Sasha Grey. Here's  a pic by Koga from 2010 of me smiling my face off, talking to Sasha with G4TV. (Thanks Koga, and thanks Mike from G4 for saying hello as well!)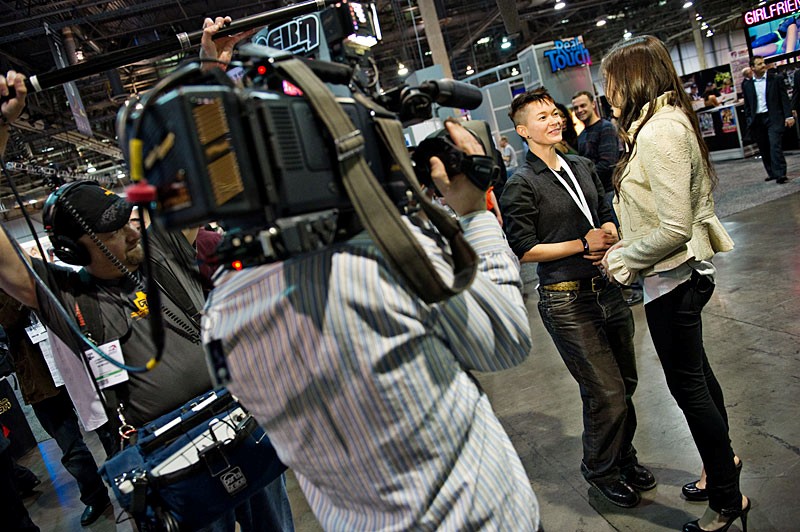 Besides having a great time getting to know new friends, I also had a fantastic time with my queer family. We shared a moment on the Red Carpet, and won Most Outrageous Red Carpet Moment. OKAY. So that was last year.
Flash forward a year and much has happened! I've had the pleasure of working with Tristan and Adrianna (omg I came through her swallowing my fist in her mouth in Rough Sex 3: Adrianna Nicole's Dangerous Minds) and I performed with Nina Hartley at the annual Masturbate-a-Thon for the attending participants, as well as for Courtney's film of the event which was recently shown at the Berlin Porn Festival. (Links will be added when these films are released!) Working with Nina is a dream and I hope to do it again soon. Much more has happened of course, including Triangle Films and more LA adventures, and some SF queer ones as well, but it's a new year so let's move on!
New Year, New Head.
I shaved my head recently, which had great timing for a scene with a new Digital Playground production. I shot with Andy San Dimas… fucking hell that was fun! So dying it blonde I was excited to get my ass to Vegas and represent.
On Friday night I arrived and got  situated at hotel. I stayed in the non-smoking, non-casino Signature Suites at MGM and am so glad I did. My suite mates were Bobbi Starr (hey check out her new –and prolific — blog about the awards appropriately titled Denouement and new site bobbistarr.com!), Ssippi, Kimberly Kane, Kayden, Aiden Starr (aidenstarr.net), Johnny White, Brandy, and my new girlfriend Yee. My roomies and I hit it off so well, we even took a bath together and had our own sexy fun. And Johnny loves my packy. Proof!
Okay, but the funnest part was that night, when after cruising the Circle Bar, we hopped on the Burning Angel party bus and drove to Dave Navarro's place the Black Door, where we got a little tipsy to really loud cover music and I had a chance to yell excitedly and connect with the exquisite Cindy Gallops and her pal Miss Lagsalot, as well as kick it with Eli Cross, Brian Street Team, Dan, Joanna Angel, Kleio, Asphexia, Skin Diamond, (Asphexia and Skin are H-O-T, BTW). I also had a lot of fun bruising Violet Monroe's tits with hard breast slaps and choking her and Draven. Lux Apltraum got in on the fun and soon it was a Luxfest featuring me, Brian Street Team and Draven. We love Lux, and G4TV was there to prove it. Later on Bobbi, Ssippi and KK stopped by and the first and best night winded down sweetly.
Here's a sweet image of me and Cindy Gallop (see more on her Facebook!)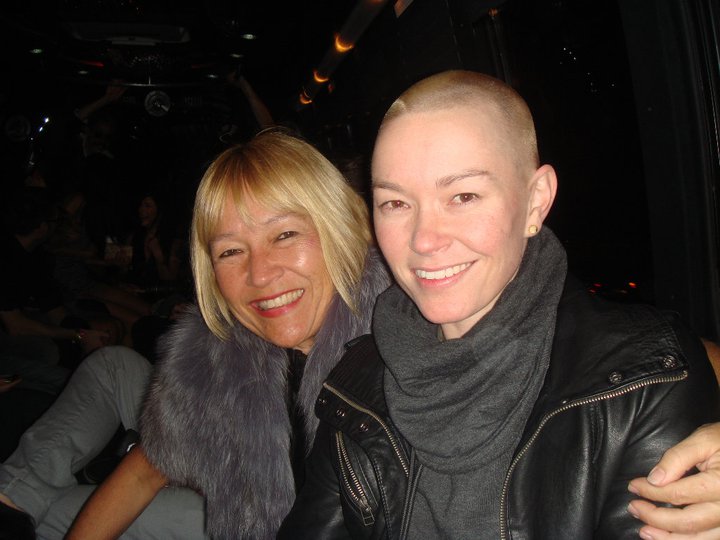 Here's photographer Igor (drivenbyboredom)'s post with images of the night: burning-angel-avn-party. I'm kissing Violet Monroe, and the hottie next to me is Yee! Here they are on the Village Voice.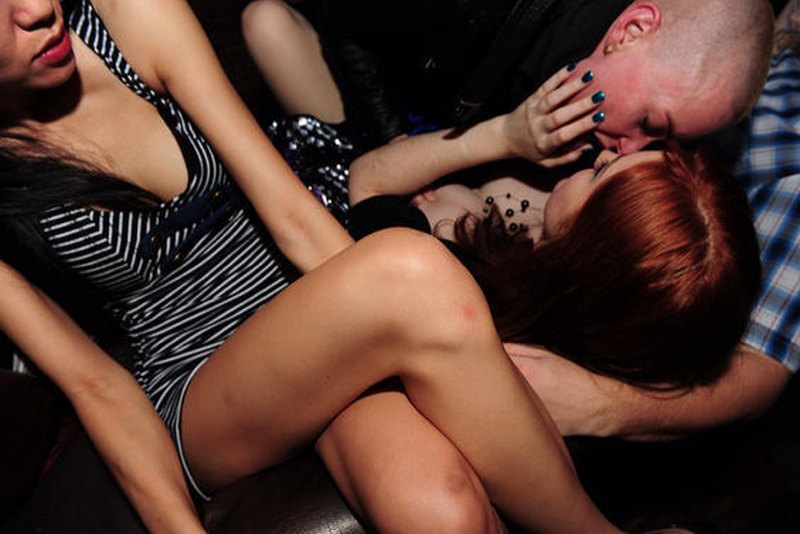 The next day I woke up to pop a hole in the young coconut I had brought. There's nothing more refreshing the morning after a long night out than coconut water. There's also not much more sexual. I mean, look at the thing. It's a hymen!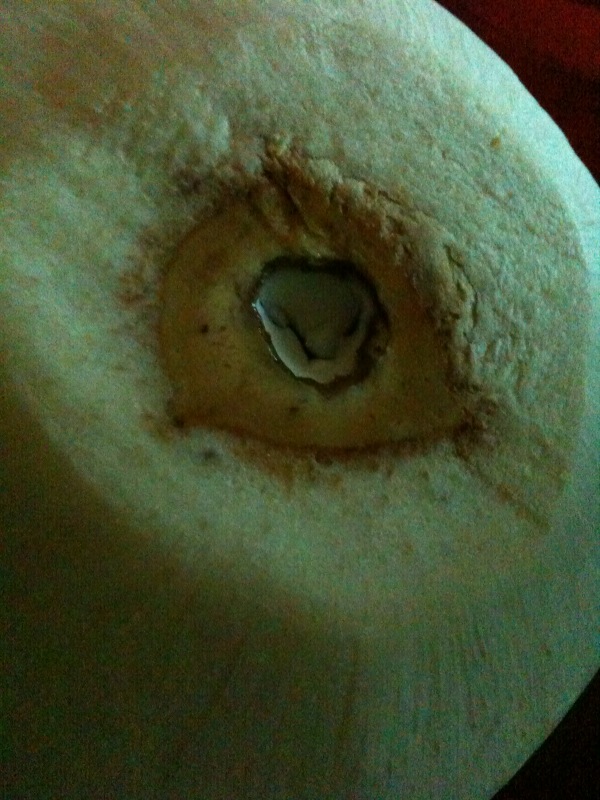 My BFFs Yee & Johnny and I went to town on some fancy breakfast sandwiches and then took the Monorail… Monorail… Mono-do'h! to Sands Convention so that I could get my badge and run in to pick up AVN Tickets from Peter Warren and say hi to vending and signing friends. I gave a big hug to Sinnamon Love (Hall of Famer!), Andy San Dimas, Fat Mike and Brian Street Team, Kelly Shibari, Nina Hartley, Lily LaBeaux, and vendors njoy (love you!) and Stockroom and Liberator (where Jack Hammer tied me up to the Cello shape and flogged me with vibrators stuck in my crotch). Here's one shot from after the fun… if you find photos lemme know!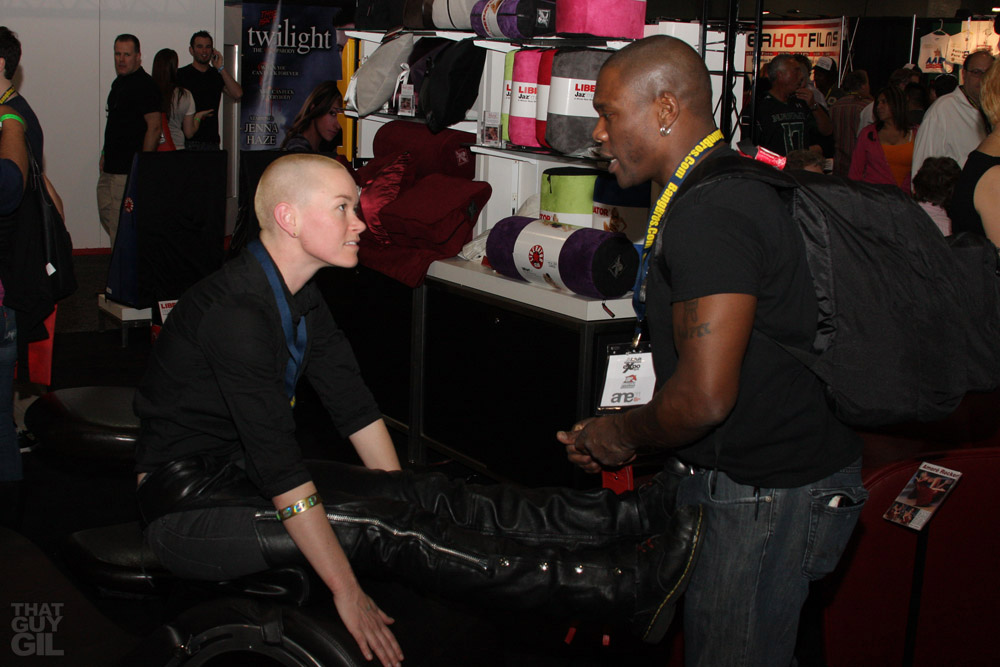 Thanks THATGUYGIL.com for the flickr photo.
Back to the hotel to change for the night, and to take a disco bath with Johnny and Yee. Aiden, Bobbi, Paris Kennedy were getting dolled up with Brandy. And Dia Zerva, who added to our bathtime fun with a boat made of leftover containers and salad condiments. Reduce, reuse, recycle.
I was getting a little worried because Shine was still on her way, driving up from San Francisco. And though the rest of the Queer Porn Mafia were now waiting for her at the Palms for the Awards Show, we definitely had to wait for her to walk. We're family! Then the next 2 hours became somewhat of a cluster fuck. Syd and Lux had picked up their tickets separately earlier that day and had already walked the carpet by the time the rest of us united and got in line. We moved through the line somewhat excitedly, talking to great peeps like Dan and Keni Styles and Misty Dawn and others. However just after April and Carlos entered the Red Carpet photographers area, we were suddenly held back as others were allowed to pass through. Shine Lousie Houston, Courtney Trouble, Tina Horn, and Dylan Ryan and Wolf Hudson and I stood at the front of the paused line while others were pulled from behind us to be photographed… for over an hour and a half. By the time we got up there, most of the photographers had left. Here's what the scene looked like. (Image by Rick Garcia)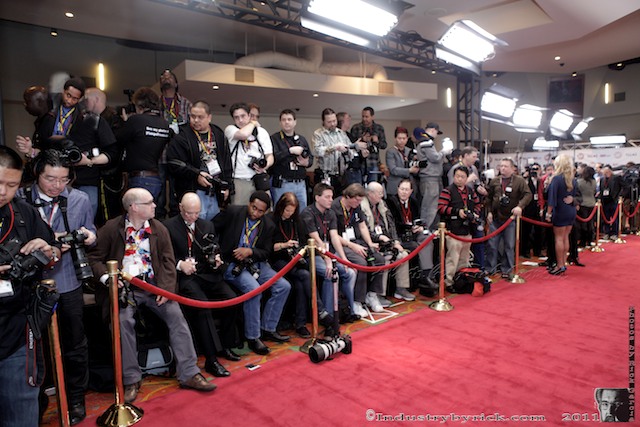 I spy Koga! So, by the time we were up there almost everyone had left… I'm not sure if it was because weren't well known or fit the part, or if we were just out of luck.  Regardless, it sort of killed the mood in a big way, mostly because taking photos was one of the highlights of our trip last year. If my second trip to AVN was anything like a movie sequel, it was to be expected. I'm not sure there are any photographs of us inside, therefore… I'm glad we took some of ourselves on the outside section of red carpet. (Shout out Rhea!)
D-I-Y homos. 🙂
If you happen to find any photos will you let me know? I'd love to show some here, and send some along to Five and Diamond who outfitted me that night. Thanks in advance!
UPDATE! We've got a Red Carpet Photo! Thank you KOGA!!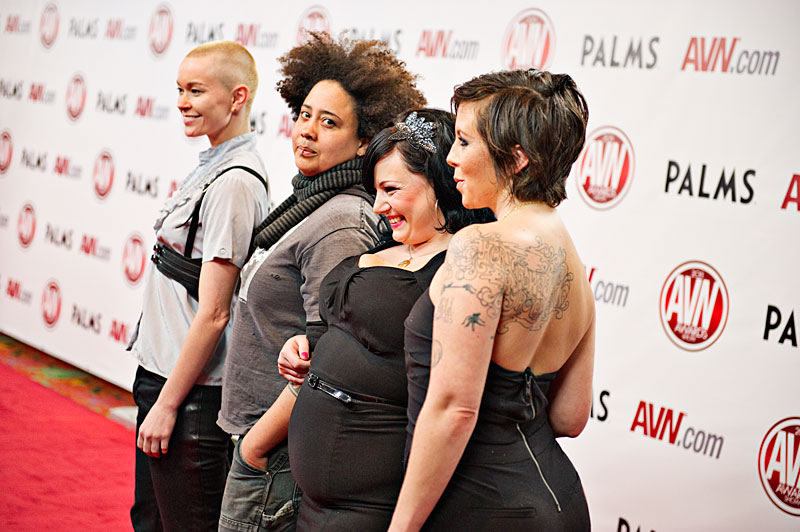 It was great to mingle with folks and make friends and discuss future shoot ideas. The meeting/hanging out with people part is the reason I decided to go again and plan to go next year. You can read about the Awards Ceremony itself on Mickey Mod's blog, and see the list of winners. I was particularly touched by John Stagliano's speech as he accepted the Sturman Award. You might recall I wrote a blog post about his trial back in July 2010. Two sites I've been a part of took home awards, Joanna's personal site, JoannaAngel.com and Kink.com. Congrats Kink folks, Donna, congrats Joanna and all the hotties on her website!
After stumbling out of the Palms, I jumped in the Open Invitation limo with Jack Hammer, Mickey Mod, Ilana Rothman, Wolf Hudson, and crew to get back to Venetian and grab some dinner folks. Then back to my bed to catch some sleep. I think my head hit the pillow at 4am, early by LV standards. But I had to get to bed, I was waking up in 3 hours to shoot with Stoya!
I can go ON and ON and ON about how rad Stoya is, but chances are, you already know of her. If not, take a look at her tumblr and tell me you're not in love. (Particular recent posts: Stoya VS the Delta Luggage Policy Part 1 and Part 2 – Note that she uses my THEY/THEM pronouns! I'm head over heals, and wait till you see Fleshbot's update with us. You know who the photographer is? RAE THREAT!!
Until then, a teaser.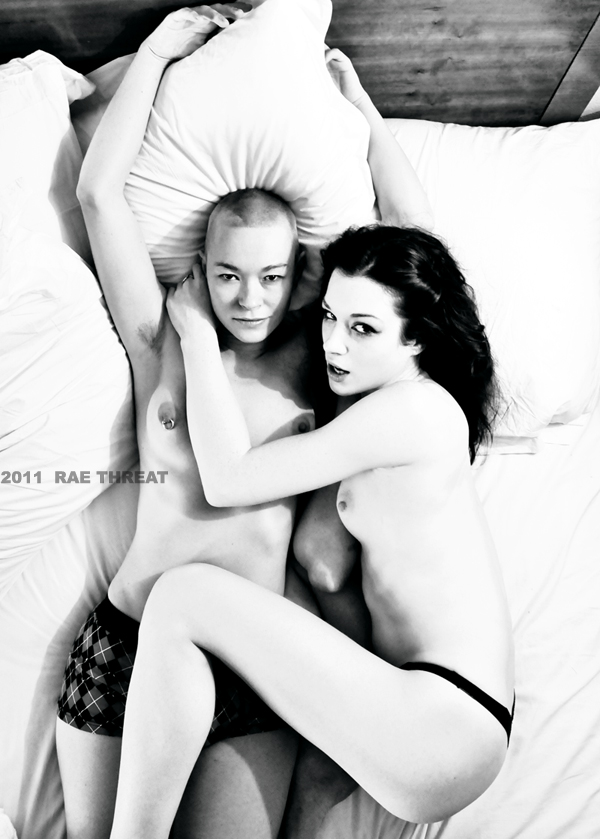 And here's a video teaser taken by Lux for Fleshbot: The Morning After: Stoya & Jiz Lee
This is a looooong post. Okay, I'm struggling to hurry up and post this as the baristas at the cafe I'm sitting are counting their tips… Here's some more images by Courtney Trouble! Check out Alison Lee from the Good For Her Feminist Porn Awards, Coyote from GoodVibes.com and cute pic of Tina Horn and Dana DeArmond, and other great photos!