January Karma Pervs: Secret Angel Donation!
What is Karma Pervs? In a nutshell: It's a porn fundraiser. I choose a charity each month – members see sexy photos for a good cause! I post a unique photo set of pictures related to the cause and at the end of the month 100% is donated to the organization. Sign up to support, see pictures, and also enter to win great prizes!
Sometimes things happen for a reason. With that philosophy in mind, I am now announcing the January Karma Pervs fundraiser. Only… I'm not announcing the name of the organization.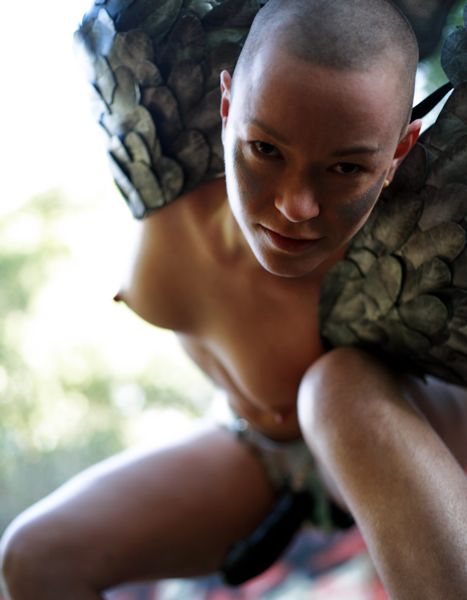 You see, I had tried to get permission from a certain sex tech organization to fund-raise for them. Why did I need permission? I ask permission from all the organizations I raise money through Karma Pervs for, because my website is "NSFW" and the work I do is sexually explicit, something that could potentially harm a non-profit if one of their foundations is conservative or sex-negative. When I fund-raise, I want to be able to post the name of the non-profit, the logo, a little something about them, and link to their website. On the internet, that connects my site and my work to their cause, and so that's why I ask first. So… after waiting to hear from a certain org for several weeks, I've decided it's probably not the best fit and have moved on to choose another organization to support.
With it this late in the game, I decided now would be as good a time as any to raise money for youth. There are two organizations my collaborating photographer is associated with through her child and I'll leave their names off my site for reasons mentioned above, but please know that they're very deserving and while we can't publicly name them, the work they do IS making a difference in our communities and is pushing parenting and Bay Area culture towards more sex-positive values and loving and supportive life-styles. It will likely be the only time I raise money for any unnamed organization, so it's exciting as a one-time event. I'm proud to be raising money for them and it just so happens that the shoot Shilo and I did has me wearing angel wings (thank you Aaron!), so perhaps a secret donation fits the theme!
Definitely check out Shilo's work: The Sex Positive Photo Project and her photography site at shilomccabe.com. Thank you Ariel and Christy, too!
About the shoot:
I had A BLAST talking and hiking into the Oakland woods, to a spot Christy had found while dog walking. The wings made me feel like a pigeon (how Bay Area) and climbing the tree at the end was definitely an ecosexual experience! Forget simply hugging trees…
By the way, the harness is from ASLAN Leather, and the dildo is the Johnny by Vixen Creations, both huge supporters of mine!
Sign up below to see all the images and help me raise money for great youth organizations… AND one lucky member will win a BonBon Liberator toy in grey from Good Vibrations and their coordination with a super special guy at STEME. Just put a dildo in the base and ride away! Another lucky sign up will win a signed copy of The Wild Search, a film by Shine Louise Houston which I was in — I had a scene with Courtney Trouble (her first porno scene!) and a Feminist Porn Awards "Hottest Trans Sex Scene" awarded three-way with Papi Coxxx and Wil Thrustwell!