One of the photographers I had the pleasure of shooting with in New York was Aeric Meredith-Goujon.
I found out about his work through Mollena, and was able to meet up with him at the NYC Sex Bloggers Calendar launch to chat about working with him. Aeric had worked for njoy, taking gorgeous photographs for their catalog. When I first saw his website, I was immediately struck by the images and the movement they conveyed. We talked about rope bondage; a friend of his is a rigger and she had worked with him to create some stunning images of bound models. I was definitely interested in meeting a female rigger. He also wanted to know if I was interested in pissing for the shoot.
I've pissed on lovers before, but had never done it for the camera. I've ejaculated when there was also pee in my bladder, but never just straight out urinated. Intrigued, I agreed. When I showed up at his beautiful Brooklyn home, I was set with a carafe of water to set to work drinking. Having picked up a chai on the subway trek over, I already wasn't far from the goal.
We decided to do the suspension rigging first, building a portable set. As "Great Tyrant" began to tie me up, I couldn't help but notice my bladder already feeling full. It's a strange sensation to be having to pee while started to get tied. Under any other circumstance, I'd have peed prior to getting suspended, because you're up there for a while and when you gotta go, you gotta go. So up I went, with a very pressing urge to pee and a new curious distraction that Tyrant enjoyed teasing me about.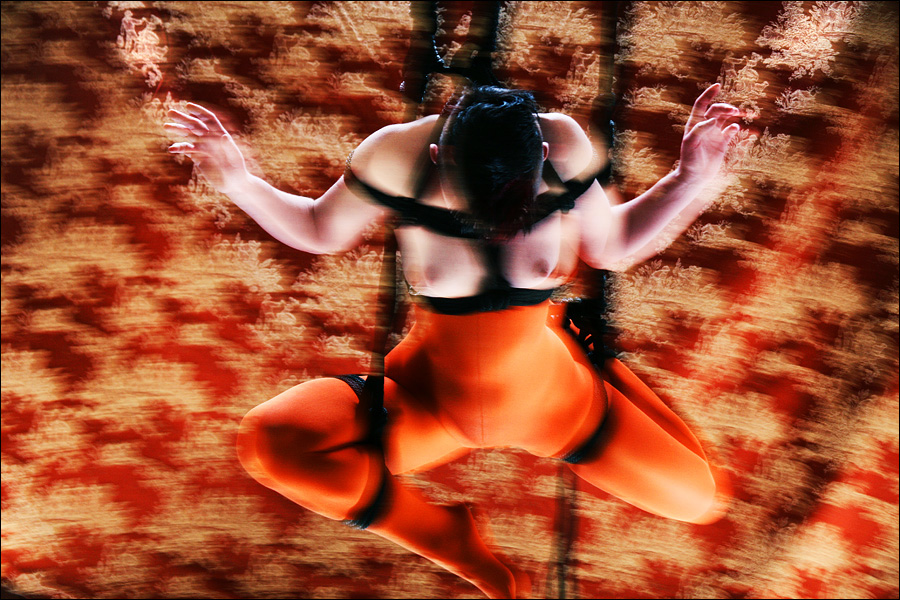 If being suspended while having to go is unusual, being released from the ropes while having to pee is just plain torture. As the sensations of freedom and release came to me being let down, it took everything in my power not to let my bladder out too! Fortunately for me I didn't have to wait long for the pissing portion of the shoot. Aeric slid over a twin mattress and I assumed the position.
"Now?" I asked, checking to see if he was ready with his camera.
He nodded. And so I let it OUT.
Never before had pissing felt so good. Thank you to Aeric, and Tyrant, for a fun shoot and great experience. What a relief!