CrashPadSeries Special: Jiz Lee's 30th Birthday 30-person Orgy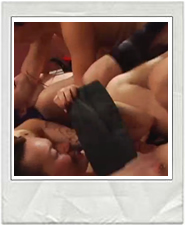 This video episode was filmed for the website CrashPadSeries.com, based on Shine Louise Houston's 2005 film, The Crash Pad.
It was filmed in an apartment in San Francisco, and was a special occasion — my 30th birthday! I invited performers and friends to come perform at-will on CrashPad, and to my pleasure, so many came! The video is a long one, and available only to Level 3 Members. Some players are not featured in any other episode on the site… but maybe someday they will return!
Stars: Jiz Lee and: Princess Donna, Mickey Mod, James Darling, Arabelle Raphael, Sophia St. James, Tobi Hill-Meyer, Maya Mayhem, Micah Riot, Tina Horn, Stealth Machine, and many many more!
Become a Member: CrashPadSeries.com