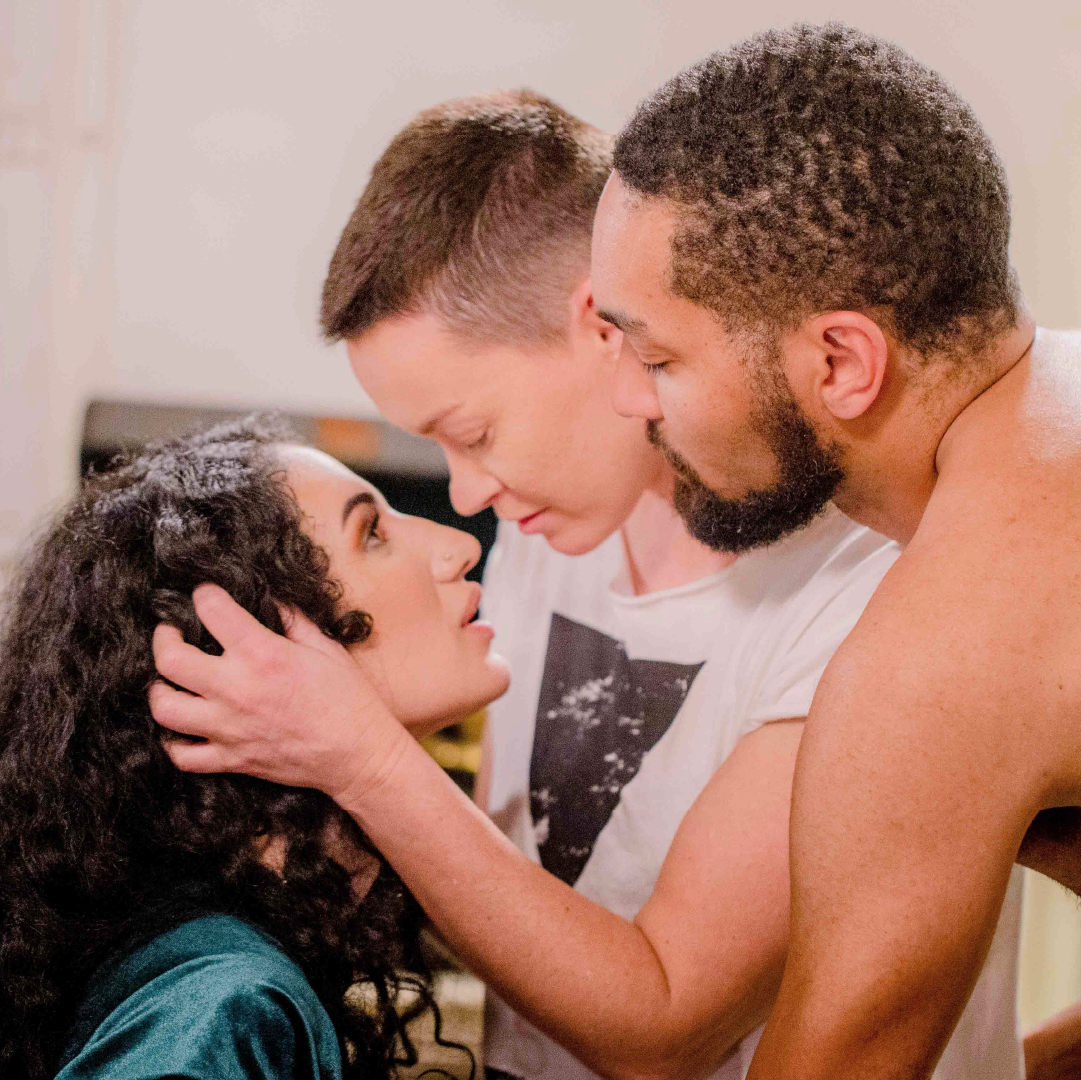 FRAGMENTS 4: a threesome with Arabelle Raphael and Mickey Mod, and some sexy skeleton performance art
Note: This film was produced in February, prior to statewide response to the Novel Coronavirus COVID-19. I am well, and wish safety for you, too! Please stay home if you are able, and practice precautions to keep you, your loved ones, and communities safe. I hope this new film, produced in the months before the global pandemic, can provide a moment of relief and respite from the world around us. We could use a little queer love and lust right now. I'm excited to share this with you!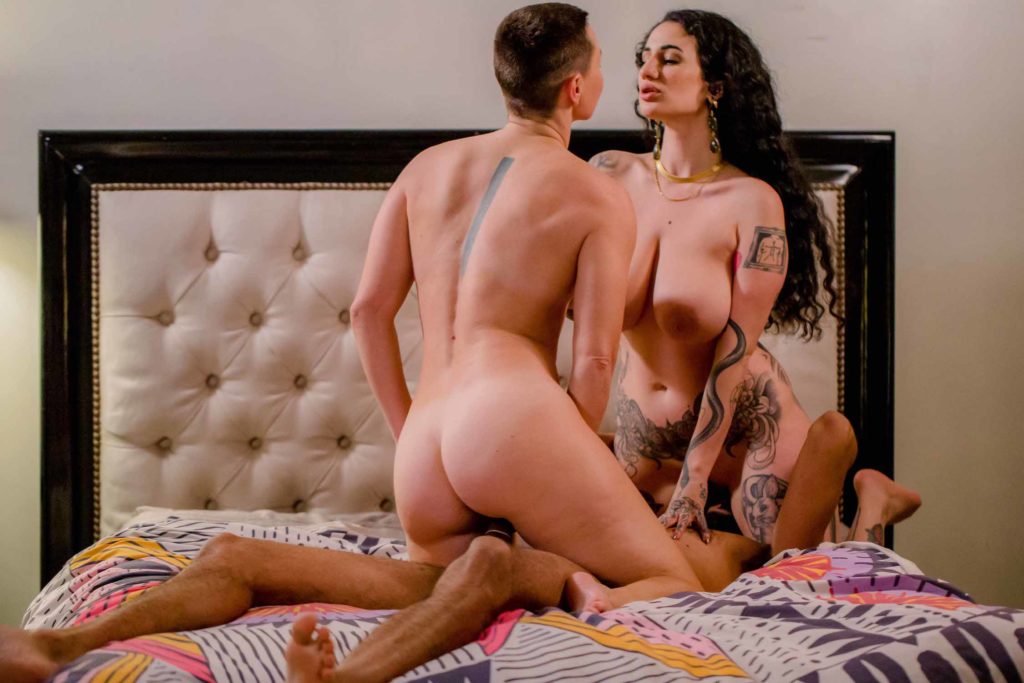 If you've been following along, you'll recall I've had the pleasure of returning to work with director Madison Young to appear in her latest adult film project, FRAGMENTS. The first film was such a hit that producers green-lit a whole series to continue the saga of a queer San Francisco couple as they navigate their relationship.
I play JOEY, the non-binary partner of a beautiful queer femme MAGGIE, played by Siouxsie Q. The first episode centers around Maggie's experiences and choices. In the second, the story dives further into the pair's relationship as Joey comes out as kinky. In the third, the couple decides to open their relationship while Maggie is away on a work trip. For Joey, this means a sexy time is had with burlesque dancer Allysa Etain. In this forth release, Joey branches out to creatively express the changes they're experiencing through performance art — and is rewarded with a proposal by Arabelle Raphael to have a threesome with her and fiancé Mickey Mod.
It was a joy to work on this project and be reunited with cast and crew who I've known for a long time. It's an honor to perform with such sexy, sweet, and smart people whose work I respect so much. And I know it's a rare and special treat for those of you wanting to see me perform again with a male co-star. You really lucked out by us sharing the scene with Arabelle!
But wait, there's more! (Cue the skeleton…)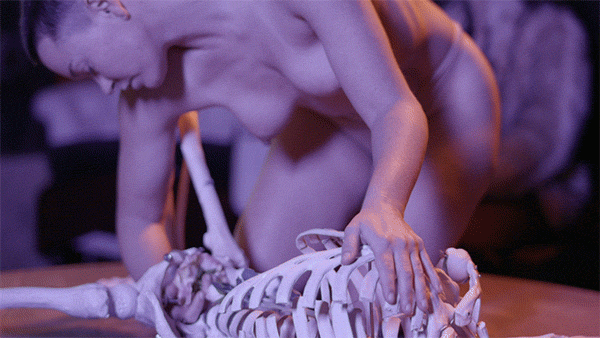 Life imitates art imitates life… The concept behind this scene comes direct from my experience having been a performance artist in San Francisco in the early 00's. The skeleton theme was inspired from plans that Arabelle and I had to collaborate on a Halloween-themed photoshoot. I had been researching and texting her pictures involving nudity and skeletons. Among my findings were the works of silent film actress Theda Bara (1885-1955) who is considered one of cinema's early sex symbols. Here's a still from a film she appeared in. (The original footage was lost in a fire.)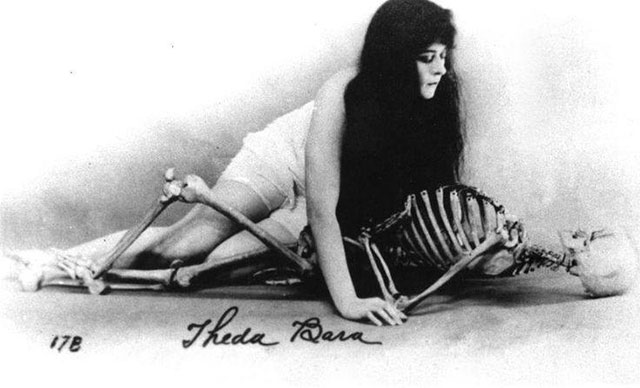 Another point of inspiration came from conceptual performance artist Marina Abramović. Her work 'Nude with Skeleton' spoke to me as a striking symbol on the parallels of life and death, and sexuality. Her naked body calls attention to the temporary vessel of the human body and suggests that the relationship between life and death is an intimate one, maybe even erotic.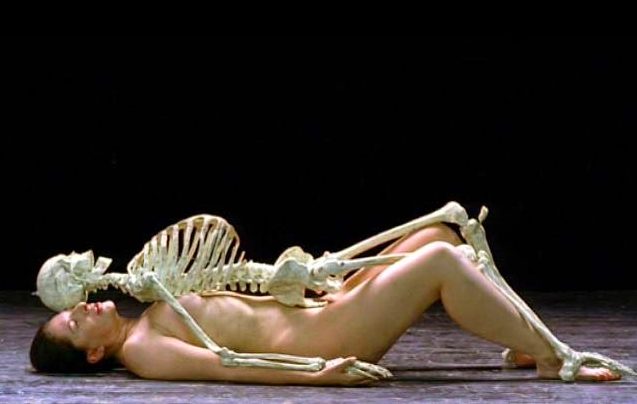 Sex holds symbolic reference to both life and death. Concepts around sex, borrowed bones, aging, changes, relationships, vulnerability and tenderness swirled around and formed the core of the performance. Though Joey doesn't necessarily talk a lot about their feelings, they are going through a lot of changes. And the provocative nature of the work appeals to Arabelle's character, who is looking for a little bit of fun surrounding her upcoming relationship change as well.
Joey expresses this change in a sensual dance, treating the skeleton and all it represents with tenderness and care, and shares this vulnerability with an audience at the Q-Bar — and with you as well. The timing of the release is pretty perfect for this month! Here's a photo from my performance.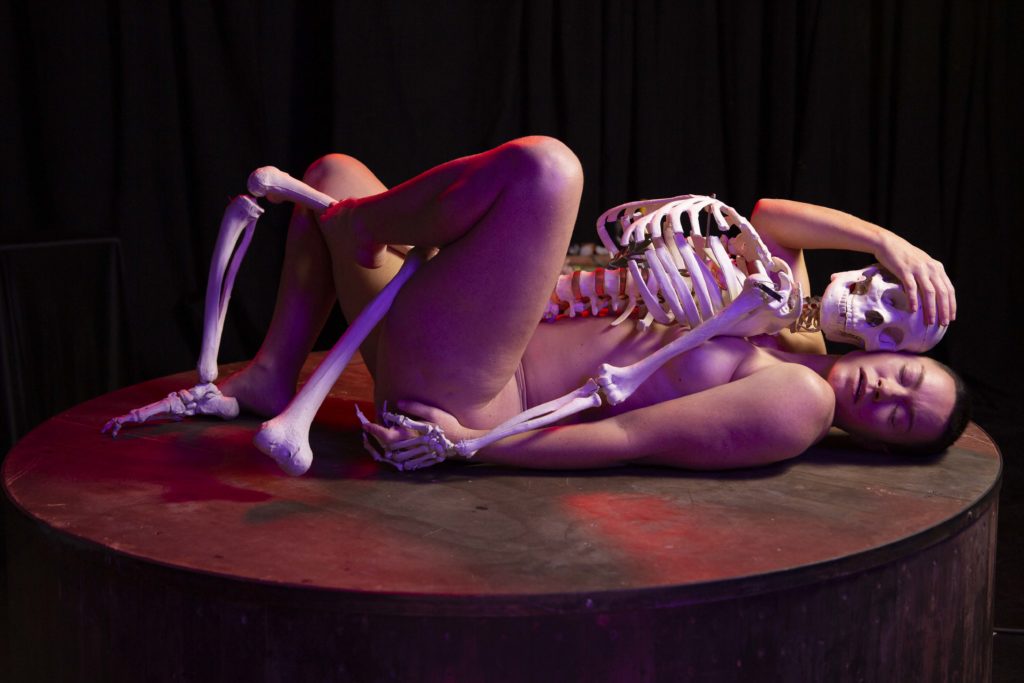 You can now watch all episodes of FRAGMENTS now available on LustCinema.com. Take the plunge to subscribe, and you'll be rewarded with access to the complete series and many other wonderful films, including my scene with Lily LaBeaux in Stoya's Graphic Depictions. LustCinema has given a boost to female adult filmmakers producing new works and I'm excited to see what talents and stories the future holds.
And feel good when you #PayForYourPorn! Adult film performers are rarely offered royalties. Instead, many of us rely on affiliate commission. I make 50% commission from sales made when clicked through the links on this page. So if you like what you see, vote with your dollar and let producers know these kinds of stories are worth making.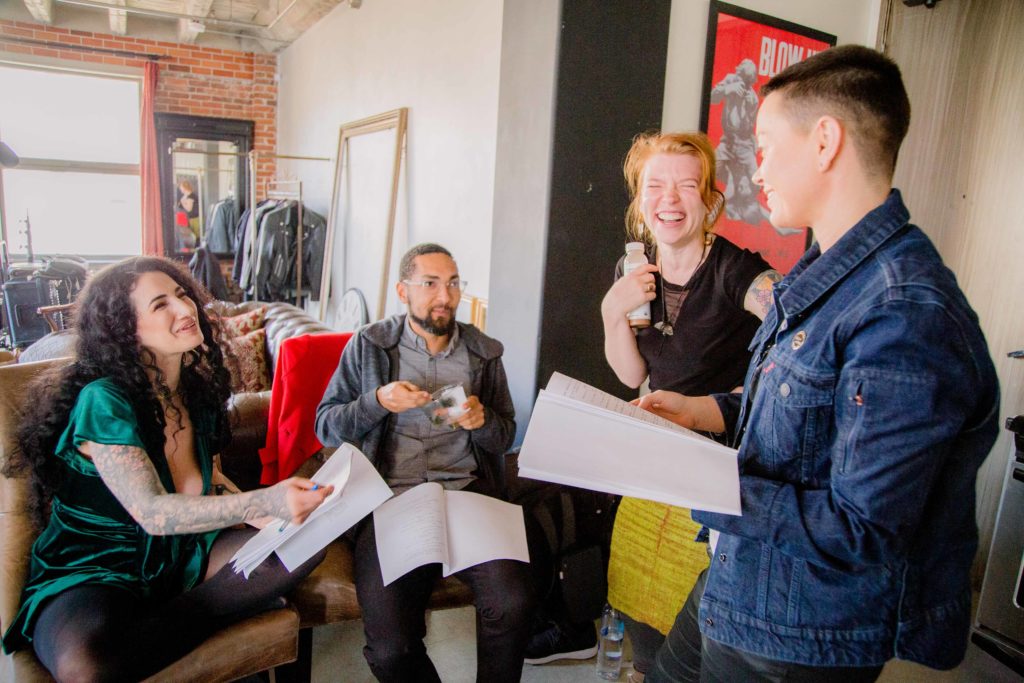 Thank you to LustCinema and Madison and all the wonderful cast and crew behind the scenes who made this project such a pleasure to be a part of. This is the kind of porn that keeps me going!
LIMITED OFFER: Join LustCinema at 30% off through this link. Hurry! Offer expires soon.