AVN & XBIZ Awards: Fucks Were Given.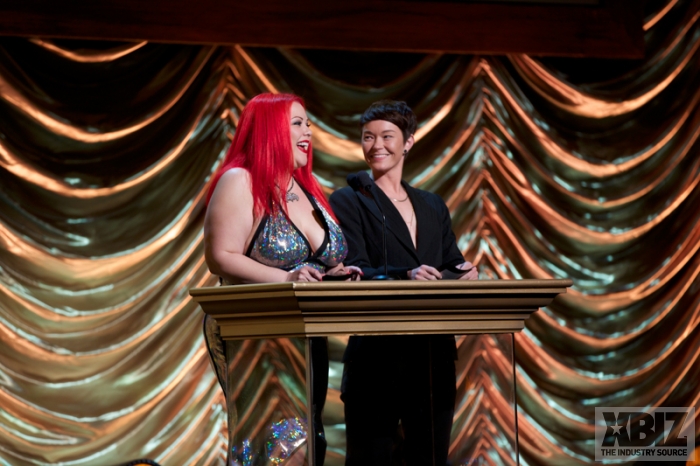 April Flores and myself, presenting on stage at the 2014 XBIZ Awards. Photo: Rick Garcia.
The last few weeks have been a busy blur. I've obviously fallen out of touch with regular blog updates, but made a resolution to keep at it, so I can't let these two major adult industry events come and go without some sort of documentation. The time spent was tiring, though I'm one of the fortunate few to have escaped without catching a flu, but also left me with more of a taste of entry into the mainstream, and more fuel to the fire to keep at it. You know that saying, "I don't give a fuck?" Well, I may not care about naysayers and negativity, but I care deeply, and I give a LOT of fucks.
I attended the Adult Entertainment Expo to speak on behalf of Shine Louise Houston in the "Feminist Porn Mystique Panel" at AEE, moderated by Dr. Chauntelle Tibbals, with Nina Hartley, Dana Vespoli, Angie Rowntree (of Sssh.com), and Stormy Daniels. The panel posed a discussion on the concepts behind the feminist porn movement, though it also hit my pet peeve nerve with many comments conflating the term with "porn for women." If this is your first time hearing the buzzword and your curiosity is piqued, may I direct your curiosity to The Feminist Porn Book. There's also the annual Feminist Porn Conference at University of Toronto, at which I'll be presenting again this year, followed by the Feminist Porn Awards, and you can browse the Complete List of Feminist Porn Award Winners (2006-2013).
I also had the pleasure of staying up until "dumb O'clock" with Lux Alptraum proving once again that we can talk about porn forever, and along with Sex Nerd Sandra, Justine Joli, Gram Ponante and others got to experience the magic of sushi with watermelon Pop Rocks! Thank you, Chris Santos.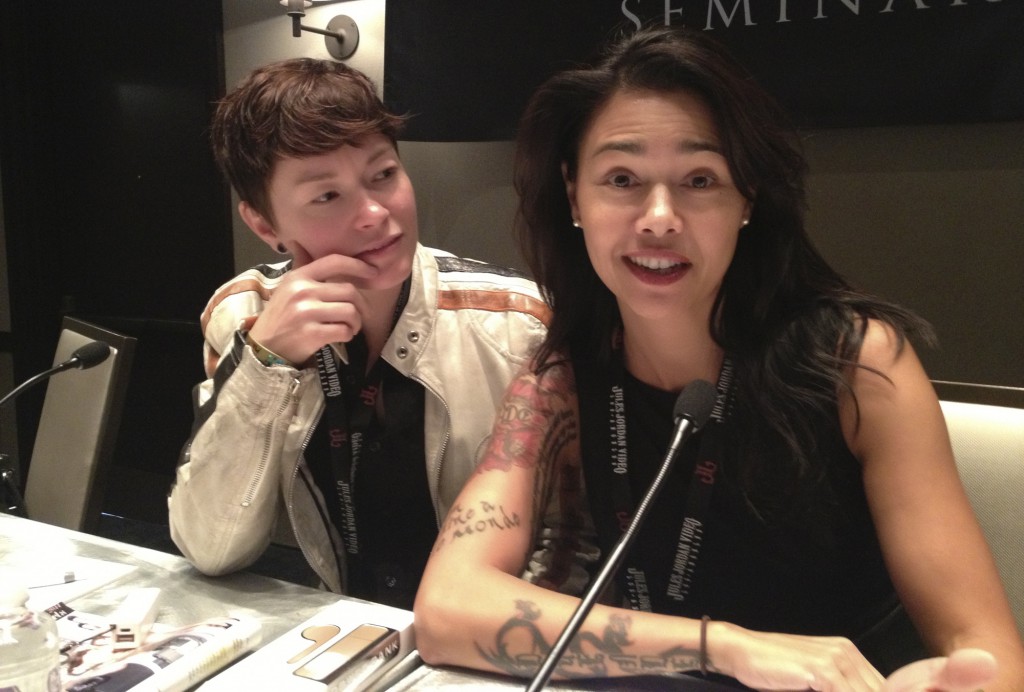 Me and Dana Vespoli on AEE Feminist Porn Mystique Panel. Photo: TRPWL.
The trip culminated with the AVN Awards, where I was nominated in a new category, Best Safe[r] Sex Scene with Manuel Ferrara in Girl/Boy, by Dana Vespoli. "Best Safe Sex Scene" really was the perfect category. A large part of the rarity in my doing work with cisgender men is the fact that I only work with condoms. It's surprisingly difficult even within the few experiences I've had shooting with directors and companies that are okay with it. It's not easy to shoot porn with condoms; they have to be a good fit and there's extra lubrication required. But for me, the effort is worth it. While I could see our scene nominated simply for Best Sex Scene, the fact that AVN added this category calls a lot of attention on the conversation on condoms in porn. (If you don't know my stance, in a nutshell: I'm in favor of performer's choice either way, without company pressure, and with better non-latex options, and more lube education.)
The AVN Award Show was fun. I got to FINALLY meet Siri, a performer who has said she was inspired to get into porn through my work, and whom I have the utmost respect for. Someday we'll have the perfect opportunity to work together, and it will be magical. I also had the pleasure of sitting at the show with Betty Blac, an old college friend who also came to me for porno advice and who is also making waves in the industry: she was nominated for AVN's new category, BBW of the Year, though she could have also fit into the New Starlet category. Betty and I stayed until the end to see the winners. (Only a few category winners are accepted onstage, while the rest scroll on the screen.)
Neither Girl/Boy nor CrashPadSeries.com (nominated for Best Alternative Website) won, but the nomination is always appreciated as it's a nod towards the work that myself and other queer, indie directors and performers are doing. And, it's a reflection on the state of the industry and how society views and consumes sexuality. The big win of the night went to my DOLL April Flores, who was awarded BBW of the Year, though she could have easily been inducted into the Hall of Fame for how influential she's been. AVN also projected an image of my friend and honorary Queer Porn Mafia inductee, the late Carlos Batts, who passed away last October. We still miss him.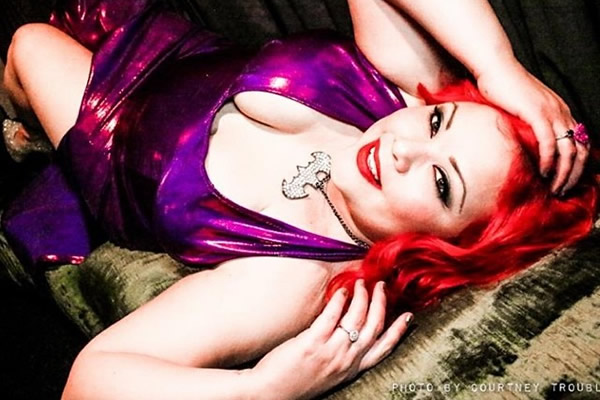 BBW of the Year, April Flores. Photo: Courtney Trouble
If you nominate them, they will come. This was my first time attending XBIZ 360 Conference and the XBIZ Awards. After a few days home to take care of business (moving to a new SF apartment) I was back on a plane, this time to LA to moderate "Porn Disrupted: The Politics of Changing Sexual Attitudes" with panelists Shine Louise Houston, Dr. Carol Queen (Sexologist and Co-Director of Center for Sex & Culture), Dr. Chauntelle Tibbals (scholar, author of You Study WHAT?!), Ben Tao (Offbeatr), and Collin Rowntree (Wasteland). I think the panel went well, given the short amount of time and the diverse experiences of the panelists, and as a first-time moderator, I learned a lot.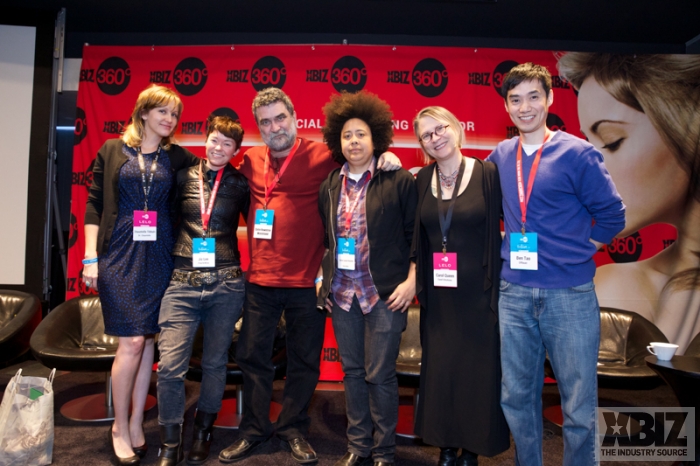 Porn Disrupted Panelists. Photo: Jeff Koga.
It also felt important to have a chance to share my personal experience of how I came to find myself wanting to do porn, having been inspired by the late Asian American trans male pornographer Christopher Lee's Sex Flesh in Blood, as well as the works of SIR Productions, who "disrupted" my notion of the monolithic porn stereotype and "broke" what porn meant to me, thus allowing me to see myself reflected on a sexual screen. I am grateful to have been invited to take such a charge, and I hope it can happen again next year.
It was also great to get to know the panelists, and vendors who were there. I really hit it off with Colin, and it was a treat to run into Nenna (check out Feelmore's Films!), and to finally meet Tres from Spareparts.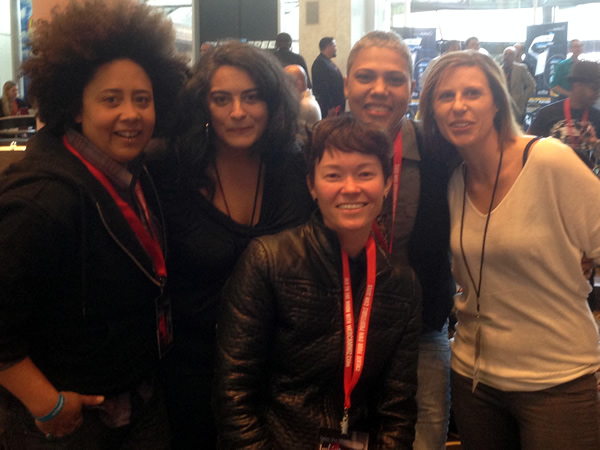 Shine, Coyote Days, Tres, Phoebi, and Me
The highlight of XBIZ for me was being invited to present an award on stage with April. Presenting an award felt like an award in itself. The two of us walked out on the stage holding hands, and took our place at the podium standing squarely to face a sea of the adult industry's most influential professionals. Friends in the crowed went nuts (shout out to Stockroom!) and the audience erupted into cheers and applause.
I know I use the word "visible" a lot, but it truly felt like we were being seen by the industry, and we probably were literally seen for the first time for quite a few in the audience. We were visible, validated, and I was glowing. We announced the winners for two of the night's Specialty Categories that would receive their awards on stage: Gay Movie of Year and Transsexual Performer of the Year — Congrats Venus Lux!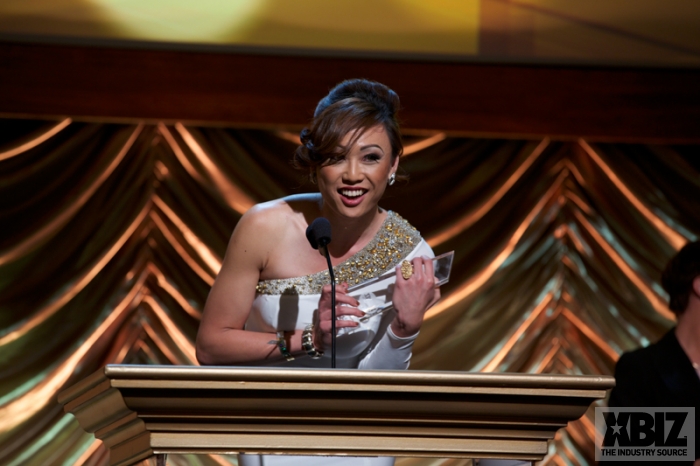 Venus Lux, 2014 XBIZ Awards Transsexual Performer of the Year!
Where AVN had nominated my scene with Manuel for Best Safe Sex Scene, XBIZ had nominated it for simply Best Sex Scene (Non-Feature Film). It wasn't awarded, however it received what I feel was an even more appropriate accolade: Dana was awarded Best Director for Girl/Boy! She and John Stagliano (Evil Angel), and Manuel, all took a big risk in creating a hardcore adult film that played with gender in a transgressive way. Check out the Press Release posted by XBIZ. I'm proud of her success and honored to have been its inspiration. It's pretty queer for a straight porn, and more importantly, it has the distribution power that can put it on the shelves in a lot of places queer porn doesn't have access.
But the night wasn't over yet. As the non-stage awards scrolled and the grand ballroom began to clear out, I sat fixed to the screen with fellow porners James Darling, April, and Courtney Trouble. James and Courtney were nominated for an impressive slew of awards spanning the trans, feminist, and specialty categories for their work with FTMFucker.com, TransGrrrls and QueerPorn.tv.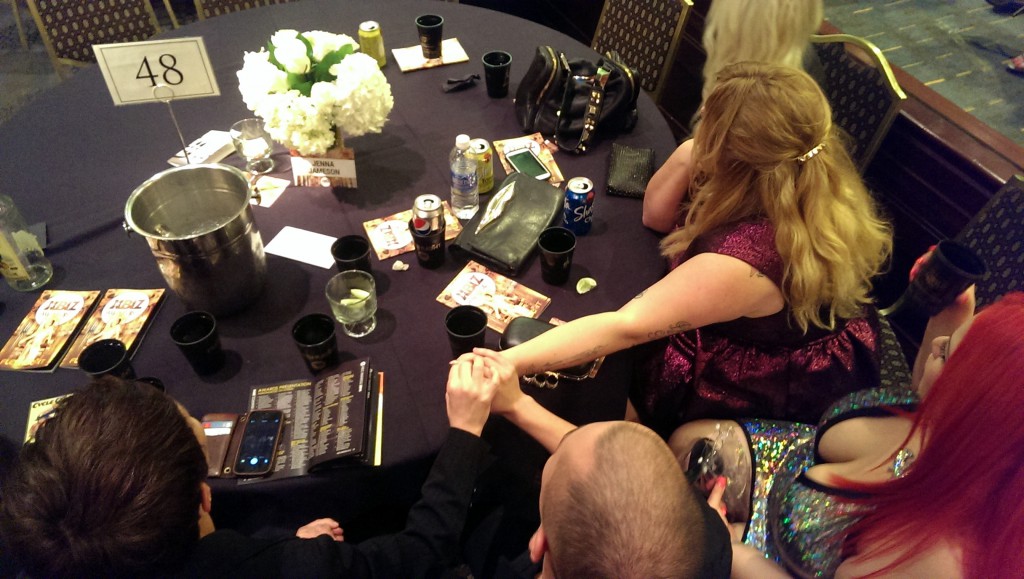 We waited, and cheered for joy when Pink & White Productions (Directed/Founded by Shine Louise Houston) won the award show's newest category, Feminist Porn Release of the Year for its short film OCCUPIED: a queer hardcore romance for the 99% … and then AGAIN when CrashPadSeries.com won Specialty Site of the Year! Specialty is an award that had previously gone to Kink.com, a company multiple times larger than CrashPad. In truth, Pink & White feels like the underdog in the grand scheme of things; a queer, woman of color-run company that treats its business like art. It's something my porn friends share; a desire to be recognized as legitimate in the business, while balancing our values and interests in sexual expression.
At both award events I experienced a lot of invisibility. Neither being famous nor feminine, many photographers overlooked me, and no one asked for an interview, though one host admitted I wasn't mainstream enough (no harm done; she's right). Yet, the privilege I do have grants me a chance to access parts of the industry that many of my peers cannot. I hope to be a "gateway queer" in this fashion. That by continuing to be myself, I can forge a path towards greater gender acceptance and sexual diversity. On a hike up the heights of Griffith Park with Tyler Knight the morning after the awards, he told me I was an "ambassador" in my field. I hope I can do myself, and others, proudly. (Pun intended…)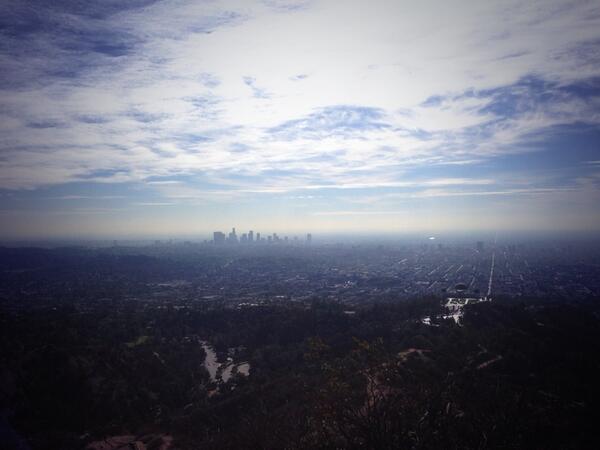 The view from the top. ?