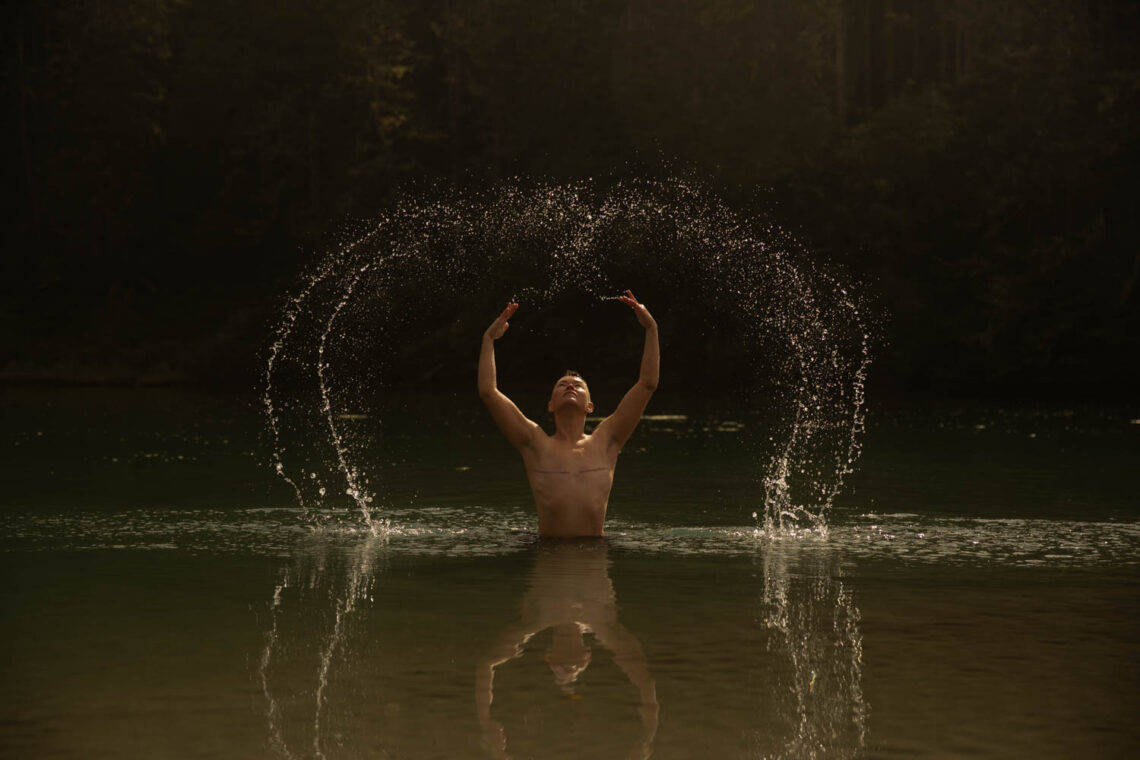 The new year is mere hours away and I feel eager to turn the page and move forward into the next chapter of work, play, and more growth. Unlike 2020 and 2021, 2022 has felt less of a blur, and more like a held breath.
What's happened this year? Well, the biggest news and the most euphoric moment and biggest personal upgrade yet in my life happened on April 27th, when I got nonbinary top surgery. I wrote about it a little here, before and after. I'm now fully recovered and am grateful to have the time and resources to have been able to make this decision. I've also been touched by the support I've felt from peers and fans, which has been more positive than I anticipated. As a gesture of gratitude, I'm sharing the fundraisers of other trans and nonbinary people's gender affirmation surgeries on my Instagram stories feed here. (Please donate, share, or let me know if you have a fundraiser that needs a signal boost. We don't have to make costly medical decisions alone and unsupported. Let's come together and participate in actions that can allow our community to thrive.)

Erotic & Other Arts
This year I took time away from the camera, remaining cautious about COVID and Mpox, but also to allow ample time to recover from top surgery. My first solo photoshoot post top-surgery was with photographer Allan Amato for an image to complete the book SKIN, the last in his trilogy exploring nude photography. I wrote an essay for the book about how seeing myself the first time I posed for him helped me envision myself with a flat chest and begin my journey towards top surgery. In August, I did my first partnered post top-surgery photoshoot with photographer Rae Threat and performer Jamal Phoenix. See more of the images here. What a wonderful shoot! Finally, my first (published) post top-surgery video shoot was a tickling fetish video by director Nikki Silver for Naughty Natural with Pearl Sage, who is absolutely delightful. You can watch the video on NaughtyNatural or my ManyVids. For the 6th month anniversary of my top surgery, I danced in the mouth of a Northern Californian river for photographer Tristan Crane. (Photos are coming soon!)
This year's holiday card was one of my favorite photos in the shoot with Rae Threat, celebrating the endless expanse of gender euphoria with the help of a projection from the James Webb Telescope. I've decided to once again select the Free Speech Coalition (FSC) as my fundraiser recipient. The FSC works to advocate for the adult film industry to satisfy a myriad of needs. I appreciate and applaud their efforts and cannot understate how important it is to have this trade organization fighting on our behalf. Earlier this year, FSC board member Alison Broden was hired as Executive Director. In recognition of her outstanding leadership, and thanks to the support from many of you with this year's holiday cards, I was able to donate $500. My wish for our industry is that industry and fans alike become familiar with FSC's work and come together and fiscally support them in a way to create meaningful progress. Whether you're porn worker, or a loving supporter, please consider becoming a member and donate to their cause.

Written Works & XXXtra Curricular
After years of anticipation, the second edition of Trans Bodies, Trans Selves was finally released. I worked as section co-editor of the Sexuality Chapter alongside Tobi Hill-Meyer, Mx. Nillin Lore, Jiz Lee, and Dean Scarborough. I also contributed a short piece on trans positive porn (edited for publication, a longer version is available on PinkLabel.TV.) The book is a wealth of resource and is available for purchase here. Many thanks to our editor Kevin Johnson for endless patience and guidance through the process.
My own book, Coming Out Like a Porn Star has some unfortunate news, which I hope will lead to a stronger edition in the long run. This summer I received notice that its publisher was shutting its doors. Apologies to those of you who have written me trying to find a copy, as it might not be until 2024 that it is back in print — and hopefully released as a second edition. Trust me that I will shout it from the mountain tops when I have more news! In the meantime, please consider borrowing from your local library or purchasing a used copy.
Last year, I participated in a panel for the RightsCon Community Lab session on Alternative Frameworks for Sexual Content Moderation Hosted by Centre of Excellence for Automated Decision-Making and Society with Berkman Klien Center for Internet and Society. The panel was lead by Zahra Stardust. I have a lot of thoughts about the importance of navigation in online content and users' role of moderation within contextualized engagement, and I've witnessed a great restriction of sexual content that has limited educational and representational content largely by and for marginalized expressions, causing more harm than the presumed intentions of "community safety". No year has this been more apparent in my personal experience than during the last few years in a global health crisis, as many choose online sex work and struggle to market digital trades in the aftermath of FOSTA/SESTA legislation. One aim of our panel was to create a useful, end product, and our sex-positive social media manifesto is now released. Thank you to Zahra and co-panelists Emily van der Nagel, Prof. Katrin Tiidenberg, Em Coombes, and Assoc. Prof Mireille Miller-Young, PhD, and everyone who participated during the lab and shared the final outcome. I especially appreciated Dr. Carolina Are's review, The Manifesto for Sex-Positive Social Media is Just What We Needed.
In another great project, Pink and White Productions Director Shine Louise Houston and I chatted with writer Suzannah Weiss for Lustery POV in Meet the PornograHERs, part of their larger series and video release, PornograHERs: the Women+ who make porn. The micro-documentary video presents just the tip of the conversation and representation of the many creators challenging stereotypes and channeling positive change in the industry from within.
This year I took a moment to respond to sex ed and porn questions, including chatting with Mens Health about sex education in porn and squirting, MIC about gender identity and tags in porn, with Elite Daily on ethics and pornography, and with VICE about fisting and non-binary representation in adult films. In comic form, I shared what it's like to make porn for The Nib's "Work" issue, thanks to editor Sarah Mirk and illustrator Archie Bongiovanni.
Ending the year, I joined author Samantha Cole (in-person, even!) for the San Francisco leg of her book tour for How Sex Changed the Internet and How the Internet Changed Sex, which is a must-read and contains a fantastic source list.

Pink & White AKA the best job ever!
Next year marks the 10th anniversary of my role as Marketing Director for Pink and White Productions. (Time flies when you're making porn!) My involvement behind the scenes with PW Inc started back in 2007, coming on as its Affiliate Manager. Over the years I've acquired more hats as our small company grows, including working on set as Production Assistant for CrashPadSeries.com.
2022 was busy in the best of ways for PW Inc. CrashPad celebrated its 15th web anniversary, coinciding with Shine handing the director's keys to our long-time video girl Ava LaPrima. Ava is absolutely crushing the role, continuing to release bi-weekly episodes featuring beautiful, diverse, and high chemistry queer porn scenes. Every day on set is a reminder of why I am obsessed with queer porn and consider this the best job ever. (Our next production date is in February, and members can watch our voyeur cam to observe as we film in real-time.)
Another big company growth happened with PinkLabel.TV's growing collection of titles. Holy moly a lot of mp4 files moved through my fingertips this year! Our streaming platform gained over 400 films. A great number of these came from international film festivals. A round-up of the Best of 2022 is available to browse and rent a la carte or view with a monthly membership. Recent additions include films by Stoya, which means STARK (a film I did with Cam Damage pre-COVID and before both of our top surgeries) and Graphic Depictions (an older film featuring Lily LaBeau and myself) are both now on the site.
It was also the third year of the San Francisco PornFilmFestival (SFPFF) and the second time being together in the flesh. The festival's films were subtitled and theater screenings were simulcast online for those who were unable to attend in-person. As venues re-open, the festival is committed to continuing the online option for audiences for increased accessibility. Watching porn in a cinema is a lot different than watching alone. I wrote a guest post for Good For Her's blog When We Come Together, The Power of Watching Porn in Public. There's a buzz around the fest that feels like a fresh, budding version of the epic PornFilmFestival Berlin that originally inspired SFPFF — and PinkLabel.TV to host festival films online. Submissions open in March and the festival hits the big screen at Brava Theater in August. Hope to see you there!
Coming in 2023 😉
There is still a lot of exciting things that have yet to be released!
During SFPFF, I collaborated on a video and photoshoot with Vanniall by Ashley Lake. It was my first partnered sex scene since before the pandemic and post top-surgery! I hope to share it by next Spring.
Working on film festivals has given me a lot of perspective on screening and curating adult videos. I had a conversation with queer film historian and director Jenni Olson about queer and adult film festivals, which was transcribed and is now available for pre-orders in the book Rethinking Film Festivals in the Pandemic Era and After, edited by Marijke de Valck and Antoine Damiens.
And last but not least, The Residents rock opera GOD IN 3 PERSONS, which was filmed in 2020 and toured including at New York MoMA and The Presidio Theater, is planned to release on DVD! Maybe it will also be available streaming online? I'll know more soon.
In Memoriam
2022 saw the passing of many beloved members of the LGBTQ+ and sex work community. I want to include their names here, so that others may learn of their lives and appreciate the legacy they've left. Rest In Peace Carol Leigh aka Scarlot Harlot, an icon who dedicated her life to sex workers' rights (coining the term "sex worker" in the 70s), HIV/AIDS activism, and videos promoting sexual health and pleasure. A few of her projects are available here. Rest in peace Mira Bellwether, author of Fucking Trans Women Volume 0. The zine was, and still is, a profoundly important resource for trans women's sexuality. It is an insightful guide for anyone, including cis men, so please read it if you have not. Download it and read in her honor. (Sales go to her loved family. If you are able, please join me in donating to her ongoing GFM account, which was created after her cancer diagnosis. It is hard enough to lose a loved one, to be burdened with medical bills and funeral expenses is a particularly cruel debt.)
All too often, we learn of amazing people and their important contributions only after their deaths. I hold a resolution to promote and support people I admire in an effort to appreciate and celebrate our lives while living.
Another Year of Gratitude
As always, I'm grateful for your support. Even during in the hardest of times, I feel carried by those who cheer me on and champion my efforts. As I was sending holiday cards I was amazed to see familiar names again, year after year. It's touching to have this continued encouragement. It means a lot, not only in that I can be myself, after my gender affirming surgery and as I continue to grow older. Imagine the joy in being able to keep being me! Please give yourself the same love and kindness. And please stay warm and dry this holiday weekend!