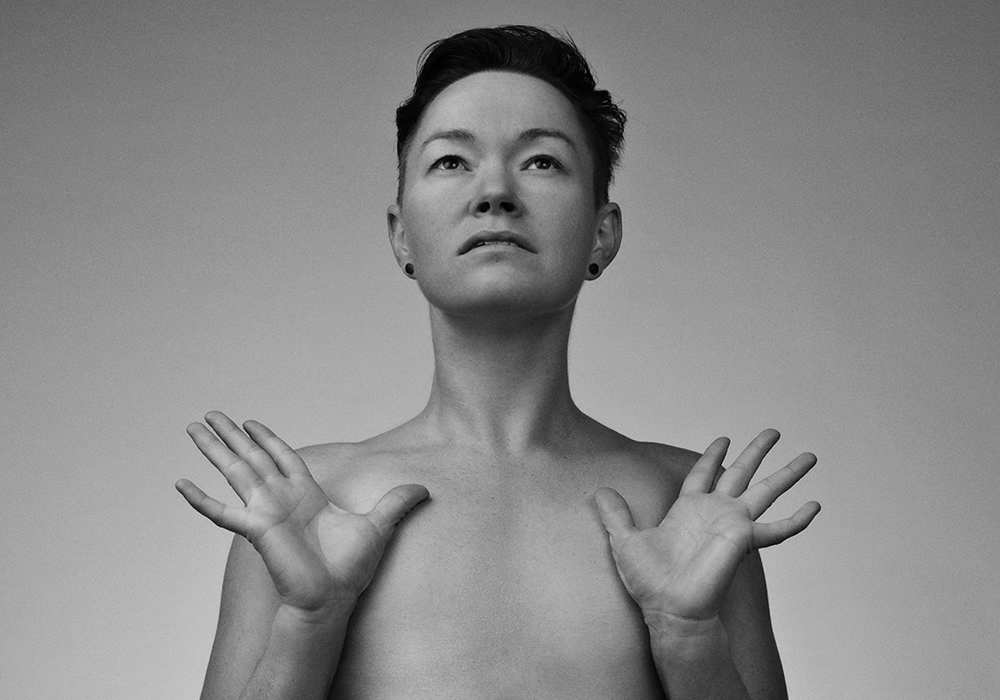 For years, I'd told myself that I'd have non-binary top surgery. I was waiting, worried about the long recovery, scared about going under general anesthesia, and if I'm being honest, a little concerned that I might lose work opportunities. Then came the pandemic and time for self-reflection. Being "me" has been integral to my path. I don't want to go another year regretting not living that best version of me, in my own skin.
In many ways, I have porn to thank for this journey. This work has provided financial stability, healthcare, and a community of fellow queer and trans artists. Porn has also helped me to better understand and see myself. I saw images that made me feel desired and celebrated. I was allowed to explore my gender expression in poses that shaped my body into my ideal vision of beauty and athleticism.
Here is a pose that has evolved over the years, in which I flattened my chest and concealed my breasts. Although I had posed like this a few times, it wasn't until I saw myself in a photo project by Allan Amato that it truly struck me that I wanted THIS to be my chest, without my hands binding my breasts. I realized that I had the courage to make it happen.
(Video from Seraph by Allan Amato. Captions not available at this time.)
The act of seeing ourselves is powerful. I have a deep fondness for queer porn films Hello Kitty by Skyler Braeden Fox, Mes Chéris by Jamal Phoenix/CuteNon Films, and Letting Go by Finn Peaks. These films by trans masculine performers lovingly give focus and farewell to their breasts. I highly recommend them.
I wondered how I might pay respect to my breasts in their final days? I thought about Annie Sprinkle's Bosom Ballet, a performance piece later documented in photographs that tightly framed her torso as her arms, adorned in full-length black opera gloves, maneuvered her ample breasts into whimsical and wonderful positions. Definitely click over to her website to check it out!
Curious about what my own take on the concept might be, I slipped on some black nitrile gloves and gave it a try. Here's a peak: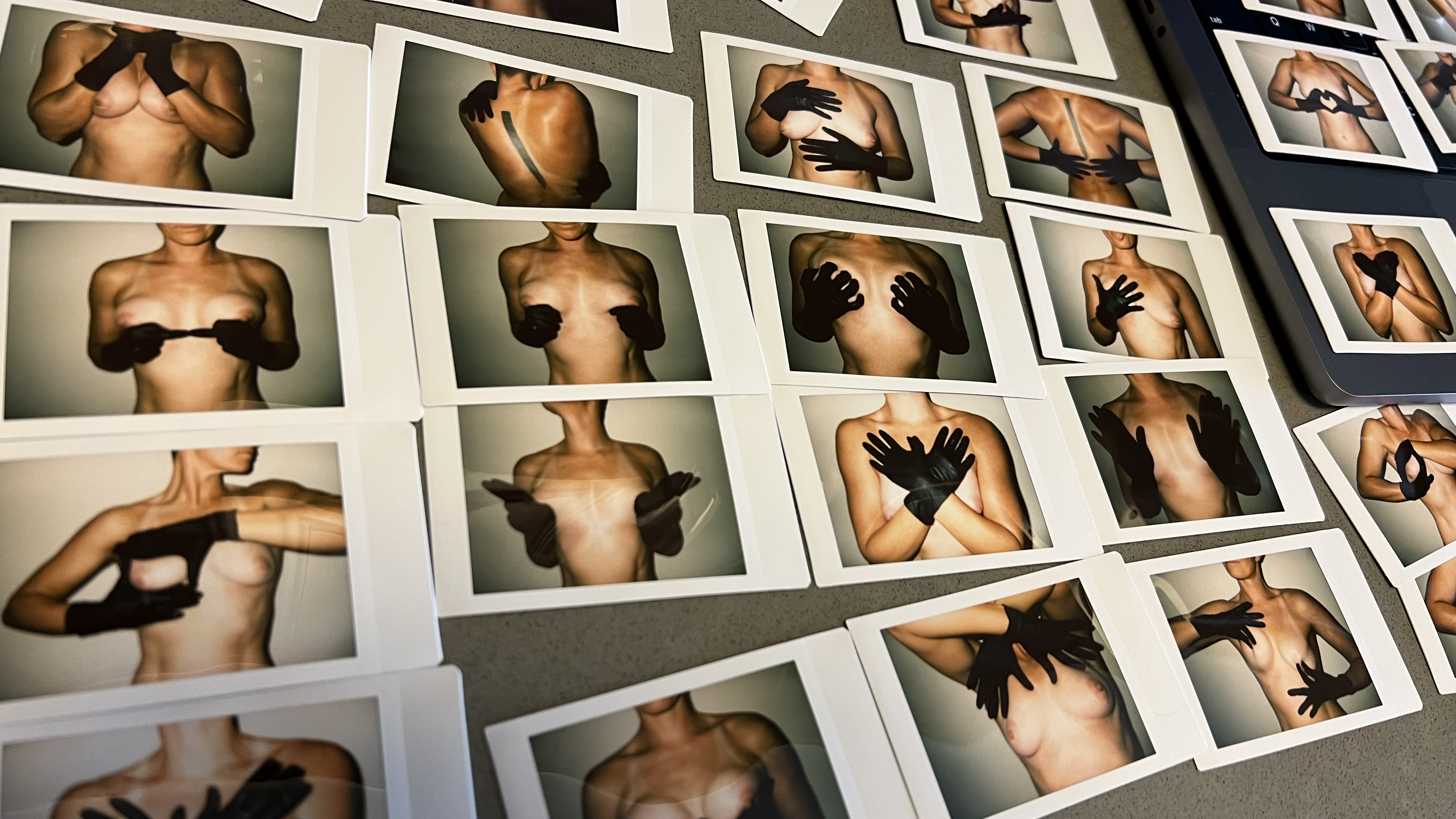 It was fun, and by the end I felt ready to move on! If you want a keepsake, I've added them to the polaroid collection on my shop. (Talk about a one-of-a-kind limited item! Once these are gone there'll never be an image like them ever again. Good while the boobs last!)
My surgery is scheduled for Wednesday, April 27th. (Eeeeeeeee!) I am so excited, nervous, and most of all relieved to finally be able to let go. I plan to allow myself time off to recover, as hard as it may be to take a pause. I have future shoots waiting for me once I'm healed, and I'll be so happy to reveal my new chest! While I'm not sure how much of the recovery process I'll share publicly, I'm so happy to have shared this much so far and am so grateful for all the offers of support, advice, and care. I'm truly blessed.
Featured blog image (cropped) photo by Allan Amato.