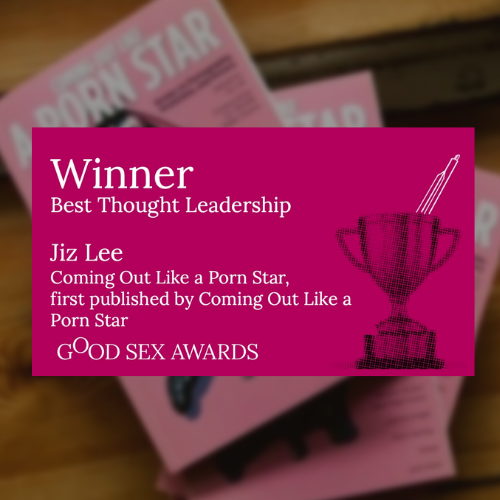 I won! My introductory essay in "Coming Out Like a Porn Star" was awarded "Best Thought Leadership" at the first annual Good Sex Awards!
The winners were invited to share an 'acceptance tweet' … here's what I had to share, reposted in blog form:
Thank you to the Good Sex Awards for creating this unique event to celebrate progressive, sex-positive values in literature. Thank you ThreeL Media for taking a chance on my book, and for the freedom to run with it! (And thank you to Tina Horn for holding my hand as a new editor!)
My story is about the book's stories, so none of this would have been possible without the contributors. Thank you to the over 50+ porn professionals who trusted me with their words. I dedicate the award to two who are no longer with us, Candida Royalle and Jack HammerXL, RIP.
Finally, I hope you'll read ALL of our stories, not just my own. If you'd like to order the book, please do so through your local bookshop or library. After that, the next best place to buy the book (and get a signed copy!) is directly from my shop here: https://jizlee.bigcartel.com
Thank you everyone who took the time to vote!