Clever Screens presents BOUND
Gina Gershon's mouth.
The way Jennifer Tilly breathed the name, "Corky."
And the excitement of watching a straight-up Hollywood film that was about… dykes! Dykes, and the mafia, and a lot of bloody money, and murder. But damned if my strongest memory of BOUND still flutters back to Gina Gershon's curled lips.
My first experience watching BOUND was in college, years after the film's release in 1996. It was the early 2000's and I was immersed in school and soaking up LGBT media I'd missed as a teen. This was also around the same time I discovered Cheryl Dunye's The Watermelon Woman. Jump forward 17 years, sweeping past my explorations as young queer, bouncing within my journey in the adventures of porn, and here we are. Cheryl, who I later worked with on Mommy is Coming, has invited me to present BOUND as part of her Clever Screen series at the New Parkway in Oakland.
Jiz Lee Presents: BOUND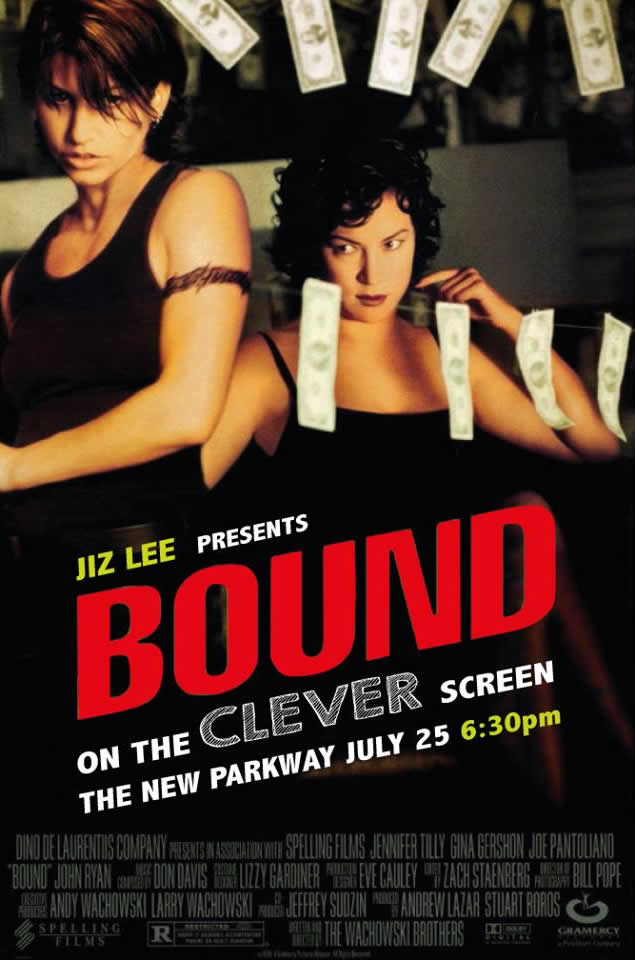 On the Clever Screen
New Parkway
474 24th Street, Oakland, CA
Thursday, July 25th at 6:30 PM
$6 (Six bucks is a total score. Plus they've got great food and beer that you can enjoy on a comfy couch IN the theater.)
Say you'll come, invite your friends!
The plot: Corky (Gina Gershon), a tough female ex-con and her lover Violet (Jennifer Tilly) concoct a scheme to steal millions of stashed mob money and pin the blame on Violet's crooked boyfriend Caeser (Joe Pantoliano).
The New Parkway is Oakland's beloved picture-pizza-pub for movies, food & drink, and good clean fun. They're open 360 days a year, serving up mostly $6 movies, yummy diner fare, and a heavy dose of community.


BOUND is an American neo-noir crime thriller written and directed by The Wachowski Siblings. It's been amazing to watch Lana Wachowski's gender transition in Hollywood and to get the sense that we might at a place where LGBT issues are less of an obstacle now than it was when she and her (update: sister!) made their debut with BOUND. I've read a few interviews and it seems that the film was not only difficult to cast, in part because many actresses didn't feel comfortable playing lesbian characters, but also difficult to produce, as many studios requested that they recast the role of Corky to be male. (Here's an interview with the siblings that includes this experience, via Gadfly Online.) The Wachowskis stuck to their guns though, and created a film that not only won several awards but was also recognized within queer communities as depicting a more believable representation of lesbians in mainstream film.
A big part of the accuracy of this depiction is in thanks to the fact that the directors had Susie Bright. Susie co-founded On Our Backs Magazine 1984-2006 — I actually appeared in it's final issue in 2006, which was the same year The Crash Pad was released. It's sad that it folded, please support any print publications you love — but I think by the early 2000's, the majority of conversations about queer sexuality had moved online, and I guess I followed suite when I started this blog in 2007. Anyhow, Susie joined the production to choreograph the sex scenes, which were filmed in single shot, aiding itself to a visual sense of realism. Here's a quote from her experience and influences working on the film:
"Bound is memorable erotica because of the script, because of our life experiences and dedication to getting this right. We are not nearly as cute as J. and G. [Jennifer; Gina], nor could we take direction half as well, but in this case, it's the writing magic and storyboard design that makes the sparks fly. I based this sex scene on my own lesbian life at the time, and an old unheralded porn movie (3AM) by Robert McCallum that starred real dyke lovers and gave me some great ideas that I figured we could (barely) make R-rated." – Susie Bright
By the way, here's a link to watch the 1975 porn classic 3AM: The Time of Sexuality, and the scene in particular staring Georgina Spelvin and Sharon Thorpe. Thank you, internet.
And, now's the part where I admit that it's been A WHILE since I've seen BOUND. In fact, I think it's been well over 10 years. So I'm looking forward to watching it again. There'll be a lot of fun things to look out for, besides the sex. Look for themes including "lesbian" visual film cues, such as hands. As Susie notes, hands are the "lesbian sex organ, the cock" — I agree that the use of hands definitely carries sex well beyond the scope of traditional coitus, though hands can be employed by people of any sex and orientation. LOVE hands.
Another theme to look out for: being "trapped" — as in closets, in situations, relationships, sex, work… something definitely familiar within LGBT experience but that which everyone can relate to. Maybe that's part of what makes BOUND a film and one we care to watch again. That, and Gershon's mouth. Unf.
I'll end with a clip from the Directors' Cut which you can find in the DVD extras. If you can't make it to the Clever Screen next week on July 25th, consider renting the film or watching it online, and let me know what you think!