A Lesson on Sex Shaming: Oregon State University & Tristan Taormino's Porn
Chances are, if you know me, you know Tristan Taormino. Though HOW you know of her may vary. You may know her from her extensive career as an author and editor. Or you may know her from her numerous sex education and relationship workshops, and speaking and keynote presentations throughout the world. And, you may have been introduced to her from one of her many explicit and educational adult titles, the most recent of which, "Experts Guide to Female Orgasm", I have participated in.
My path to Tristan was through her book on alternative relationships entitled "Opening Up: A Guide to Creating and Sustaining Open Relationships".  I loved it and valued it as a resource so much, that I bought six copies. (A copy for each of my lovers, and their lovers.) I then attended her San Francisco workshop she lead on the subject, and a few years later ran into her at the AVN Awards where her films are recognized and soon after found the two of us at the Feminist Porn Awards (where she was given a Lifetime Achievement Award and honored as "Trailblazer" and I with "Boundary Breaker!") discussing a shoot! My experience with her has and continues to be one of profound respect and loving care. She's brilliant at everything she does and deserves every ounce of praise and acknowledgement. A true leader and one that I cannot recommend enough.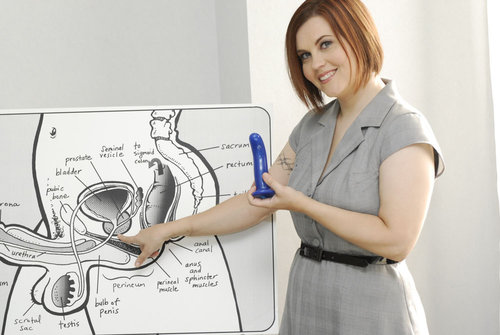 So when I learned of the poor decision Oregon State University to reject student organizers' allotment of funds to have her present as their Keynote Speaker at conference called "Modern Sex: Privilege, Communication, and Culture", I was extremely disappointed in the irony and sexual shaming by the decision of an educational and public institution using prejudice against pornography as a reason to decline funding. The university sites that the funding comes from taxpayers as a reason to reject the payment, however there is nothing criminal about pornography; it is legal and as statistics would imply, MANY taxpayers are porn consumers. Tristan notes: "the reason my appearance was cancelled was because of my involvement in pornography, which does make this a free speech issue." I'm really glad she brought up free speech, because it points exactly what the larger issue is, and exactly why it is so important that she attend and speak.
"Reducing my life's work to my work in pornography is a reflection of our anti-sex, anti-porn culture. It is a clear statement that a woman like me, who once performed in and currently produces and sells pornography, is not worth being paid for my time or expertise, regardless of my qualifications or what I have to say. It perpetuates the idea that working in the sex industry is shameful and negates all my other work outside the industry."
You can read her entire statement and keep up to date on the status of the school's decision in her post on the OSU Press Release. Another presenter at the sex conference, Tobi Hill-Meyer also has a great post on the subject, as does notable sex educator Charlie Glickman. And Tristan's post keeps a linked list of a growing count of articles speaking to feminism and freedom of speech topics surrounding the issue.
Personally, I am thrilled to see that the students are organizing to bring Tristan to campus regardless of the faculties sex-negative decision. I hope this becomes a learning experience for everyone involved, so that future Universities can open their doors to important (and undoubtedly academic) dialog about sexuality.
UPDATE!
Students at Oregon State University have come together to raise money for Tristan to appear and deliver her originally planned talk, "Claiming Your Sexual Power", presented by The OSU Memorial Union. In addition, she will be speaking at the University of Oregon on the topic, "My Life As a Feminist Pornographer," and will also be at She Bop. Here's her Press Release. I'm so glad that students pulled through and sex-positive messages will prevail.