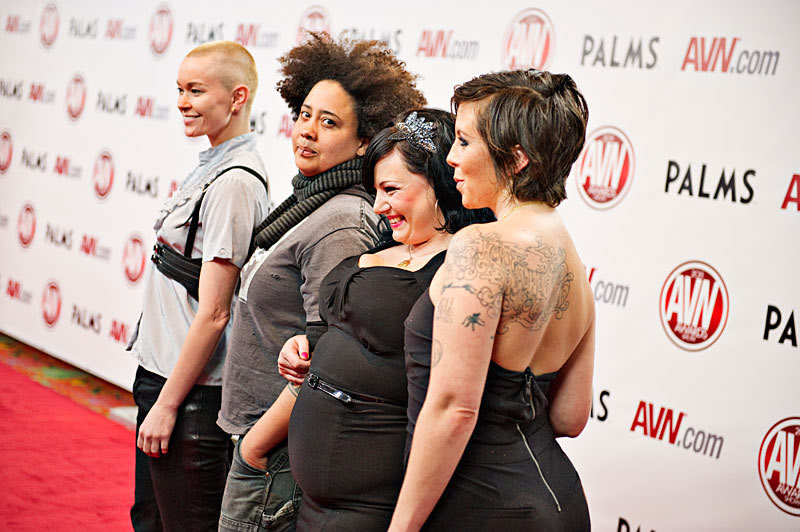 AVN Awards 2011: Queers, Friends, and Beyond
I started this post last night, but then started to add links, and whoa there's a lot… so it goes up this morning.
Tonight I'm sitting in the same spot at the same cafe where earlier this year a very hot budding porn performer and good buddy Mickey Mod told me — and asked me not to say anything as to not jinx it — that he found out he'd been pre-nominated for Best Supporting Actor for the AVN Awards, among other categories. Now that it's official, go Mickey! He's nominated for his work in An Open Invitation: A Real Swinger's Party in San Francisco.
Mickey Mod in Private's An Open Invitation: A Real Swinger's Party in San Francisco (Directed by Ilana Rothman) Nominated for a bunch of Stuff including Mickey Mod for Best Supporting Actor; Lorelei Lee for Best Supporting Actress, and friends like Wolf Hudson and Jack Hammer in Best Orgy Sex Scene (I wish I had been invited to the orgy!)
Mickey and I are scheming AVN happenings (Queer Porn Mafia tattoos?) and looking over the just-released AVN 2011 Nominations list. Besides noting films we want to see (The Human Sexipede, Big Lebowski, Carbongirl, Malice in Lalaland) and laughing at some titles (really, "Unplanned Parenthood" for Best Internal Release… so wrong…) we are also glad some of our friends — directors, talent, and crew — are among those nominated. Speaking for myself now, I'm pleased there are as many queers recognized as there are, though there definitely could have been much much more. 2010 was a prolific year for many, myself included. Oddly enough, though I shot a lot between September 2009 and a few months ago, not many of the titles are released yet. I'm a performer in 4 of the websites nominated, and 3 of the film titles, which feels amazing to break the mainstream barrier and gain visibility. (I should note that there were only 5 titles I performed in that were released during the nomination period — Dangerous Curves, Strapped Dykes, Doppelgager, and non-nominated Thin Line Between Art & Sex and Billy Castro Does the Mission — so seeing 3 of these 5 in the list is not bad!)
Fitting queer pornography — an inherently alternative genre — into the AVNs is a tricky and curious thing. The most obvious categorical issues I see are the strict segregation of gender (many times queer porn features a mixed cast of cis and trans men and women and genderqueer and many other gender identities that don't neatly fit into G/G/B and G/B/B). I amuse myself with the categories — Fem-Dom (Female strap-on with a Male bottom) is one of the queerest categories I see, and Most Outrageous Sex Scene tends to get non-traditional submissions. Queer pornography and it's creators DO get recognized, though it is very very difficult and sometimes unpredictable. But then again, it is an Awards Ceremony so there are a number of commercial virtues that dictate the outcomes. One thing is clear; it's good visibility.
To name some other important awards out there: there's the X-Biz Awards as two large mainstream porn award ceremonies. Then there are the GayVNs which pretty much shows you how the Straight/Gay division of the mainstream works — Queer Porn straddles these lines. Gay pornography also has the Cybersocket Awards, the Grabbys, the Hard Choice Awards, the TLA Gay Awards, the International Escort Awards, and the Blatino Oasis Erotica Awards (Black and Latino) which I guess are paralleled in the "straight" side by the Urban X Awards. The Feminist Porn Awards have had a huge impact for the queer porn community, as have the recent PorYes Awards in Europe which recognize queer directors. Some queer performers have been nominated by awards that span "straight/gay" categorization.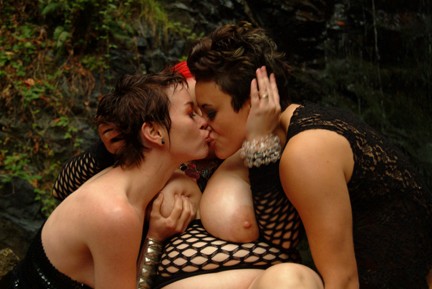 Carlos Batts' Dangerous Curves (Written by and Starring April Flores) Nominated for Best Specialty Release – Other Genre
As for this years' nominees, here's a quick shout-out to some things I really liked seeing… and other ideas.
I'm happy to see Good Releasing's HeartCore Films line well-represented. HeartCore is up for Best New Line. Mandy Candy got nominated for Best High-End All-Sex Release, as well as Best Cinematography and Editing. Turbo Rock is nominated for Best Soundtrack. Good Releasing's other two lines are both represented; Seven Minutes in Heaven: Coming Out, Reel Queer for Best Pro-Am Release (a fitting category as it was at least one cast members' first porn shoot) and Going Down: The Official Guide to Cunnilingus , PleasureEd Series is Best Educational Release. Which Mickey is also in! While it was cool to see these, and yay for Puck Goodfellow being I think the only transman in any of the AVN Nominated Films this year, though I could be wrong, I definitely would have loved to see Billy Castro Does the Mission for Best Transsexual Release. Despite a heavy girth of transsexual male porn performers, Billy Castro, James Darling, and Cyd Loverboy to name a few, none were up for Transsexual Performer of the Year. No matter, you can vote for James or Billy in the Transguy Community Awards, which awesomely included a Sex Performer category! Here's images from Dangerous Curves — which I'm in, and which was awarded "Feminist Porn Awards 2010 Most Diverse Film" got nominated for AVN Awards 2011 "Best Specialty Release – Other Genre". (Other genre being "BBW").
As far as Male and Female Performer of the Year categories, I'm excited to see Kimberly Kane (who caught my eye as butch-appearing in Belladonna's Fucking Girls Again), the very down to earth Bobbi Starr, and Andy San Dimas… who is a femme I'd really like to meet. Nice guys Manuel Ferrara, Mr. Marcus, Evan Stone, and Keni Styles are up for nominations; and sweetie Allie Haze is up for Best New Starlet. For Unsung Starlet of the Year, Draven Star is nominated and for Unsung Male Performers, Danny Wylde. And yay Adrianna Nicole for a few scenes! (She's kicking my ass in Words with Friends right now.)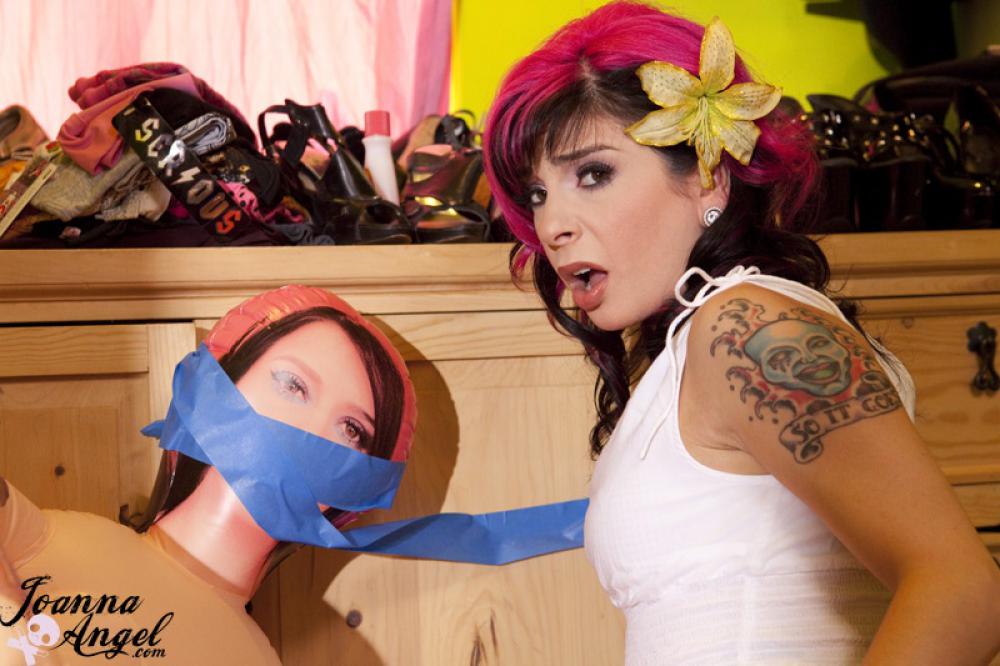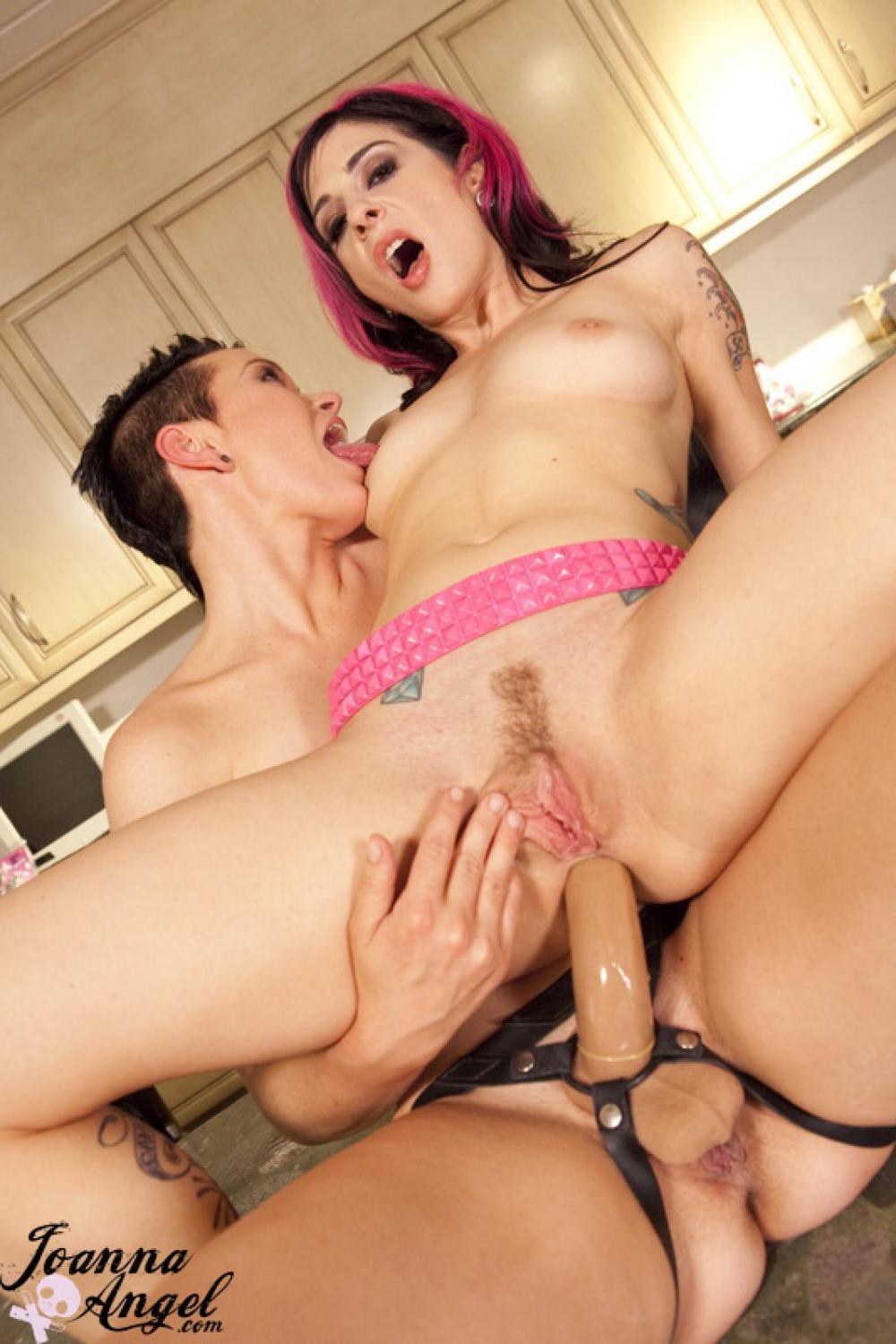 Joanna Angel's Doppelgänger Nominated for Best Music Soundtrack
I'm also thrilled to see Joanna Angel, Sasha Grey and — AND — my doll APRIL FLORES — nominated for Crossover Star of the Year. Joanna and Belladonna are both up for Director of the Year; it's always great to see them and to see female directors on the list. It was also fun to see "Aiden Riley and Michelle Sinclair" up for Best Direction… and Belladonna is also up for Hall of Fame! Also up is Sinnamon Love, who I met through Tristan Taormino in LA recently and would love to work with, soon I hope. In the Pleasure Products Branch of the Hall of Fame is Good Vibrations' founder Joani Blank; and on the internet end is NakedSword.com's Tim Valenti. Also it's cool to see John Stagliano honored with Reuben Sturman Lifetime Achievement Award. After the obscenity trial that happened earlier this year, he sure deserves the recognition. I'm really interested in the Crossover category and will look up the performers I do not recognize to see what they've done. I would have loved to see Wolf Hudson nominated for Crossover Star for his work in straight and gay porn, and most recently… queer porn too! He's a winner in my eyes and deserves some recognition.
It was fantastic to see Tristan Taormino's projects recognized, especially Rough Sex 2 which has a most outrageous scene nomination for Sinnamon's scene — an all black scene — that I really want to see. Sinnamon talks a little about it in this article "Is Porn Racist" by Shira Tarrant. I also loved to see Triangle Films recognized with Justine Joli LOST, and River Rock Women's Prison (which won Best Dyke Sex Film at the 2010 Feminist Porn Awards).
Other friends recognized include Eon McKai, and Queer Porn Posse's own Syd Blakovich is up for an award for her scene with Bobbi Starr in Strapped Dykes. We gotta get Syd to attend this year. My friend Lorelei Lee is also up for numerous scene awards as well as Supporting Actress for Open, which was directed by Ilana Rothman (who you may recognize in her non-sex role in Shine Louise Houston's The Wild Search as the fictitious filmmaker Georgia Mann who tries to answer the question "what is lesbian sex?"). Two other directors who have had roles in Shine's work released films this year that I wish could have been acknowledged so I will of course mention them here! Nenna released "Tight Places: A Drop of Color" and Tobi Hill-Meyer released "Doing it Ourselves: The Trans Women Porn Project". These two titles, created out of the need for visibility and self-representation, are in my opinion the essence of queer porn.
While much acclaim goes to DVD titles and the companies behind them, a lot more happens online. (You want fisting? Go online. Blood play? Go online. Etc…)
In terms of websites, I'm glad to see so many sites I've been a part of being recognized: Kink.com (and PublicDisgrace.com), EnterBelladonna.com, JoannaAngel.com, and one very special site that I'm honestly thrilled to see recognized: CrashPadSeries.com is nominated for Best Alternative Web Site! For me, this feels like a great honor because if you're not aware (to be honest, I don't talk about it much) I am a big part of that site behind the scenes — oddly enough, not the web production side of it, but many other aspects. I don't really toot my own horn that much, but seeing CrashPadSeries.com on the list made me feel like I've been doing something right. Congrats Shine Louise Houston and all the queer cast and crew involved behind and in front of the camera!
I would have loved to see MORE alternative websites nominated. I met with Mandy Mitchell recently about working with her and this woman works HARD. I also would have liked to see PaddedKINK.com noted — it's one of the very few body-positive and queer-friendly kink paysites on the web. There are also female producers who have been creating unique sites for a while now which often go unrecognized. Furrygirl's newest site CockSexual.com is one; Tastie Trixie's site is another, and May Ling Su's menstruation sites are worth checking out. HotMoviesForHer is a fantastic site for porn and they do a great job contextualizing feminist and ethical porn, creating unique content, and honoring identities of queer performers as much as they can. There's a bunch of variety on their site and I wouldn't be surprised if they wouldn't help you find some recommendations if you were curious and asked. I may be missing other websites, but then this IS the internet we're talking about! There's a lot out there, lots of potential and many new projects on the way.
I'll wrap this up with a quick nod to the sex toy categories — I do love sex toys.  It is also great to see so many sex toy friends recognized with nominations. I'm glad to see GoodVibes.com (check out my top sex toy list) up for Best Retail Website and is also up for Retail Chain and Retail Store. Other cool sex toy retailers are also nominated: Babeland, Early to Bed, Coco De Mer, Pleasure Chest, She Bop, Smitten Kitten, and The Stockroom. Fun toys, cool queer-friendly companies, good stuff!
To check out the entire list — warning, it's REALLY long — go to AVN.com. This year I plan on attending the AEE Expo and AVN Awards, representing QUEERS and celebrating Dangerous Curves and Doppelgänger as well as CRASHPADSERIES.COM and all my friends. Attending the AVNs last year allowed me to meet some genuinely rad people. I am very picky about who I work with and love to meet directors and co-stars. So going means I get to meet people I've always wanted to meet. Last time I got to meet Sasha Grey and Nina Hartley and Adrianna Nicole (you can read more about my experiences last year) and briefly got to meet Bobbi Star and her rad artist boyfriend — I'm serious this guy is totally cool and talented — Ssippi, and so many really fun people. I'm looking forward to seeing them again and meeting Cindy Gallop in person and a LOT of other Twitter folks, and simply: having a good time!