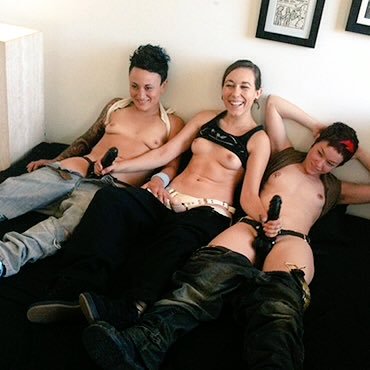 Strapped Dykes Trailer FTW!!!
For months you've been following my posts about how frickin' up to the hilt excited I am about being able to work with one of my all-time sexual superheros, Belladonna. I've posted about the sex toys I brought with me and used in my scene with her, and my scene with April Flores, (FattyD.com) and the Randy dildo I brought for my three-way with Syd Blakovich and Sinn Sage. I also posted about my experience growing out my pubic hair to extreme bush-tacular, and the fuss it made over at mainstream-alternative sites like Kink.com.
The trailer is now up and you can see us all in action!
Strapped Dykes comes out November 29th 2009.
And HOLY COW my bush was monstrous! Even I was amazed at how fucking hairy my asshole was! (I guess I don't get to see it from that angle all that much!) My wizard had grown prolific. (My "wizard" is my ass hairs… oh, and "feelers" are a term my friend Ange coined for any pube down there.) I think my hairy crotch made up for ALL the bald LA porn chicks. Long live the bush!