Queer Pornstars add Art to the AVN Awards Red Carpet
 Syd Blakovich just emailed me this fantastic photo of her and Director/Bondage Model/Pornstar/Art Gallery Director Madison Young walking down the red carpet at the AVN Awards.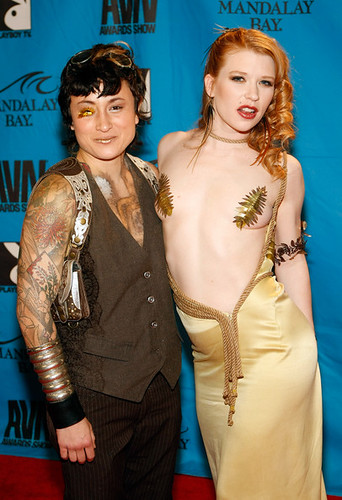 UPDATE! Photo Credit: Fleshbot.com and Lux Alptraum, my OWN crush object!
For those of you not familiar with the Adult Video News' annual mainstream porn awards and the usual garb, this was probably a strange site — it's rare that queer pornstars, particularly steamy butch ones like Syd, get invited as dates to the prestigious event. Syd told me she and Madison had a fun dare to see who could be most "San Francisco"… Madison is wearing all organic materials; Syd's ensemble is inspired by steampunk.
See more of their SF Art on Fleshbot, such as the Porn Aerobics (I helped choreograph)!
UPDATE: Gram Pontante wrote a fantastic article about this shot — Madison worked her ASS off to allow Syd to walk down the aisle, something I failed to mention in my last post. Makes me think I should be more explicit in detail for future posts. Here's his link Madison Young Assimilates the Red Carpet. BlueBlood.com's Amelia G. also wrote of the story.