Petra Joy's (S)he Comes: Jiz Lee, Liandra Dahl, Wolf Hudson
UK-based pornographer Petra Joy has an established leadership in Europe's porn-for-women market. So, it was with great excitement — and slight trepidation — that we got together over Skype to discuss the possibility of working together. After seeing my gender-bending film Justify My Jiz with Wolf Hudson, and sharing our erotic fantasies, we decided to give it a shot! Petra took a risk in casting outside her familiar cisgender realm, pairing genderqueer me with Wolf Hudson, and Liandra Dahl.
Our scene was highly erotic. Petra asked us to work with a slow and sensual build-up, so we filled her videographers' cards with hours of organically paced, orgasmic sex and gave her some hard decisions in the editing chair. Petra was respectful of my pronouns, even negotiating the title and description to find an inclusive fit for her female market. I hope the experience brings joy and discovery to new audiences.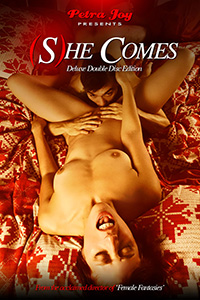 Petra Joy's (S)he Comes
Stars: Jiz Lee, Liandra Dahl & Wolf Hudson
Description:
(S)he Comes is the latest erotic creation from award-winning director Petra Joy. The film features five new exciting scenes of authentic lust and sensual passion: from hot couples that fulfil each others' every desire to an explosive male solo and a passionate threesome – (S)he Comes is an inspirational movie where women call the shots and the (multiple) orgasms flow freely. She comes, he comes, they come!
2015 CINEKINK NYC's BRING IT Winner
2015 Feminist Porn Awards Nominee