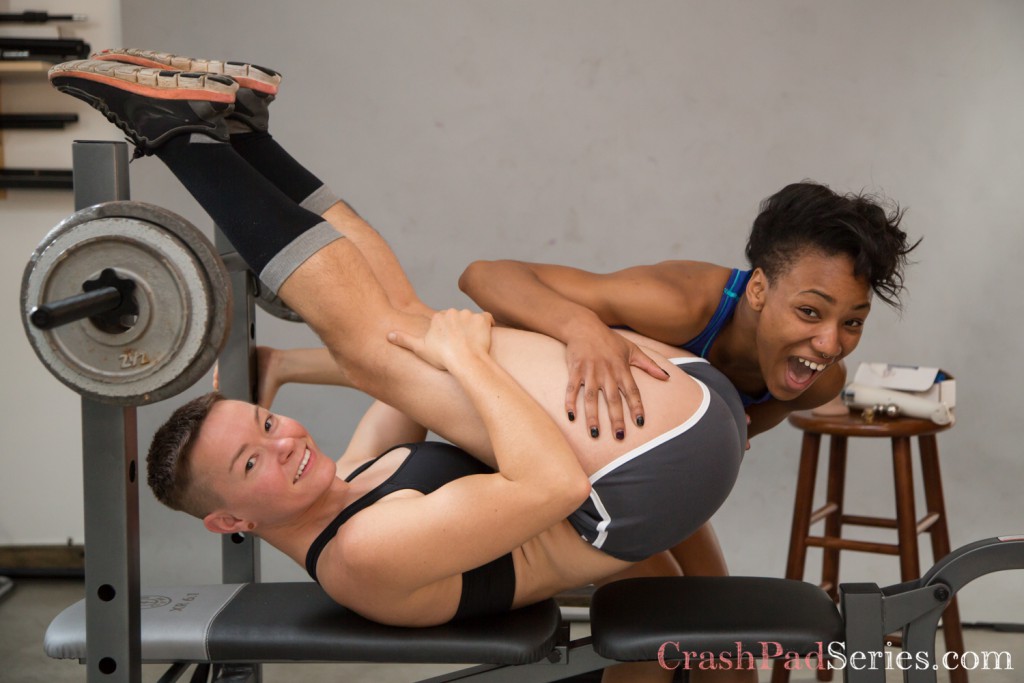 I'm back on CrashPad for a special episode… TRAINING DAY!
Can you believe it's been almost five years since I've performed on CrashPadSeries.com? That's almost an eternity in porn-years!
I've had good times at CrashPad, including CrashPad's 100th episode co-starring Nina Hartley, easily one of the most prolific and hard-working stars in the business. And there was the time I celebrated my 30th birthday "dirty thirty" with a 30-person orgy. (Just wait for my 40th!)
When I began working more hours at Pink & White Productions, quitting my day job to go behind the scenes to promote Shine Louise Houston's projects, I decided to take a back seat from shooting for the company's most popular website. I've had many careers in my life, each finding 'burn out' and I'm learning how to not overdo it. So I wanted to give myself space within straddling work both in front of and behind the camera.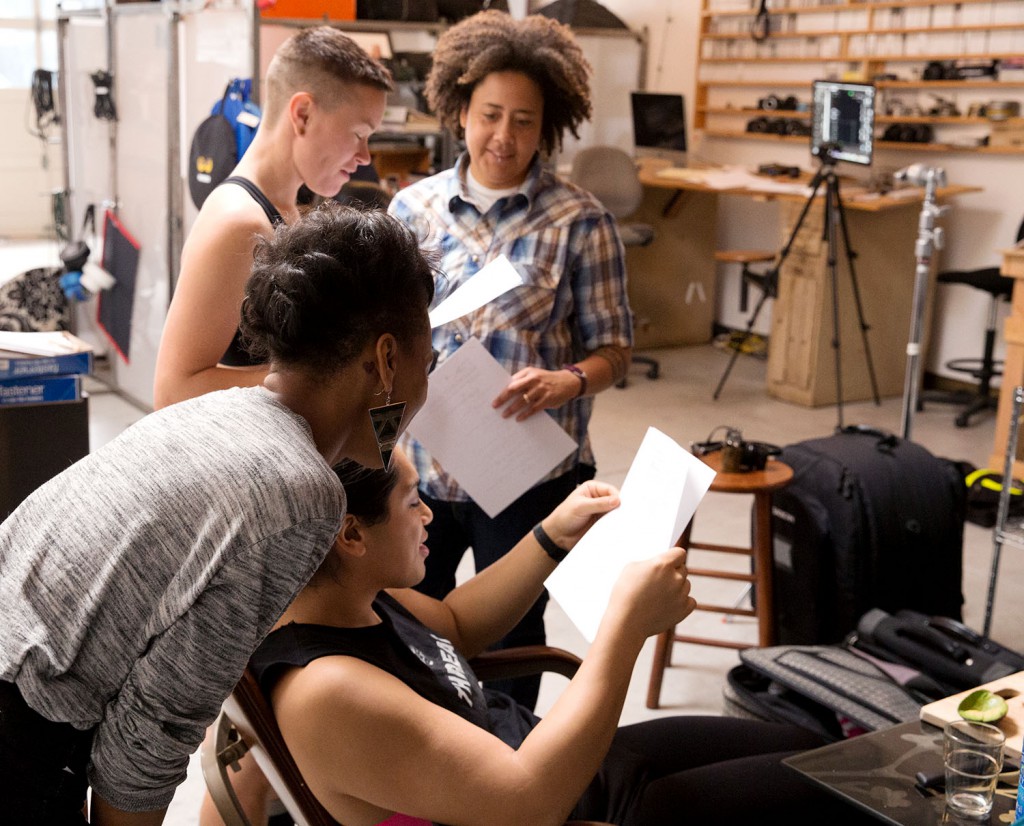 Shine Louise Houston, AJApornfilms, Nikki Darling and I review the script. Photo: Brian Churchwell/Xpress
However, this year is a special exception because it is my 10th in porn. (TEN!) Shine asked me if I'd be interested in performing for the special episode, one that was the result of a script-writing contest collaboration with New York Toy Collective. The winning script was the perfect blend of jock and comedy, so I decided to break the hiatus for this unique opportunity. Also, it was the perfect opportunity to work with Nikki Darling!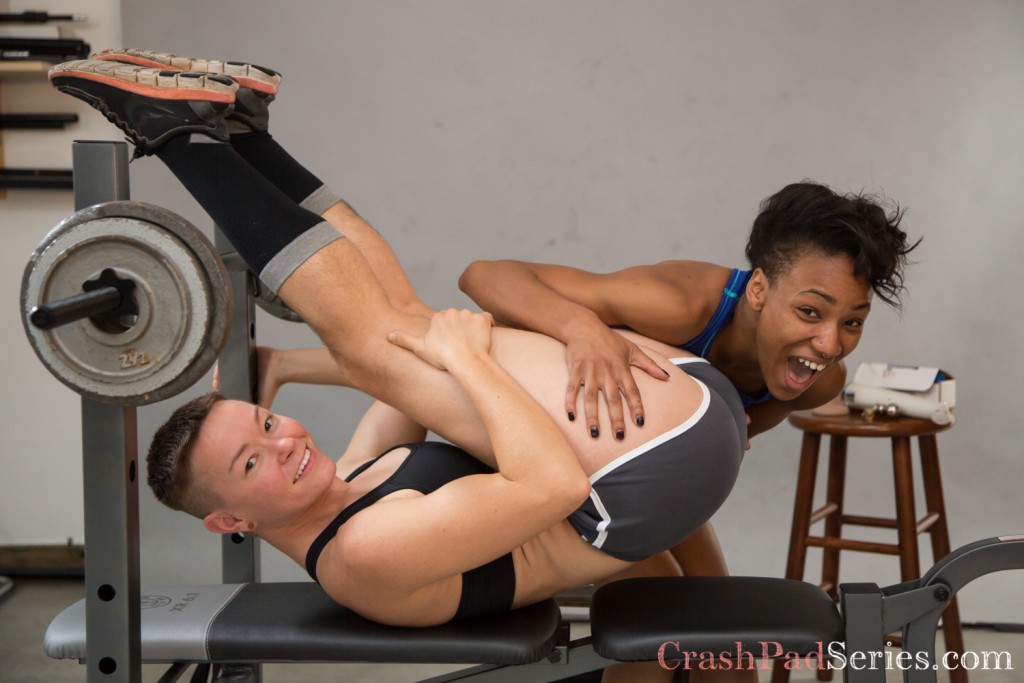 Ugggggghhhhh we're so cute! Photo: CrashPadSeries.com
CrashPad generally asks performers to create the scripts, but will occasionally have special episodes, such as PUT the NEEDLE on the RECORD, The Boss, and our first sex-ed short film, CrashPad's Guide to Fisting. These are filmed in about 5-6 hours and involve a script with original stories usually created by Shine, with the exception of OCCUPIED (concept by Drew DeVeaux) and TRAINING DAY (the winning script was written by Treasure, selected by Shine with the help of our panel of judges — Tristan Taormino, Coyote Days, Sex Nerd Sandra, Sara Vibes, Tobi Hill-Meyer, and James Darling).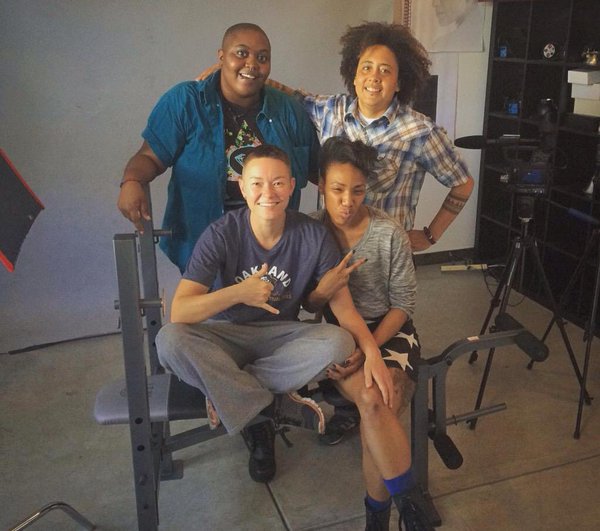 Shine, Nikki, and I pose with script winner, Treasure!
When I invited Nikki to perform with me, we had originally planned that I would play the Trainer and she would play the Trainee, but things came up last minute so we had to switch roles. Of course, I don't mind bottoming and was happy to take one for the team! Nikki is an absolute dream to shoot with and if you want to see more of her work after watching TRAINING DAY, check out her other episodes on CrashPadSeries.com and follow her on Twitter where she shares her newest performances.
I almost forgot: If you're not a member of CrashPad yet, now is the time to sign up. Use code "CYBERMONDAY" when you join to get 15% off ANY level of membership and lock in that good deal for over 200 episodes, behind the scenes video interviews, and other special films. Help support queer-made pornography and my work! ?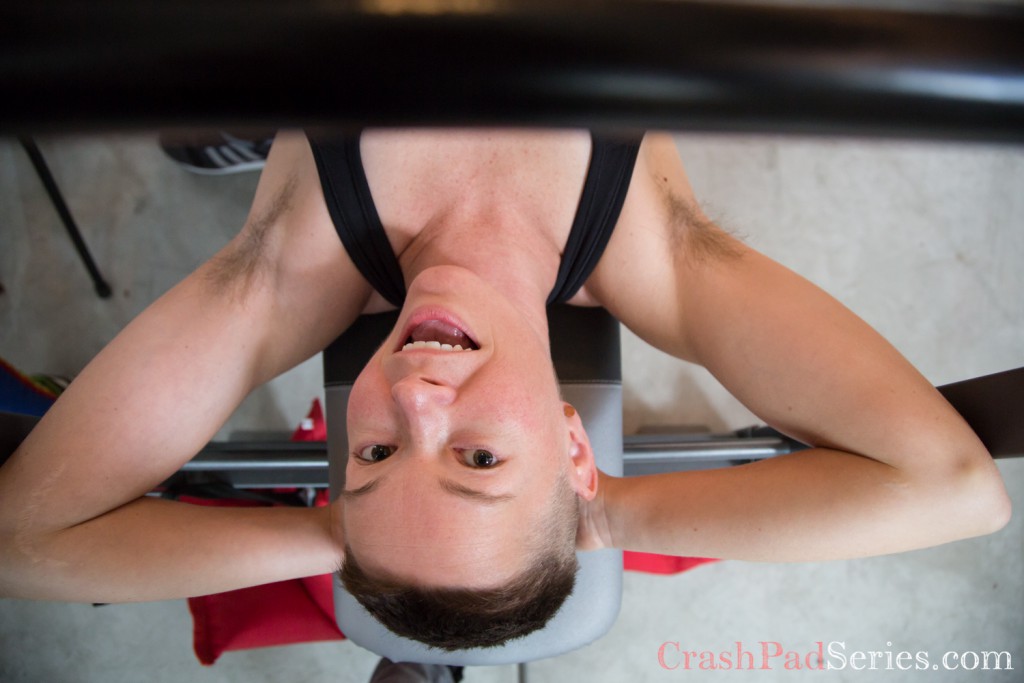 I do have the best job ever! Photo: CrashPadSeries.com