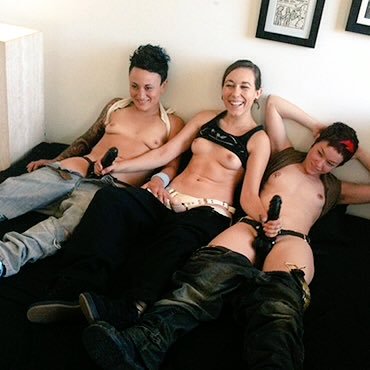 Belladonna's Strapped Dykes: Jiz Lee, Sinn Sage & Syd Blakovich
This was FUN to shoot. Yeah, the series is called "Strapped Dykes" and yea, I'm not exactly a dyke but it was a BIG step towards queer-ifying the LA porn scene — and with the enthusiasm and raw sexual energy that Belladonna and EVIL ANGEL are known for. P.S. It has been heavily pirated online unfortunately. Please purchase porn to support performers and the companies who hire us!
Film Description: With Strapped Dykes, Belladonna continues her sexual subculture explorations with this mash-up of hardcore dykes with "straight" porn starlets. No "air cunnilingus" or gay-for-pay here: Bella and her plastic-dick wielding, hairy-legged partner-in-girl-slime Jiz Lee incite five scenes of unabashed, gritty Real Lesbian Action. Jiz demolishes Bella, BBW April Flores, Sinn Sage and Syd Blakovich. Alt-goddess Blakovich also goes a round each with Bobbi Starr and Aiden Starr!
Stars: Jiz Lee, Sinn Sage & Syd Blakovich
WATCH TRAILER
Watch ONLINE at EvilAngel
Watch the whole film at Evil Angel