PaddedKINK – Queer and Cold
Did you know there's a body-positive kink porn site? It's called PaddedKINK.com.
It also happens to be queer friendly as well; Courtney Trouble and I shot for one of the scenes, and it was a smash hit. I was really flattered to be a part of it, not only because I applaud the creation of a kink-focused site that features more diversity, and the accomplishments of it's creator Kelly Shibari, but also because I got to share the moment with Courtney. It set the stage as her emergence into a new level of kinky/poly porn performance for the award-winning director.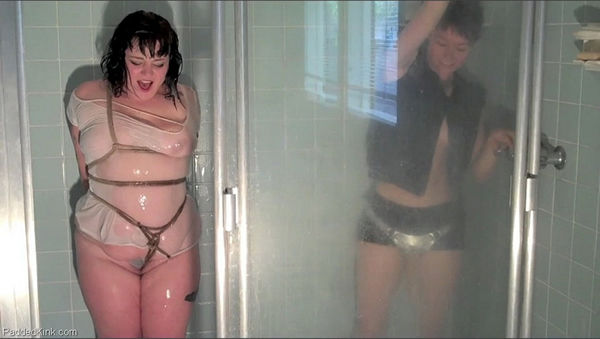 We staged our scene in the incredible shower at the home of Jamye Waxman.
I tied Courtney up (in a pretty mean way — with hemp rope that tightens when wet) and subjected her to an ice cold rinsing. I made her suck my cock while her face was pummeled with freezing water, and then shoved her in the tiled corner, where I fingered her until she came, shivering, and then left her sopping wet.
It wasn't the nicest thing to do for a friend I care so much about and for her first leap into kinky porn.
But then again, being nice wasn't the point. (Besides, look how much fun it was — you can see me smirking at how cold the water felt. It was *very* cold.)
Watch our scene at PaddedKINK.com!