I was invited to read at Lyrics & Dirges along with Dr. Carol Queen and some other folks I'm looking forward to meeting. Come join me as I read a work-in-process piece for my upcoming anthology, How to Come Out Like a Porn Star. Here's the official info: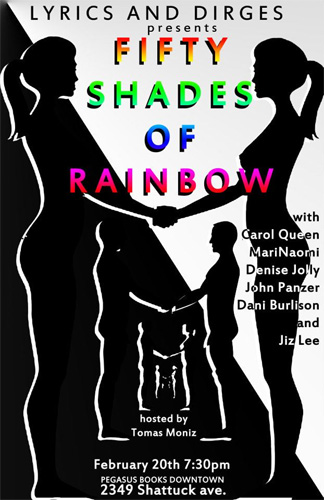 For February's reading we present a sex positive and diverse group of readers. We jokingly have been calling it 50 Shades of Rainbow!
Come reclaim love, the heart, the body. Come blush, come laugh, come get your literary bell rung with this amazing group of writers!
Carol Queen, Jiz Lee, MariNaomi, John Panzer, Denise Jolly, Dani Burlison
Lyrics & Dirges: 50 Shades of Rainbow
Pegasus Books Downtown
2349 Shattuck Avenue, Berkeley, California 94704
Facebook Event
Bios
Carol Queen is an American author, editor, sociologist and sexologist active in the sex-positive feminism movement. Queen has written on human sexuality in books such as Real Live Nude Girl: Chronicles of Sex-Positive Culture. She has written a sex tutorial, Exhibitionism for the Shy: Show Off, Dress Up and Talk Hot, as well as erotica, such as the novel The Leather Daddy and the Femme. Queen has produced adult movies, events, workshops and lectures. Queen was featured as an instructor and star in both installments of the Bend Over Boyfriend series about female-to-male anal sex, or pegging. She has also served as editor for compilations and anthologies. She is a sex-positive sex educator in the United States.
Jiz Lee is a genderqueer porn star who is known for a unique androgynous look, female ejaculation, vaginal fisting, strap-on performance, and fun sex-positive attitude about sex. The award-winning performer, who prefers the pronouns "they/them" and is an advocate for diversity and sex-positive pornography with gender agency and ethical production. Jiz is a contributor to pornography anthologies, and has spoken at academic institutions such as Stanford and UC Berkeley on queer sexuality and their experiences in porn. With a background in web and arts management, Jiz runs the philanthropic porn experiment Karma Pervs, raising money through erotic images for the benefit of sex-positive, queer and kinky charity projects. Ever fascinated by the radical potential of sex, love, and art, Jiz runs a personal blog about sex work as a medium for social activism at JizLee.com.
MariNaomi is the author and illustrator of the graphic memoir Kiss & Tell: A Romantic Resume, Ages 0 to 22 (Harper Perennial). She has self-published fifteen zines and counting, including seven issues of Estrus Comics (1998-2009). Mari has been exhibiting her artwork since 2002 and has done live painting performances in such venues as the De Young Museum and Yerba Buena Center for the Arts. She has performed many visual readings of her comics, including an international tour with Sister Spit in 2011, and has appeared on HGTV's That's Clever. She is also on the faculty of the California College of the Arts MFA in Comics program, and an Assistant Comics Editor at TheRumpus.net.
John Panzer screwed up. Royally. He hurt the man he loves, then lost him. He writes his mistakes, passions, joys, bad choices and victories hoping that guy will give him a third chance. John has appeared with Quiet Lightning, Bitchez Brew, Anger Management and made his Lit Crawl debut this year with The Tenderloin Reading Series. He is a regular contributor at The Grinder Reading Series and here at Saturday Night Special, would you please welcome 2 time homo of the year, John Panzer.
Denise Jolly is a member of Salt Lines Spoken Word Collective, has served as Executive Director of Seattle Youth Speaks, co-host and facilitator of the Seattle Poetry Slam, Poetry Curator for The Round (a live multidisciplinary collaborative arts show), Eleventh Hour Productions Board of Directors and Vice President of Stronghold Productions. Denise was the 2009 San Francisco Grand Slam Champion and member of the 2009 San Francisco Slam team who ranked 3rd in the nation. She has performed, taught, and/or collaborated in venues as large as Coachella and as small as Cook County Detention Center, Cleveland High School, and Seattle Youth Speaks writing circle. She likes doing great things with amazing people and being moved by art, community and how the two work together.
Dani Burlison is a staff writer at The Pacific Sun in Marin County, CA, a recent columnist for McSweeney's Internet Tendency and a book reviewer for the The Los Angeles Review. Her writing also appears in The Rumpus, Ploughshares Literary Magazine, Hip Mama Magazine, Rad Dad Zine, Bike Monkey, elephant journal, The North Bay Bohemian and others. She is an alumni of the Squaw Valley Community of Writers and has upcoming essays in a handful of anthologies. She is currently working on her first book.