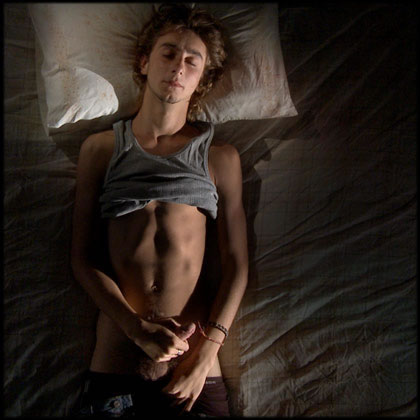 Gentleman Handling is a drippingly gorgeous website devoted to the artistic and erotic display of male masturbation. (Yea, I know "drippingly" isn't an actual word, but that's exactly how I'd describe something wet and poised with sexual anticipation. Feel me?)
I'll let the trailer speak for itself:
From the about page:
What we've made here, really, is a lovely place to watch moving images of male masturbation. GentlemanHandling attempts to strip the image of male sexual pleasure from its less-than-savory pornographic contexts and situate it in a style of imagemaking that is honest, attentive, and reverent. In our years of experience in the pornosphere, we've found that men have just as much to lose as other genders from the dishonesty and superficiality of mass-produced sexual imagery. So we've taken up the project of presenting our contributors in a manner that highlights their human-ness, their individual sexual style. Self-pleasure is a deeply personal thing and is often glossed over or neglected in mainstream sexual media. We're trying to take steps to change that. 
Creators Gala Vanting and Aven Frey have added another portrait of male sexuality that we can all appreciate.
A comparison note: the site is a bit similar to Shine Louise Houston's HeavenlySpire.com, for those interested in artistic videos of men masturbating and with partners which happens to be inclusive to transmale models as well. Another masculine-focused sites is FortheGirls.com. Let's keep `em coming.