It's up on us! CineKink NYC is here!
I'm thrilled to be a part of so much this year. Mommy Is Coming will be screening on Wednesday, and though I cannot be there in attendance, I hope you'll have a chance to see it on the big screen. I'm flying out this weekend to catch the Feminist Porn Show on Saturday, March 2nd at 1pm, followed by the Feminist Porn Panel + Reception, of which I'm a featured guest. THEN, stick around for Bring It! at 4:30pm where more of my work will be screened. The next day, I'll be at the Afterglow Party, where my collaboration with Wolf Hudson, Justify My Jiz, will see it's East Coast Premiere! Wolf will be there, too, so if you're in the New York area, I hope to get a hug!
Here's the details. See you soon!
THE FEMINIST PORN SHOW
Saturday, March 2nd, 1PM
Facebook | Fetlife
Info at CineKink
tickets

Feminist pornographer Tristan Taormino introduces the concept of feminist porn and plays a selection of short clips she has curated from filmmakers around the world.
Highlighting the work of both pioneers and newcomers, many who have previously screened at CineKink, the show includes Candida Royalle, Annie Sprinkle, Nina Hartley, Jackie Strano and Shar Rednour, Petra Joy, Erika Lust, Shine Louise Houston, Anna Brownfield, Carlos Batts, Louise Lush, Jaiya, Maria Beatty, Buck Angel, Madison Young, Courtney Trouble, Morty Diamond, Tobi Hill-Meyer, Kelly Shibari, Loree Erickson and more!
THE FEMINIST PORN PANEL + RECEPTION
Saturday, March 2nd, 2:30 pm
Facebook | FetLife
Info at CineKink
tickets
Feminist pornographer Tristan Taormino is joined by groundbreaking filmmaker Candida Royalle, professor and porn scholar Dr. Mireille Miller-Young, and sex-positive performers Jiz Lee, Sinnamon Love, Kelly Shibari and Courtney Trouble for a discussion of their contributions to The Feminist Porn Book: The Politics of Producing Pleasure (Feminist Press).
Sharing their thoughts on feminist porn as a film genre, an industry, and a movement, the panelists will explore what feminist porn is, how it relates to the mainstream adult industry, and their experiences creating, performing, or studying it.
BRING IT!
Saturday, March 2nd, 2:30 pm
Info at CineKink
tickets
Includes: Returning BRING-IT Champion!
courtney trouble's indie porn revolution
Directed by Courtney Trouble, 2012, USA, 6 minutes.
Jiz Lee and Billy Castro get dripping wet in the shower together.
CINEKINK AFTERGLOW PARTY
Sunday, March 3rd, 9 pm
Facebook | FetLife
Info at CineKink Screening: "Justify My Jiz" by me and Wolf Hudson.
tickets
Justify My Jiz
Directed by Jiz Lee and Wolf Hudson, 2012, USA, 32 minutes. NY premiere.
Inspired by Madonna's "Justify My Love," captures the performer's unconventional sexualities and gender-bending persuasions in a perverse tango that fluidly shifts from soft love to rough and kinky.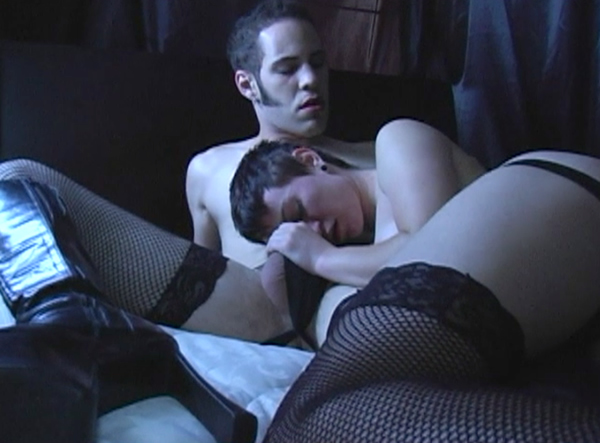 I'll leave you with a photographic glimpse of Justify My Jiz…