Buy My Cock! The Johnny from Belladonna's Strapped Dykes
That's right, I'm selling one of my cocks.
If you're a hardcore fan of Belladonna's Strapped Dykes and would like to be the owner of one of  Vixen Creations' amazing dildos, now's your chance to get a piece of the action!
I'm selling the cock used in my scene with Belladonna to fund my trip back home next month. I'm really excited to be able to travel back home — which happens to the beautiful and sacred Maui — to see family, share the experience with a dear friend of mine, and return to the land,  the `aina, that I miss so much. I'll only be there for a week but it will be incredibly nourishing for my soul and I'm so grateful to have the opportunity to take the time to return home.
Help me get there!
Thick black silicone Johnny was used in my scene with Belladonna as well as a in three-way scene with myself and Syd Blakovich and Sinn Sage, with Syd and I wearing identical Johnnys. It's a fantastic, hard cock and was very fun to use on set. Bella hand-picked Johnny from my bag of cocks, saying she liked the stiffness of the material. She instructed me on how to give her a blow job with the dildo, and then showed me how she does it, which blew my mind. We also both took turns strapping it. At 7 inches long and about 1  3/4 wide, it's a girthty heavy-weight cock and I want to give it a good home, so I can get home.

In addition to the Johnny dildo, I will also include the red jockstrap Bella and I wore in our scene, as well as an autographed copy of "Belladonna's Strapped Dykes" where you can see the cock in action, as well as over 3 hours of awesome fucking by Belladonna, Syd Blakovich, April Flores, Sinn Sage, Bobbi Starr and Aiden Starr and me.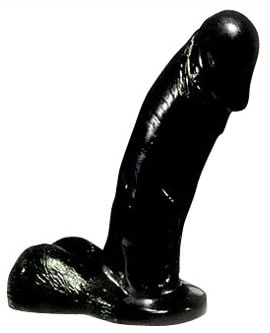 You get:
Johnny Vixen Silicone Dildo Black
Belladonna's Strapped Dykes DVD (autographed)
Red Jockstrap
And I get aloha `aina. 🙂
"Buy it now" for $300… (1st to email jiz@jizlee.com)
Or wait for the twitter auction #buymycock at noon PST on Thursday August 26th, where I'll place the starting bid at $150.
UPDATE! Julia from Chicago's awesome Feminist Sex Toy Store "Early to Bed" is the lucky winner! Thank you Julia! Follow Early to Bed on Twitter. Sex Nerd Love!
If you'd still like to support my trip back home, for a more affordable price, I'm selling signed photos and used underwear/jockstraps; email me at jiz |@| jizlee.com.