A Little Update on Anal Sex
A few days ago I traveled to LA to shoot for Tristan Taormino's next film project on "pegging", or strap-on sex for men. This will be her second film on the subject, the first being Tristan Taormino's Expert Guide to Anal Pleasure for Men which was awarded the 2010 Feminist Porn Awards "Smutty Schoolteacher Award for Sex Education". I feel honored to be a part of this new production, and was equally pleased to work with my friend and fellow performer Mickey Mod.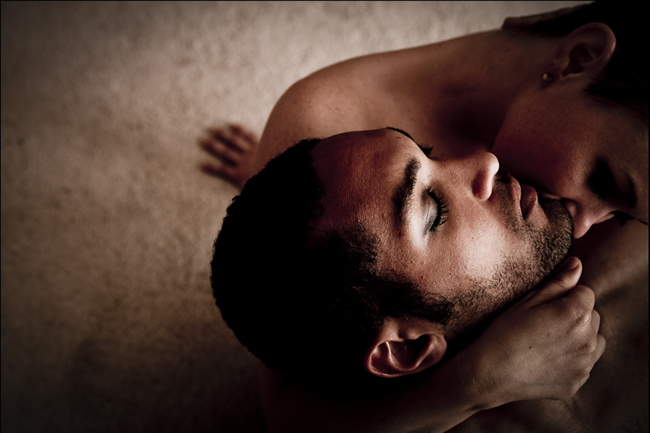 Photo: Ben Hoffman (Ghost) – project1site.com
(If you like this image, comment on it at Ben Hoffman's website, project1site.com, where he takes a fine art photograph and posts it each and everyday. An inspirational and beautiful project!)
I'll say more about the movie when it is released, and in the meantime write a little bit about anal sex. I have turned a few lovers on to anal, people of diverse sexual anatomies and genders. I often enjoy rimming and realistic strap-on sex that is tied to gender play and queer fantasy, and I love pairing anal sex with cock sucking. I also find it really rewarding to introduce the act to those who are new to it.
Probably one of the biggest misconceptions about anal is that it's only done by gay men. The second misconception is that it hurts. The truth is, anyone can enjoy anal sex.
Tips for enjoyable anal sex exploration include using plenty of lube (water-based and silicone are great), taking it slow (good warm-up), and clear communication can help you enjoy anal sex. Things that can increase comfort include cleanliness (healthy diet, shower, enema, towels) and the use of various toys (such as anal-safe vibrators, as well as kinky butt plugs and advanced toys).
There's quite a lot to learn when it comes to anal sex, including much to learn about anatomy, such as voluntary and involuntary sphincter muscles. It's also important to keep safer sex in mind. Several books and DVDs are available on the subject, and there are also workshops and websites devoted to butt sex. I recommend checking out Tristan's site for her Anal Advisor column, and stay tuned for the release of the new film!