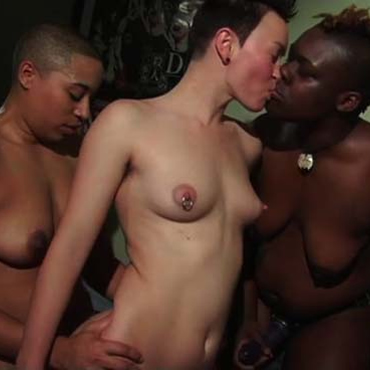 The Wild Search: Jiz Lee, Papi Coxxx & Wil Thrustwell
The Wild Search was Shine Louise Houston's third film. The film was awarded best Dyke Sex Scene at the Feminist Porn Awards.
Description: The Wild Search is a tour-de-force of queer women and genderqueer sex, the ultimate pomo-homo-porno. Hilariously staged as a documentary within a documentary, the film is director Shine Louise Houston's answer to the age-old question: What do lesbian's do in bed?
The basic premise is clever and used to very funny effect. A documentary film crew follows around another documentary film crew as they attempt to film the mating habits of San Francisco lesbians. So The Wild Search is a (fake) documentary about a (fake) documentary about real (and perceived) lesbians… Follow all that? Imagine one of those National Geographic programs, with cameras watching lions from the distance, only instead of lions, they're watching lesbians. The fundamental joke is that the people having sex don't notice the camera crew in their apartment or in the bar, and there's a really funny bit of business with a "decoy lesbian," a mannequin dressed up and sent out to attract the natives. The sex scenes are often really intense, especially a long three-way with two lovers wearing strap-ons. The most important thing: this is real fucking, messy, gasping, sweaty, improvisational, impetuous, spirited, and beautiful. It's a very funny mockumentary, but there's nothing mock about the sex. Don't miss it.
Winner of Best Trans Sex Scene at the 2007 Feminist Porn Awards
Stars: Jiz Lee, Papi Coxxx, Wil Thrustwell
WATCH TRAILER
Watch on PinkLabel.tv