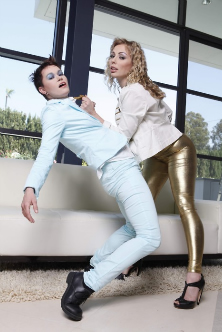 Rough Sex 3: Adrianna Nicole's Dangerous Mind
If you've read my essay in The Feminist Porn Book, you might recognize this scene. Adrianna Nicole chose her co-stars, and her inspiration behind our scene, MOUTH, was David Bowie's Life On Mars.
Description: Adrianna Nicole has a dangerous mind. It's full of dirty secrets, dark desires, and nasty fantasies—and she's sharing them. See if one person can satiate her oral fixation, why money is a strange bedfellow, how a mean Mistress takes her to the edge, what happens when four men give her a workout, and what dangers lurk in a dark alley. She creates the scenes. She chooses her partners. She controls what happens. Watch as Adrianna shares her most intimate fantasies, tests her own boundaries, and rides the seductive line between pleasure and pain. Witness her explosive sexuality at its most extreme: raw, rough, and real.
Stars: Jiz Lee & Adrianna Nicole