Love begets love, love knows no rules, this is the same for all.
~Publius Vergilius Maro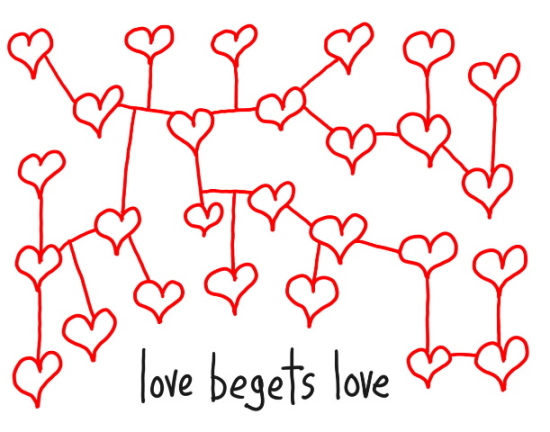 [Image: Hugh's Stormhoek label designs.]
Just when I thought love couldn't get any better… I'm from Hawai`i where it's common to see bumperstickers that not only say "SLOW DOWN, this ain't the Mainland" but also "Live Aloha" which literally translates to "Live Love" and I'm someone who believes that multiple lovers is a good thing and that there's no numerical limit to kisses.
I believe in love.
Particularly Link Love! Awwww… Shanna Katz loves my blog! She's quite a catch. You should follow her on Twitter. Between RollerDerby outfits and explicit details about her sexual happenings, my Twitter inbox wouldn't be the same without her — and it's not often that I follow people I've never even met! Anyhow, she featured my blog as one of those which she loves. Here's what the woman who shares my preference in sex toy colors had to say about my blog:
Jiz Lee – Jiz, I LOVE YOUR BLOG! Your blog is the go to place for me about interesting queer things, porn things, and queer porn things. Plus, you're my biggest porn star crush EVER (more than Nina Hartley, and that's been almost a decade, so that is saying a lot), and reading your blog makes you more accessible (is it weird that I still get excited/blush when you comment here, or respond to my twitter?). Anyways, you're such an asset to both the queer and the porn communities, and I love reading what you write.
So here's how it works, as with all awards there are certain rules to follow:
1. Link to the giver. (done, above)
2. Nominate up to seven other fabulous blogs and link to them. (done below)
3. Leave messages announcing their rise to greatness. (will be doing so!)
**Note – You may have been given this already, so that means you are a GREAT blogger.
iamfivestar – Fivestar, I LOVE YOUR BLOG! You've got so many brilliant ideas and one amazing place to share them. To top that, it's not just a blog, but a Vlog! Everyone knows video is hard as hell to commit to, yet you consistently delight us with frequent and amazing posts. You explore, you sing, you share… you're a million times better kisser than Katy Perry… you're inspirational.
Violet Blue – Violet, I LOVE YOUR BLOG! I've been a huge fan of yours for a very long time. You're well connected to the local SF scene, and synonymous to all things that are sexy and good, not to mention you got the scoop on essentially anything that has a plug and I'm crossing fingers for your Big Book Proposal though I'm sure it will be good news.
UPeople -Hanifah, Olive, L., Dr. G LOVE!, Tika, Kristi, Selly, Micia, Robin, Kimora (okay I totally cheated and went through the "About Us" list because I didn't want to leave anyone out… I know this site is technically Podcasts, so fuck it. I LOVE YOUR BLOG PODCASTS! You all put such high polished goodness out there, I want for nothing more but to have everyone visit your site. NOW. ; )
PopShot – Gwen, I LOVE YOUR BLOG! Your posts are the kind that make me want to write more. You're not afraid to tackle subjects that are controversial or ones where you yourself haven't exactly come up with a conclusion. I read your blog and personally feel your thought process and online exploration… and love it! Particularly the last Kink.com post. Kudos!
Racialicious – Carmen Van Kerckhove, I LOVE YOUR BLOG, your vision, and all the contributors who post on Racialicious, and the COMMENTERS too! It's an engaging conversation that finally takes pop culture seriously in a time when the power of media is more and more attainable. Case in point, Latoya Peterson's recent post — the 1st video (Kelly Zen-Yie Tsai), incedentally, I first saw on IloveUPeople.com. : ) It's a small world wide web.
Fem.men.ist -Richard, I LOVE YOUR BLOG! It's not everyday you meet someone on Friendster (this dates us; it was a while ago) and then randomly pass them on Market Street almost 2 years later and recognize them, and then go on to be friends and swap snake stories and ancestor stories (remind me to ask you for that book back at some point) and now they're celebrating 6 months as a blogger creating one of the most unique and important discussions from such a personal place.
Mollena – Mo, I LOVE YOUR BLOG! Your honesty and wit astound me, every time. I laugh… I learn. Congrats on blogging for BestSexBloggers.com! I'm a newbie to your posts and will keep coming back for more, no matter where your writing can be found. : *