GUSH: The Official Guide to the G-Spot & Female Ejaculation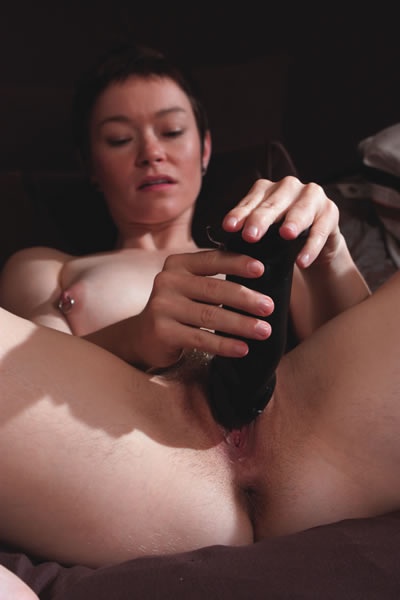 I just got word that Good Vibration's sister company Good Releasing has just received their shipment of GUSH: The Official Guide to the G-Spot & Female Ejaculation.
I'm very proud of my solo masturbation scene in this film. It's the second time I've done a solo for a film, the first time being CHAMPION: Love Hurts, which was depicted somewhat as a emotionally heavy jerk-off session complete with character relationship woes with my partner Jesse, played by Syd Blakovich. The solo is woven into the intro credits and it's one of my favorite performances, though it's subtle and hasn't received as much recognition as other features. It's a very different performance than this upcoming solo in GUSH.
Though I haven't seen the final product yet, I had a great time making myself squirt in GUSH. I played with a number of toys, from Jimmyjane's Ultimate Members collection by artist Jamie Hewlett (Tank Girl, Gorillaz). I also played with the incredible RANDY by Vixen Creations (I have the Randy in black), and the amazing Pure Wand by Njoy. (I think the Pure Wand makes more than one appearance in this film, and for a good reason!) I also used a crazy huge curved glass dildo that isn't found anywhere else… it was a gift so I'm keeping my eye out for where to find it online!
It's a little different doing a solo scene than one with a co-star, and there wasn't much direction so I pretty much got to work doing what I do best. I think because of this, there's a LOT of ejaculate. I also spoke a little in the filming about g-spot stimulation and tips and techniques involved in female ejaculation. My scene is the only solo in the film, which also includes scenes with Syd & Sophia, Gloria & Altair, and Maxwell & Mirabelle, and a scene with friends Dylan & Mickey was directed by SIR Productions duo Shar & Jackie was shot in my old place. So stoked to have it immortalized in porno history.
By the way, I also lent Mikey and Dylan my Liberator Throe, which is a great waterproof blanket I was recently given. I have it in Black Shag. (Had I owned it before my shoot, I would have definitely used it. Instead, I came so much I soaked past the PVC lining under the sheets, and into the mattress and floor… whoopsies!)
You can watch it online.
UPDATE: I've had the chance to watch the film, and have to say that unfortunately my solo scene was cut short. (You can see in the Interviews section of the film the massive puddle that I'm sitting in, which you don't see happen during my scene.) I asked the director why it was cut short, and she said there were technical difficulties with the sound. (They had a PVC mattress protector under me to protect the bed which made too loud a crinkle, sadly.) So to-date, my best ejaculation scene continues to be my very first film, The Crash Pad. Billy Castro Does the Mission is also a good one, or my recent shoot on CrashPadSeries.com with Nina Hartley.