njoy Pure Wand perfection
"This toy made me squirt!!!"
Okay, okay… most of you will know that's nothing new coming from me. I squirt a lot. However if you are one of those female bodied friends who want to squirt and have yet to do so, please allow me to introduce you to njoy's Pure Wand, available at SexToy.com and offered to me for review by Domina Doll of Vivianne's Sex Carnival and Lucrezia Magazine.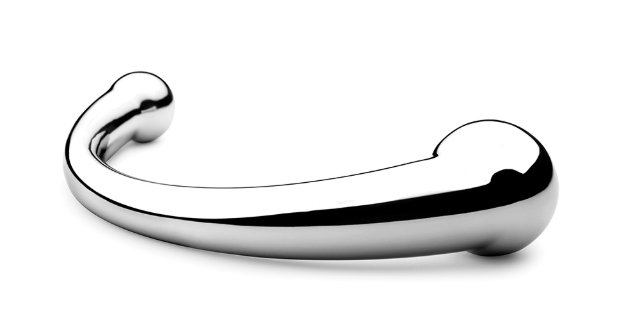 The Pure Wand is not a new toy on the market — it's been available for years, often overshadowed by fancy vibrating gizmos and even njoy's most recent toy, the Eleven. Yet the Pure Wand, with its radical "C" metal curve deserves MUCH praise.
The Pure Wand is one of the best metal G-Spot dildos.
"Metal?" you say? If your first thought of a stainless steel dildo is "burrrrr" here's something new. This is how I do it: run the dildo under hot water from the sink for a few seconds. In the time it takes to pee — which you should always do before you squirt/fuck — you'll have a steamy hot piece of steel ready to warm you up! Remember back in science when we learned that metal was a good conductor? It still is. If your cold winter nights call for hot sex, let a bit of hot water do the trick. From room temp to internal pussy heat, to even a cold chilled tease, temperature is a big plus with metal toys.
Smoothness is also a plus, with a polished mirrored shine and slick surface where a little wetness goes a long way — very little friction. Like most non-porous toys, cleaning is easy with anit-bacterial soap and warm water.
But surface sensation isn't this toy's best quality. My favorite attribute is its shape and the firmness. A friend recently asked me about tips on helping her girlfriend squirt. Sometimes the "come hither" shape of two fingers isn't quite strong enough — for either the fucker or the fuckee! Or perhaps you need just a bit more reach to get a good angle on the G-spot. This is where firm curved toys come in handy. The metal will not bend and the strong angle of the "C" shaped curve make an easy handle for direct G-spot stimulation. As a solo toy, the angle is ideal. Being a double ended toy, you get two options. Some folks have a favorite; others start with one and end with the other. And don't forget this toy does anal, too. Point the curve towards the belly button for great stimulation of the prostate or G-Spot. Choose between a 1″ or 1.5″ head, with sloping dimensions from there. For me, the spherical shape is what's important, and my insides clamp down on it like a vice. Kegals, kegals, kegals. Curious about girth? If you think this toy might be too narrow, here's more: metal toy manufacturers make their toys slimmer than silicone toy companies because softer textures (especially yummy dual density Vixskin dildos like those made by Vixen Creations) have a lot of squeeze and give. So a firm metal dildo actually makes the toy feel a bit larger than it really is. However if you still scream size queen, jump your monster kegals over to the Eleven. Or best yet, do them both and be your own gym membership.
Keep your eyes out for an anal appearance of the Pure Wand on No Fauxxx's upcoming film NoFauxxx Roulette starring dykecore gang bang beauty, Rozen Debowe. The Njoy also appears in Pink & White Productions' The Wild Search with Papi Coxxx and Wil Thrustwell in the very scene that won Best Trans Sex Scene 2008 from the Feminist Porn Awards. Pure Wand image via njoytoys.com.